For Ferruccio Laviani, industrial design is a scientific discipline with clear rules. For this reason, he has never been interested in design-art, or in limited edition design – design products are meant to be mass-produced in many copies. Ergo, an industrial product must be engineered and follow industrial rules. This doesn't mean that design can't be poetic; in fact, Ferruccio Laviani loves to experiment and play with materials, continuously exploring new paths.
His products have been displayed in many international exhibitions. He has worked as the art director for Kartell, Flos, De Padova, Foscarini, Moroso, Emmemobili and others. He designed countless furniture pieces and lighting products for the best international brands. His activity includes numberless interior architecture projects, installations, exhibitions layouts, exhibition booth settings, and commercial spaces. He has collaborated with Dolce & Gabbana for several years, for whom he has designed many stores. He still creates the settings for their fashion shows. Particularly striking about his work is the ability to maintain a design identity, while constantly adapting to customer requirements. The packaging and unique pieces for Moët Hennessy, Piper-Heidsieck, the settings for Swarovski Crystal Palace, Veuve Clicquot, the showrooms for Martini e Rossi, Citroën, Paula Cademartori, Zuhair Murad, and many more are all products from his imagination. His work is renowned worldwide, and he has been invited to participate in exhibitions, conferences, and seminars, in the most famous museums and in the most famous universities.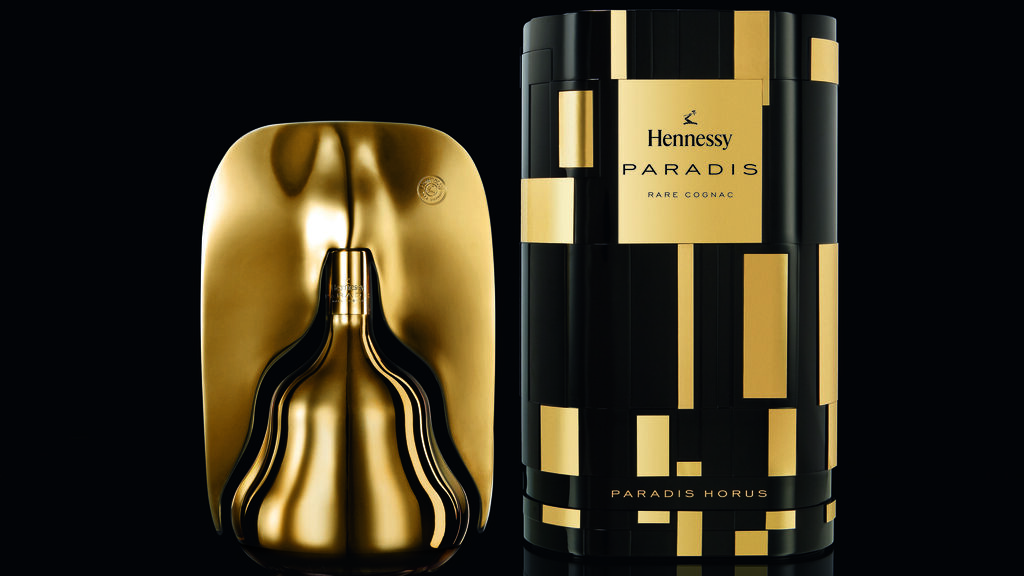 Join us for our interview with designer Ferruccio Laviani:
How did you get into design, and who inspired you on your way?
When I began my studies, I didn't think I would be a designer or an architect. After secondary school, I was enrolled in a school for luthiers (Ferruccio Laviani is a native of Cremona, the violin capital of the world). Later, however, since I wasn't really that passionate about making violins, I moved to another section of the same school, where they taught me how to design and build furniture. So, by the time I started college, I had a background in furniture design. At that point, if I had followed my instincts, I would have enrolled in Oriental Languages in Venice, but then, to mediate between the demands of my family and my inclination, the choice fell on architecture. At the end of the fourth year of my five-year architecture studies , as a result of a series of circumstances, I had a free year between the end of the exams and the discussion of the thesis, so I enrolled at Scuola Politecnica di Design, a private Milanese school of design. So, at the end of my studies, I was an architect and a designer. Back then in the early Eighties, Milan was a very vibrant place for design. My first job, in fact, was at the first independent studio of Michele De Lucchi, who had just left the studio of Ettore Sottsass.
What does it mean to be a designer today?
For me, being a designer means doing my job by mixing professionalism and creativity in the right measure. Just a quick side note here: lately, we have often talked about design also concerning design artworks or limited editions. But in my view, industrial design is industrial design, and an industrial product is an industrial product with mass-produced requirements. When designing on an industrial scale, one has to consider different factors, for example, production costs, selling prices, and the production process. If a design does not meet these criteria, it is a small series or limited edition. I don't mean to downplay the quality of some of these small productions or self-production; they can also be of excellent craftsmanship, but they are not industrial design projects. Therefore, I think that today's industrial designer job must combine creativity with industrial production constraints.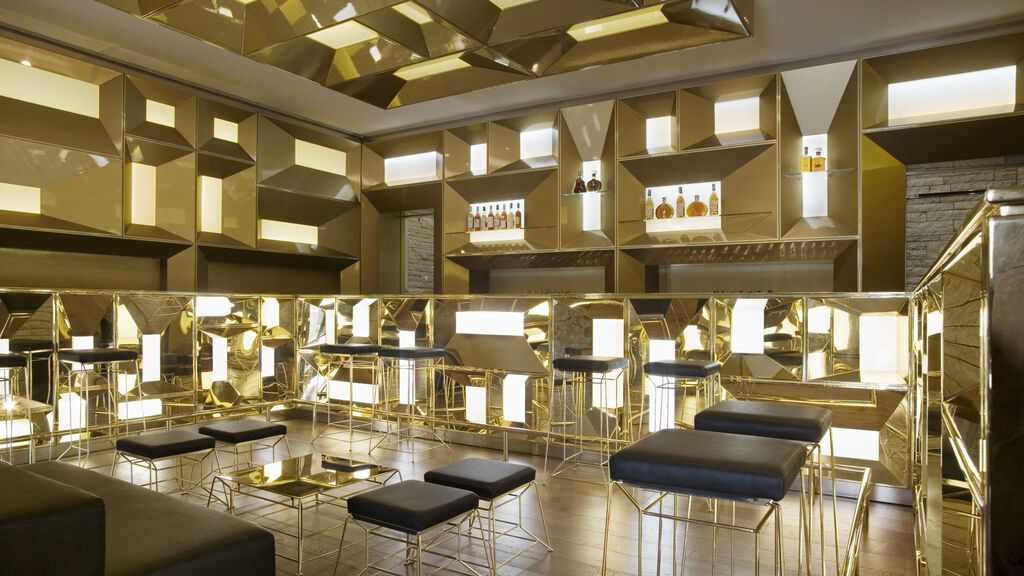 From what or who do you draw your greatest inspiration?
Actually, from everything. I don't have any explicit reference, no exhibitions, no movies, or such specific subjects; maybe what influences me visually are graphics; a graphic image can inspire a project. But for all the rest, there is no exact reference; I think our brain is like a hard disk, from which ideas come out at the right time.
What makes a particularly good client for you? Is it the exact idea and vision, or rather the freedom and possibilities that you are given?
Actually, it's a little more multifaceted than that. I always work within a brief provided by the company, which may contain directions on the material I should use or something else. I prefer not to have too much freedom on the theme; free themes are too complex to interpret. The best way to work, and what brings the best results, is always to have counterparts with whom you can engage in a positive discussion and fine-tune the product together. It rarely happens that the product goes well at the first review; much more often, it comes with a series of proposals, which are then developed together. What's important is that it's a shared path, and that in the end, the result satisfies both parties.
However, with designers somewhat famous, brands sometimes approach designers more for their fame than for the actual knowledge of their skills. In these cases, unfortunately, it may happen that the meeting does not work out, and no results are achieved. Sometimes, companies should evaluate if they want to work with a designer because they appreciate their work or only because their collaboration would bring prestige.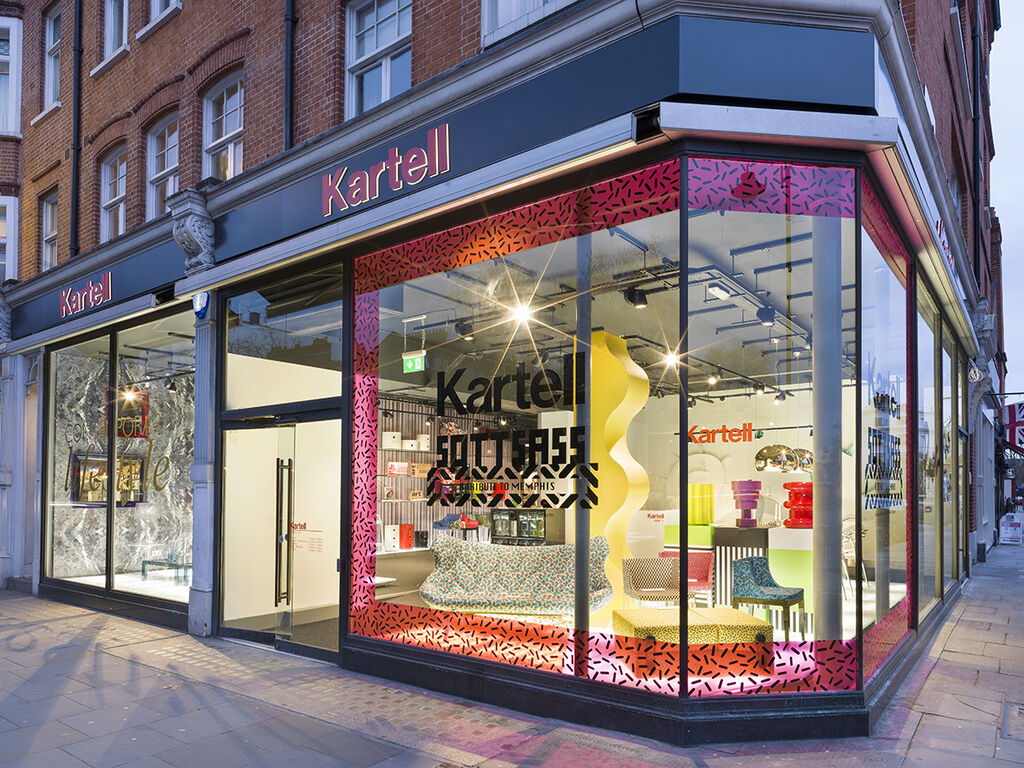 You've worked for brands like Swarovski, Kartell, Dolce & Gabbana and Veuve Clicquot – What was your favourite project?
One of the main features of my work is that it ranges from product design to fittings and interior design for the retail industry. Moreover, another highlight is that I always try to translate the spirit of my clients, even if this means going down unexplored roads. I think it was necessary to explain this to clarify that I don't have favourite projects; every project has many positive sides and aspects that I like less. Therefore, my favourite project is the one from which I draw a positive experience.
One product that I am thrilled with, for example, is the Bourgie lamp, designed for Kartell. It has been in production since 2004, it's one of Kartell's bestsellers, and the most exciting thing is that it was one of those products that appealed to the first reviewer. For Dolce & Gabbana, I've designed several stores, Bar Martini on Corso Venezia in Milan, and the Gold restaurant, also in Milan, as well as many runway shows. Of all of them, I have memories of very interesting work. I found it very flattering that Hennessy, a French company, asked me to design bottles for their Paradis Horus cognac. That led to designing the Mailbox for Veuve Clicquot, and furniture for an exhibition dedicated to the relationship between Madame Clicquot and her assistant. I could go on with many more clients, I've had so many, and each project allowed me to grow and create something new.
What is your favourite material?
I don't have any favourite materials. A really nice side of being a designer is trying out a different material each time. For example, in the projects I did for Emmemobili, I interpreted wood in a very different, non-conventional way. Recently, I developed a project with a company named Not in Sicily. We worked with local artisans, with whom we made furniture elements using ceramics in an unusual way.
I also really like plastic, even though it's now looked at as a polluting material. Actually, plastic is a material constantly evolving; I saw the first recycled plastic in the early 1990s, and today we are already much further along. I believe that plastic is a material that still has a lot to offer. However, there are undoubtedly problems to be solved with the disposal. When Kartell first started using plastic for furniture, the goal was to replace wood with plastic. And the lamps designed in the 1960s, while made of plastic, were not built to be thrown away the next day; on the contrary, they were meant to last a very long time. Of course, disposable plastics cause a lot of trouble with recycling, and bioplastics have made it even worse since they can't be dumped or recycled with the same techniques as fossil-based plastics. But, beyond all the undeniable problems, it is a material that still has great potential.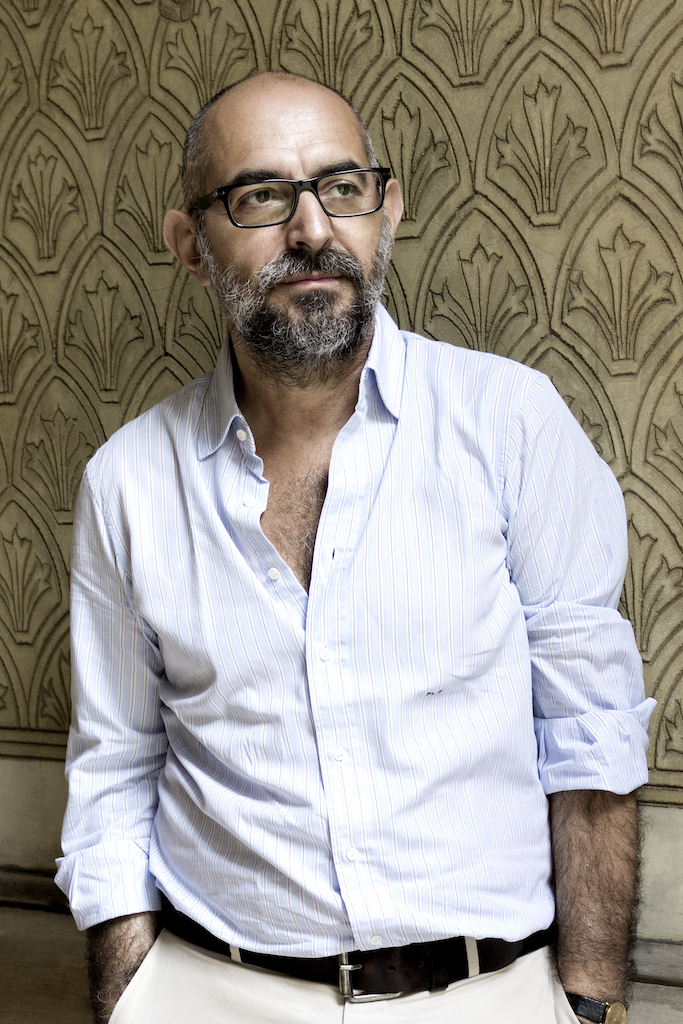 Can design improve lifes?
Certainly, it can. Even if it's just the good feeling of buying something beautiful or having something around that improves a function. I think there are millions of chairs and lamps, but if, despite the abundance, you manage to create a bestseller, it means that there is always room for improvement. Maybe you invent something new or simply change the references; things change.
Do you prefer to design booths for trade shows, fashion shows, or product design?
I have no preference; on the contrary, I like my job precisely because it allows me to work on projects on different scales. From 2000 to 2013, I worked for Dolce & Gabbana, and with them, I designed many stores and many fashion shows. I also did other projects in retail, but a little less articulated. I also designed a lot of products. I love my work because I can do very different things: the object conveys certain emotions, maybe in the function or material; the architecture vibrates through space. They are different kinds of stories, which live a complementary life.
What is the most important element in residential interior design? Is it the finishes, the furniture, the natural light, the artificial light?
The design of a house is perhaps the most difficult of all. Designing a home, in fact, involves many aspects of the lives of the people who will live there. So, the architect, or the interior designer, must become a "spiritual advisor" to grasp all facets of their client's lives, even the less obvious ones. This job requires a unique attitude, which I don't have, so I prefer to design for companies. Due to the complex nature of the residential project, no one aspect prevails over the others; a good result comes from the perfect alchemy between all the factors that are included in it. Perhaps the most crucial thing in tackling these projects is to get in tune with those who will live in the house.
How is this different in retail spaces? How do you engage the public, to make them feel comfortable in a public space?
The essential aspect that makes a store a destination, is that the customer feels comfortable. Customers will come back if they have a reason to do so. My ideal store was the second Fiorucci store in Milan, in Via Torino, which opened in 1974. Although it was 50 years ago, it was already a cutting-edge concept store, where you could find records, clothing that you could only find there, unique home accessories, perfumes, cosmetics, there was already music at very high volume… Fiorucci had managed to create a new world. In this concept store, you could go in and spend the afternoon, even just wandering around. The store where you feel at ease must be like this; the customers come back if they have a reason to do so, or even if they simply feel exceptionally comfortable there. Then, depending on the business strategy, you can create a model world and recreate it the same way in every part of the world, for brand identity. Or you can choose to tell a different story each time, and so you'll have the Milan story, the New York story, and so on. Beyond the single corporate strategies, the exciting challenge in the physical retail space is that each project is like a book; each space is an independent story.
Are there specific continents/markets that are maybe more advanced already, compared to us in Europe?
I think advanced or backward are relative concepts; each situation depends on what you are looking for. There has been a big rush to Asia and the Middle East in the last few years, but each market is an independent chapter. Starting in 1993, for about 10 years, I worked assiduously in Brazil. Today I don't know if I would do it again; things change. In the 1980s, I spent a lot of time in Japan, where I had the opportunity to learn about a completely different way of working. But, again, it depends on what you are looking for. There are very advanced realities in Europe, just like in the United States and Asia.
What 3 things would you bring to a desert island?
For sure, my smartphone; music, so my iPod or something similar; and then, of course, pen and paper.
How would you define your guiding principle(s)?
My guiding principle usually is: "Do what you like, as long as it makes sense." When I work for a company, whatever kind, I feel a lot of responsibility to design so that the investment has a return. Other than that, I think it's okay to be free to design with your own creativity, as long as you do things that make sense.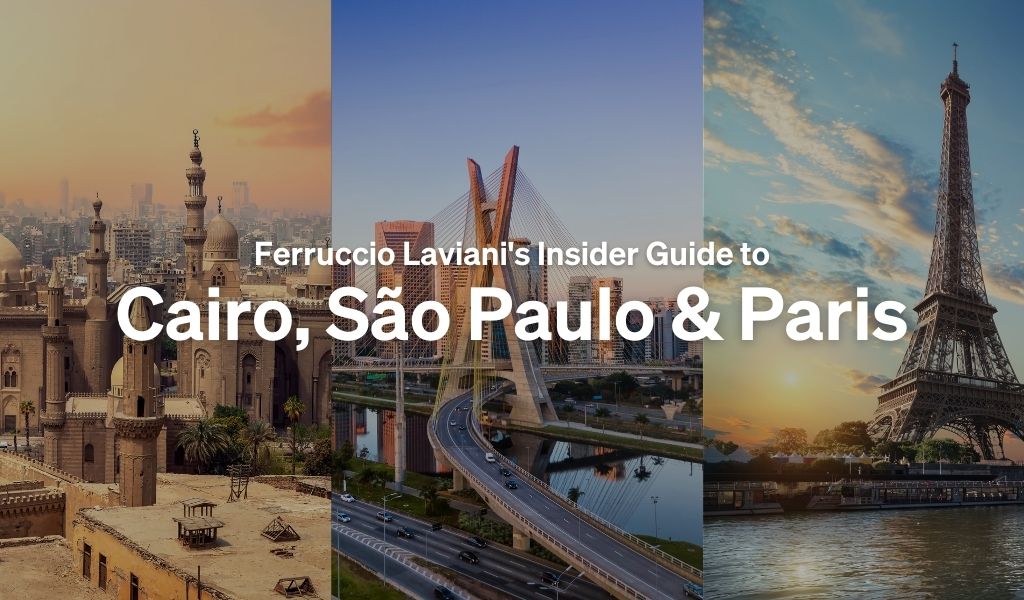 Your work has taken you all over the world. What's your favourite city? And what are the top 5 spots in this city you'd recommend to your best friend when they are in town?
This is a really difficult question, as I don't have just one favourite city. I can narrow it down to three, let's say Cairo, São Paulo, and Paris. As for must-see places, I would say the Archaeological Museum and Café Riche in Cairo, MuBE, MAST and La Casserole restaurant in São Paulo, and the Louvre, in Paris.
If you liked the interview, you might also be interested in our interview with interior designer Matteo Perduca or with furniture designer Johanenlies.