With her brand of classically and sustainably designed handbags, Malin Bernreuther is envisioning a new world for fashion. After studying fashion design in Berlin and Antwerp, Malin worked for over a decade as a designer at luxury fashion houses across Germany and France, until transitioning from designer to maker in 2018 with her own line: Naditum. Founded upon principles of quality, craftsmanship, and female empowerment, every one of Malin's radiant pieces stands for a new standard in the industry, prioritizing transparency in production, first-rate materials, and distinctly elegant design.
To have a Naditum bag draped over your shoulder is to be an informed and conscious buyer: a woman uplifted by confidence, femininity, and strength, emboldened by her fashion rather than a servant to products and trends. Within the ever-growing brand and her ongoing work as a designer, Malin is a maker of pieces equally timeless and practical, and an advocate for responsible design, constructing a world of fashion in which we are empowered by our selections and inspired by their creators.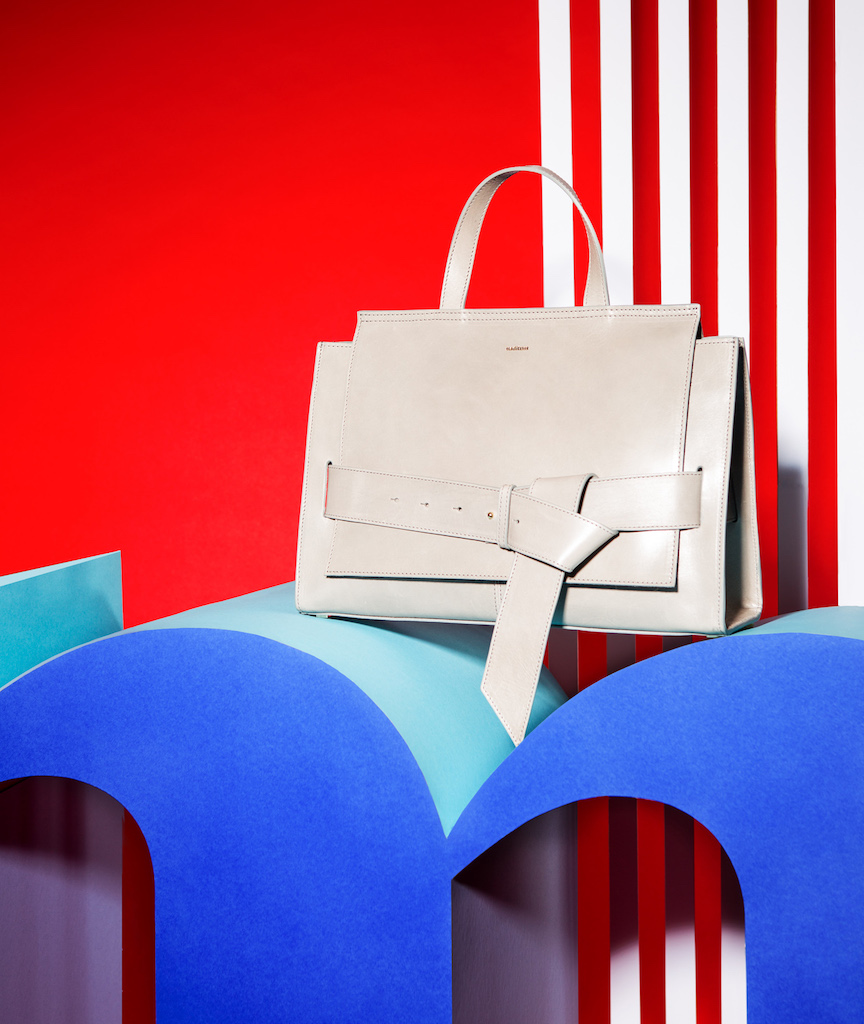 When did you first encounter the Babylonian term "Naditum" that would become your brand's name? 
I can't really say exactly. The search for a suitable name was not so easy and took several months. It was clear from the beginning that it had to be about women and about what strengthens us. After a long search, I came across the story of Naditum and found it very suitable. For those who don't know this story: Naditum were women who lived in a community around 2000 BC, supported each other and were economically independent. They formed networks, supported each other and in some cases held very high positions that were actually reserved for men at the time. The first businesswomen, so to speak.
It was actually decided by a friend of mine, who I think a lot of in terms of design and also in all other ways. She wrote down the selection of names I had quite pragmatically and was in love from the start with the typeface that the word Naditum produces. Et voila, then it was decided!
How long was it between the initial idea of launching your own brand and actually embarking on it? 
That took about 2.5 years. What took me so long was finding the right partners to get the product off the ground. In terms of craftsmanship and quality, Naditum bags are in no way inferior to standard luxury bags, quite the opposite! I pay a lot of attention to the quality of the workmanship and the materials I use. Finding suppliers who also offer sustainable materials in small quantities was very time-consuming and took a long time.
It was also not easy to find a manufacturer that produces in small quantities and also has the craftsmanship know-how. In the end, I spent 1.5 years testing a wide variety of manufacturers. In Germany, Turkey, the Czech Republic and finally in Portugal, where I found what I was looking for.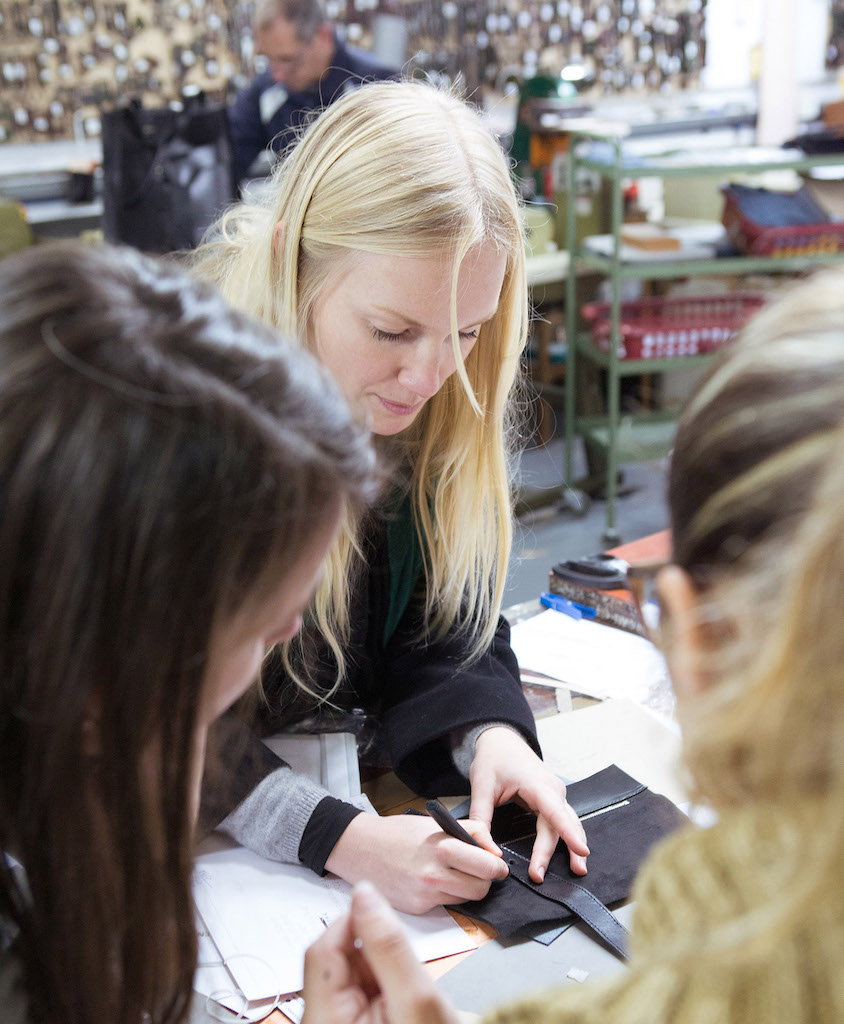 Was there a moment you knew you were ready or was it a leap of faith?
There was actually no such moment. It was more a case of one stone being laid on top of another and at some point, the products arrived. For me, there is no right moment when you are ready for something like this.
Tell us about the woman and her family running your factory in Portugal and how you first came to meet them. 
After I had already tested the bags in dozens of companies and nothing worked, I was honestly on the verge of throwing everything in the bin. I gave myself a few weeks of rest and did nothing at all. Finally, I rolled up my sleeves once more and put aside the old collection as it was initially planned and planned completely new models. Then I wrote to a few factories in Portugal, booked a flight and a car and finally went straight there. They were tested in two factories and then I decided on my current one.
The factory is located on the outskirts of Porto in Portugal and is a long-established family business. There, leather skins are still cut by hand and lovingly assembled into a bag. The family business is run by a woman. She works at the sewing tables herself every day and is currently passing on her knowledge step by step to her sons, who joined the family business after completing their studies. The contact person who makes it all possible and organises it is also a woman. I am very grateful to both of them.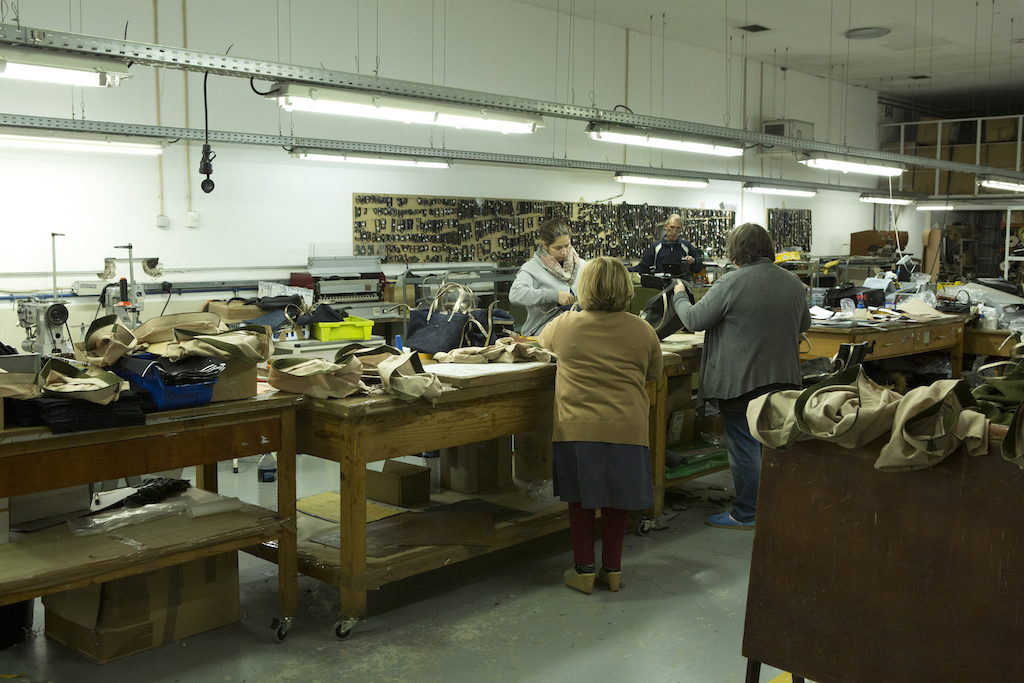 You've said, "together women are just stronger". Who are the women who have empowered and uplifted you as a creator and business owner? 
Oh, I could name so many. The list is long. My personal heartbeat is my grandma. While she hasn't directly influenced me in my journey as a designer and maker, she has been extremely empowering in my life. I am very similar to her, and through the memory of her, I draw strength. The desk I am working at was her old ironing board. So I am connected to her every day. The lamp next to it was also hers and has lit up many dark nights for me.
And then there is my mother, who is much less anxious than I am, not to mention sometimes even a daredevil, and who always says: just do it.
In the end, however, many women have accompanied and supported me a little on my way to Naditum. I maintain a large network of women who support each other.  The idea of Naditum is me and how I orient my life. That is very important to me.
Of all the fashion accessories, what is it about a woman's bag in particular that can work to empower her? 
Accessories are so great because they can be worn by every woman. Women are sometimes so terribly self-critical and don't allow themselves to wear some things.  Who doesn't know these thoughts? I'm too fat, too small, too old etc. for that.
It's completely different with accessories. You see them and love them. You are never too fat or too old for a scarf or a bag. That's why I find accessories so exciting. Fashion should make you stronger, not weaker.
Women have a very special relationship with bags. Everything important for everyday life is carried in them and they make hearts beat faster than hardly any other item of clothing. Totally irrational sums of money are spent on bags, which must be a very special relationship. Bags can add a lot of value to an ordinary basic outfit and give the feeling of being very strong and beautiful.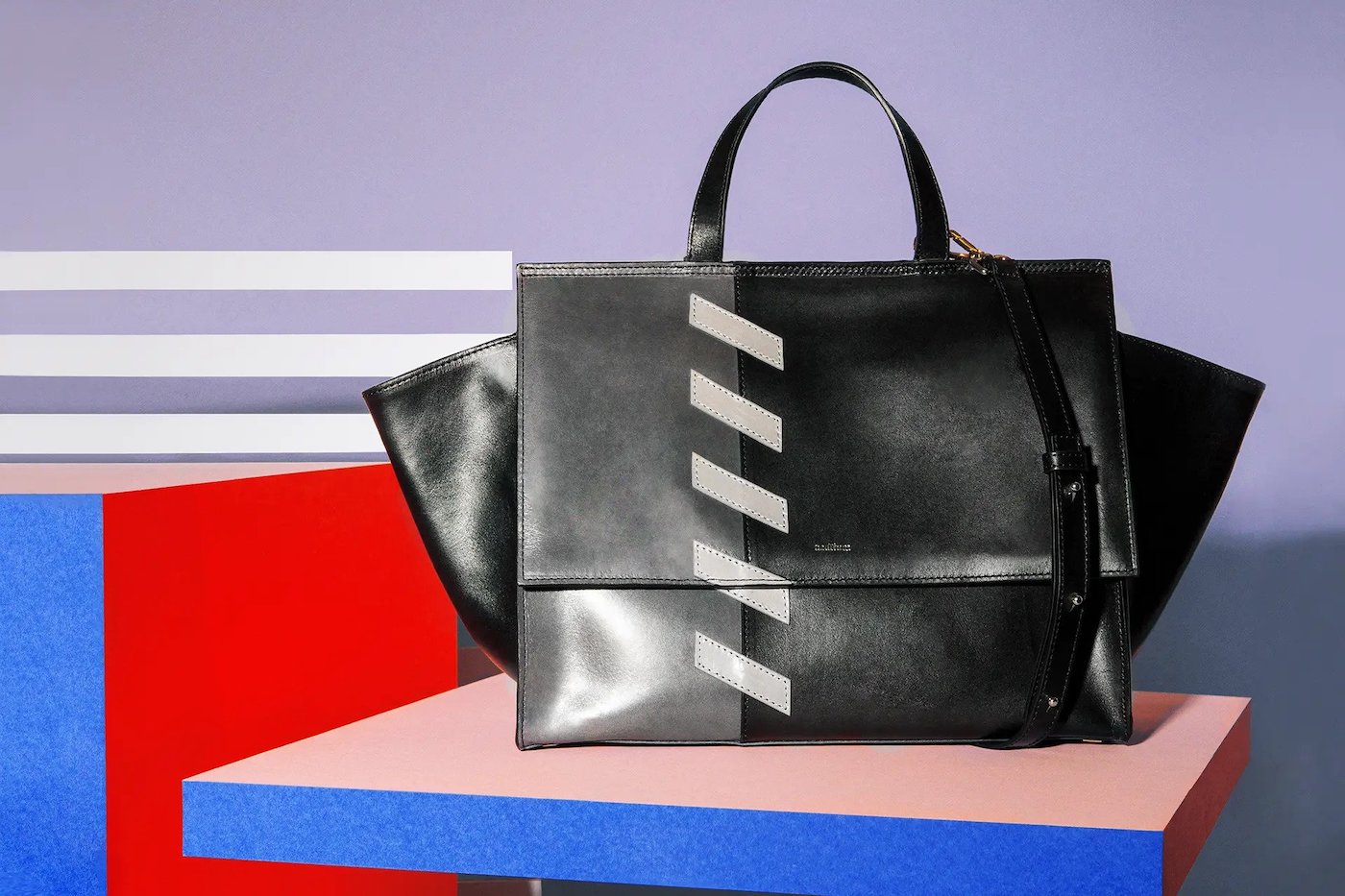 What do you want to communicate in the design of your bags? 
I interpret classics and give them new details. With Naditum, I create items that are meant to last a lifetime. This starts with the selection of the materials before I start designing. At the moment, I only use vegetable-tanned leather from Tuscany. It's very robust and ages beautifully over time. The bags can get a few scratches over the years or, the colours can get a little warmer from sun exposure. Each model will tell a personal story over the years. That's an idea that I like very much.
For me, the choice of materials is just as important as the pure design.
How do you see our relationship to the items we purchase changing as a result of transparent production processes? 
Unfortunately, there is still far too little happening. The collapse of Covid-19 has put sustainability and transparency more on the agenda of many brands and also sensitised customers to these issues. What I am observing at the moment, however, is a superficial "wanting to be green" among many brands.
Naditum was already focusing on sustainable production before the pandemic. For me, sustainability means not only using materials that are sustainably produced but also choosing materials and production techniques that are durable. For me, being sustainable also means paying fair wages, sourcing materials regionally and creating long-lasting products. 
Buying products that have a manufacturing history that makes you proud gives much more long-lasting pleasure than a quick purchase of things that only appeal at first sight. I myself love to surround myself with things that tell a story and are passed from generation to generation. And it is precisely these products that I make with Naditum.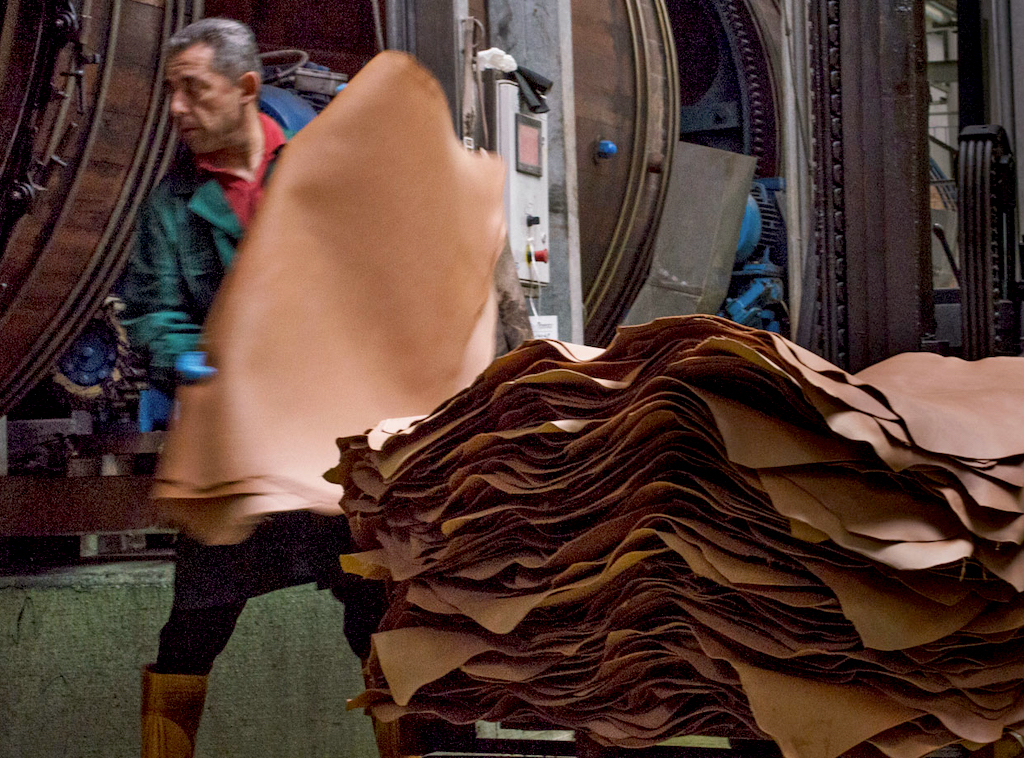 You were born in Germany with Puerto Rican roots, studied in Antwerp and Berlin, and have worked all across Europe. What is your favourite city?
Oh, that's hard to say. My heart still beats very strongly for our beautiful German capital, where I spent most of my adult life in Kreuzberg. I'm still very emotionally connected to Berlin and sometimes I think about going back. For travelling, I love Istanbul. I've been there dozens of times, often for work when I was employed as a designer, but also because a much-loved friend of mine lives there. I like the flair of Istanbul very much. I love taking the ferry across the Bosphorus and having tea and baklava on every corner. I always feel very alive there. That's something Berlin and Istanbul have in common. All that life on the streets.
And what are the top 5 spots in this city you'd recommend to your best friend when he or she's in town?
Since I have been living in Munich for quite some time, I will now recommend something here.
I live in Sendling and can definitely recommend the restaurant in the Grossmarkthalle around the corner if you want to eat a typical Weißwürstchen without all the tourist hoopla. You have to be there early on Saturday, as they close again at noon, but it's well worth it.
I find great joy in the small, unspectacular things in life. During the pandemic, I spent a lot of time on the park bench in front of my house and found it wonderful. You can get to know the neighbourhood there or just sit there and drink a glass of wine, I liked that a lot.
I'm also a big fan of the Isar in the summer and like to cool off there when it's hot and then go to the Flaucherbiergarten with friends for a beer. Compared to the other Munich beer gardens, it's very small and introspective, which I like.
From what or who do you draw your greatest inspiration? 
Clearly from women who surround me. My products are made for women. They do not disguise but are meant to strengthen.
Read More: