The Amalfi Coast (in Italian, Costiera Amalfitana) lies in Italy's southwestern Salerno province in the Campania region on the Tyrrhenian Sea wrapping around the Gulf of Salerno. It is, without doubt, one of the most beautiful places on Earth with breathtaking Amalfi Coast Hotels. No wonder it's a UNESCO World Heritage Site.
Just a short drive from Naples airport and you'll find the beautiful resort village and honeymoon paradise of Positano. The medieval former fishing village is hidden in a coastal enclave and filled with charming pastel-painted houses that hug the cliff faces overlooking the beach. Many of these now house all-inclusive 5-star hotels with instant beach access and high-end Michelin-star restaurants. We picked our favourites of all Amalfi Coast Hotels for you!
Due to the current Covid-19 pandemic, please check local regulations before booking.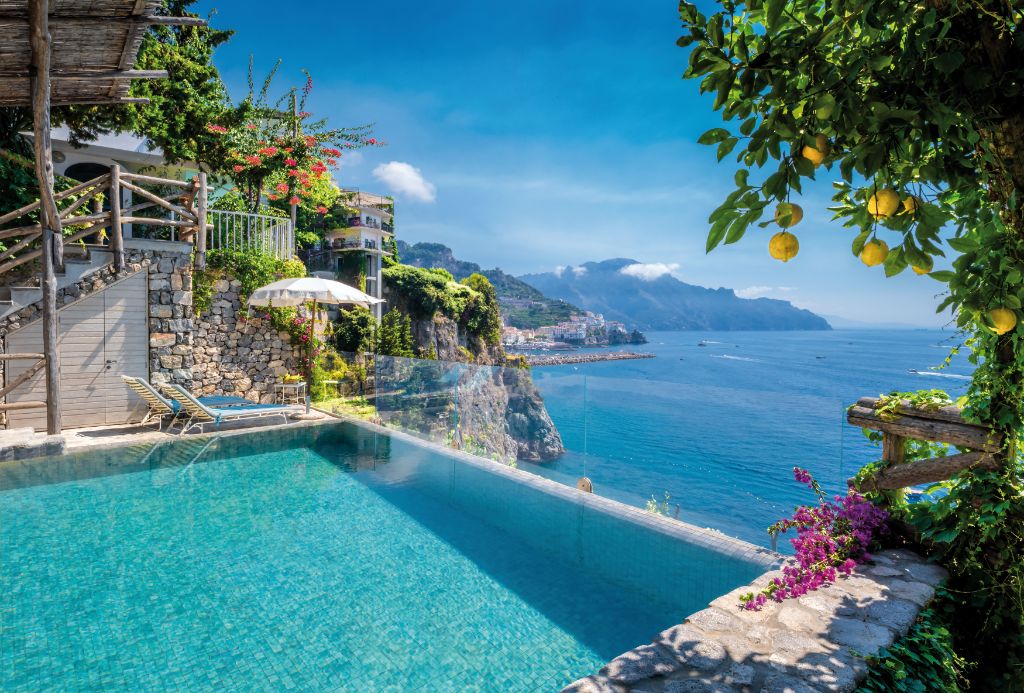 "This gem under all Amalfi Coast Hotels has the perfect combination of Art Nouveau and comfort!"
Nestled in terraced gardens and a citrus grove this villa, built in 1904 at the Amalfi Coast, houses the Hotel Santa Caterina. Their thatched-roof open-air restaurant Al Mare overlooks the infinity pool while friendly balcony rooms, furnished with family heirlooms and local antiques, offer breathtaking views across the sea. Staff, dressed in polos or tuxedos, greet you by name while directing you to the saltwater pool and the hotel's own private beach. Just take the glass elevator down through the rock to reach it, as you marvel at the engineering and become enchanted by the location even more. A truly gem along all Amalfi Coast Hotels.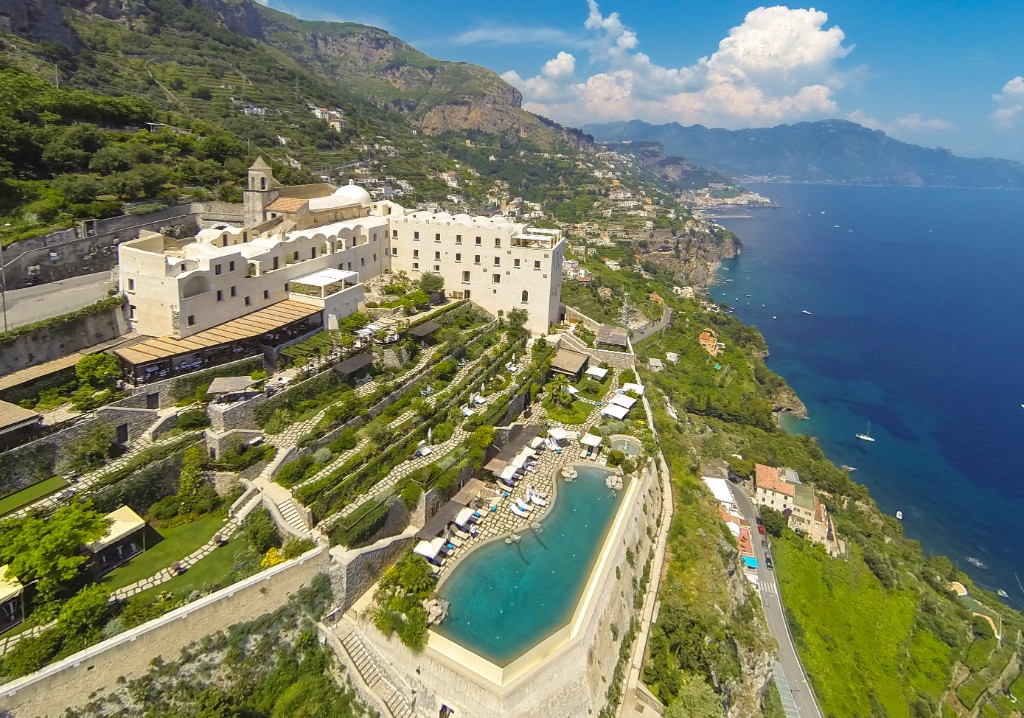 "The adult-only top-rated treasure."
The Monastero Santa Rosa Hotel at the Amalfi Coast sits high on a rocky cliff, far from tourists and overlooking the Tyrrhenian Sea in a beautiful 17th-century former Dominican convent. The location is for sure one of the best of all Amalfi Coast Hotels. The hotel's architecture is as impressive as you'd expect, with vaulted corridors and ceilings, and adorned with tasteful 17th-century furniture mingling with contemporary additions. The heated infinity pool, perched 660 feet above the sea, only adds to this locale's wow factor.
Check availability
"An exceptional blend of luxury and style that will exceed any expectation."
Steinbeck once wrote, "a dream place that's not quite real when you're there and that becomes tantalisingly real when you're gone." The family-run Le Sirenuse palazzo has been a holiday destination for movie stars and star-crossed lovers since 1951. Its opulent guest rooms are renowned for their signature colourful handmade tile floors, their tasteful antiques, and their balconies that each offer stunning sea views. Le Sirenuse's restaurant enchants with candlelight at sunset while the palazzo's own traditional sailing boat invites hotel guests on private trips along the picturesque Amalfi coastline. For sure one of our favourite Amalfi Coast Hotels!
Check availability
"A breathtaking place under all Amalfi Coast Hotels that will make your trip truly memorable!"
The Il San Pietro di Positano retreat is perched high on a cliff of Amalfi, a mile out of town, overlooking Positano Bay. Known as a retreat for celebrities like Jennifer Aniston and Mick Jagger who appreciate the secluded private balcony rooms that border directly onto the cliff, Il San Pietro has a chic boho charm, furnished with dazzling elegance, gilded coffee tables and lamps from the '70s. The hotel's pool and a private beach, reachable by hotel elevator, offer guests a swim while lunch is recommended at the Carlino beach restaurant. In the evening, the glamorous, Michelin-starred Zass restaurant, perched high on a rocky outcrop above the water, is calling. 
Check availability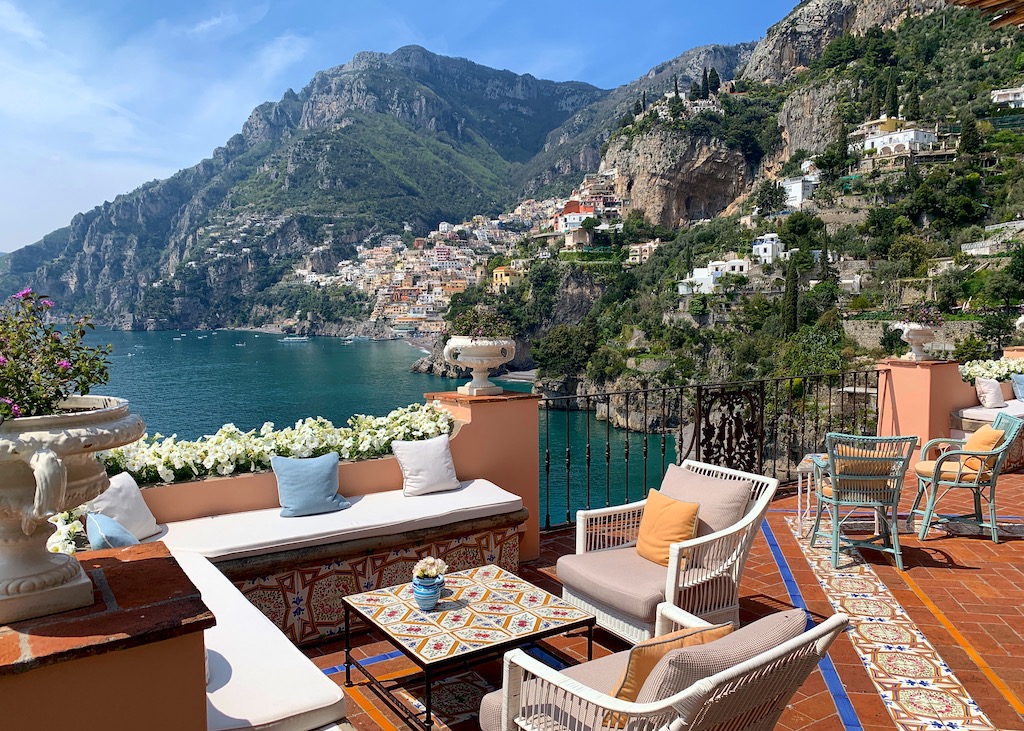 "Italians' iconic rustic feel along with stunning luxury rooms."
Magnificent gardens and Hollywood glamour awaits guests at the Villa Tre Ville. Like the name says, the large three villa estate sits atop the Amalfi coastline offering some of the best views you could hope to experience out of all Amalfi Coast Hotels. Originally a private estate built by legendary opera and film director Franco Zeffirelli. Tennessee Williams, Elizabeth Taylor and Leonard Bernstein were all entertained here by the master of the house and now lend a cinematic character to the villa with their namesake suites. Countless mirrors and pottery palms, rare finds such as mother-of-pearl furniture from Syria, and a wide variety of terraces, secret passages and a vine-lined arbor await guests.
Check availability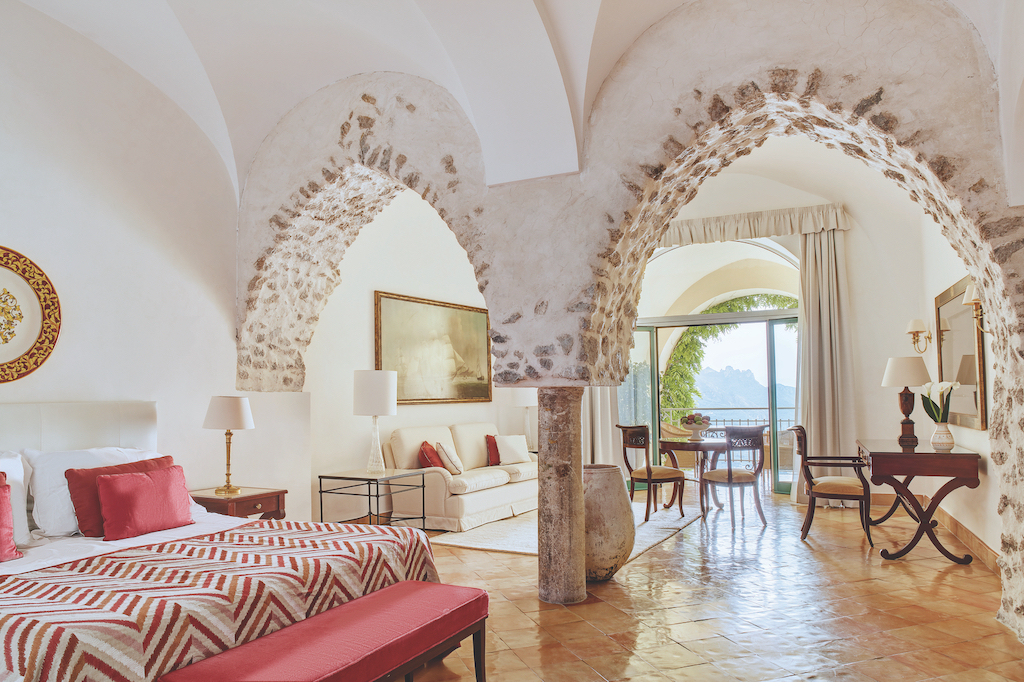 "Unparalleled views and an exquisite infinity pool located in the most scenic part of Ravello."
This 11th-century former palazzo sits atop the highest point of the Amalfi coast village of Ravello and offers complete unobstructed views of the sea. Every room corner at the Belmond Hotel Caruso is stunning, from the colourful frescoed ceilings and the Moorish arches, to mosaic floors, ancient stone walls, and private gardens. There's an infinity rooftop pool but if you're looking for day trips, the hotel's own wooden boat offers complimentary cruises along the Amalfi Coast. Meanwhile the Belvedere restaurant serves seasonal Mediterranean specialties. No wonder people like Jackie Kennedy and Humphrey Bogart, as well as us, cherished this place.
Check availability
"An immaculate palace with a picturesque Beach Club that everyone should get to experience."
The breathtaking view of the sea from almost every room is reason enough to check into Palazzo Avino, the 12th-century Baroque palace complex that sits proudly on the Amalfi Coast. However, the rooms full of 18th-century antiques, handmade tiles from Vietri, a heated pool with an underwater window just add to the magic of this place. At the Michelin-starred Rossellinis restaurant, modern Italian dishes and fine regional wines are served on terraces overlooking the picturesque coast. As a fine extra, which is not common among all hotels on the Amalfi Coast, there's a solarium and two Jacuzzis on the roof.
Check availability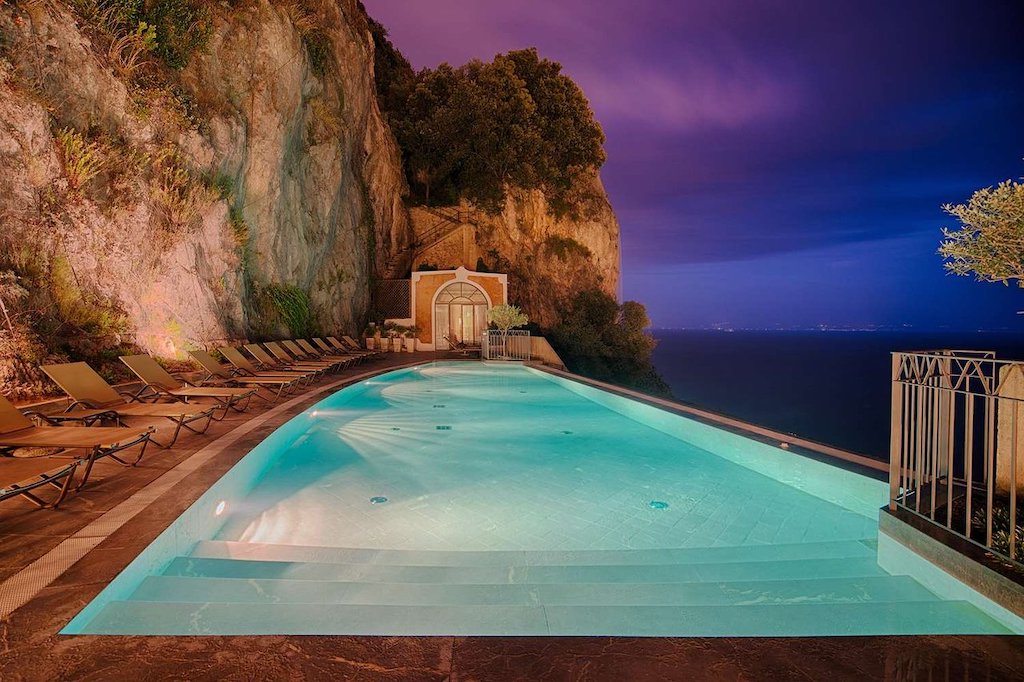 "A romantic atmosphere with delightful Italian style."
The NH Collection Grand Hotel Convento Di Amalfi stands high on the cliffs of the Amalfi Coast, majestically overlooking the sparkling sea from its rooms and heated infinity pool. In the converted 13th-century monastery, ultra-modern rooms await discerning guests. Typical terracotta floors, marble bathrooms, and a pillow menu are a given. A sumptuous breakfast buffet and two Mediterranean restaurants have tantalized our palates on an airy panoramic terrace. Exercise enthusiasts will be tempted by the gym, while less strenuous options include the deluxe wellness center, or just relaxing walks downhill to the center of Amalfi which lies just 5 minutes away. Definitely a highlight under all Amalfi Coast Hotels!
Check availability
Read More: