We have found all the best hotels in Lisbon, and we can't wait to show you! Other parts of the country, such as the Algarve or its Mediterranean neighbour, have little to envy of this destination. Here tourists will find great food, museums, a historic centre with small streets to get lost in, and a wide range of luxury hotels to stay at.
Here is our comprehensive list of the top best luxury hotels in Lisbon, Portugal.
In addition to exploring Lisbon's charming neighbourhoods, you can also enjoy el Río Tajo, and just 20 minutes away from the city you get to embrace the tranquillity and excitement of the sea, the surf, and other outdoor activities. The capital of Portugal offers everything – and more!
BEST HOTELS IN LISBON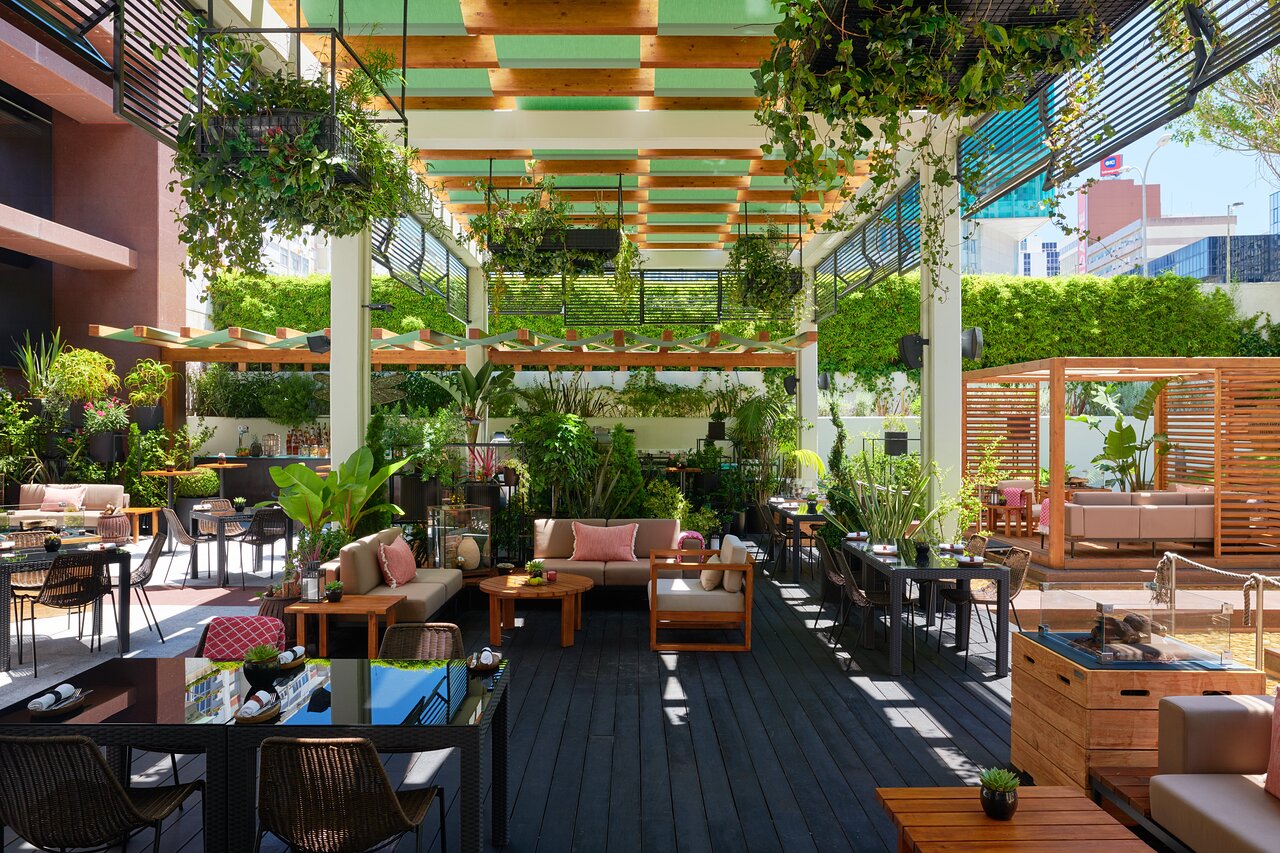 Where do celebrities stay in Lisbon, Portugal?
We were lucky to spend the night here, where usually mainly international celebrities lay their heads: at the high-end Hotel Corinthia Lisbon, a luxury hotel in Lisbon's financial district, which is known for excellent customer service and modern interiors – a beautiful combination of marble and wood, gold and glass, and modern artwork by emerging Lisbon artists such as Diogo Navarro and Maria Antónia Santos. It houses one of the city's largest spas, and they offer poolside yoga sessions in the hydrotherapy room as well as deep-tissue massages. Dinner is recommended at the restaurant Erva, and port wine and jazz music are included in the airy Soul Garden.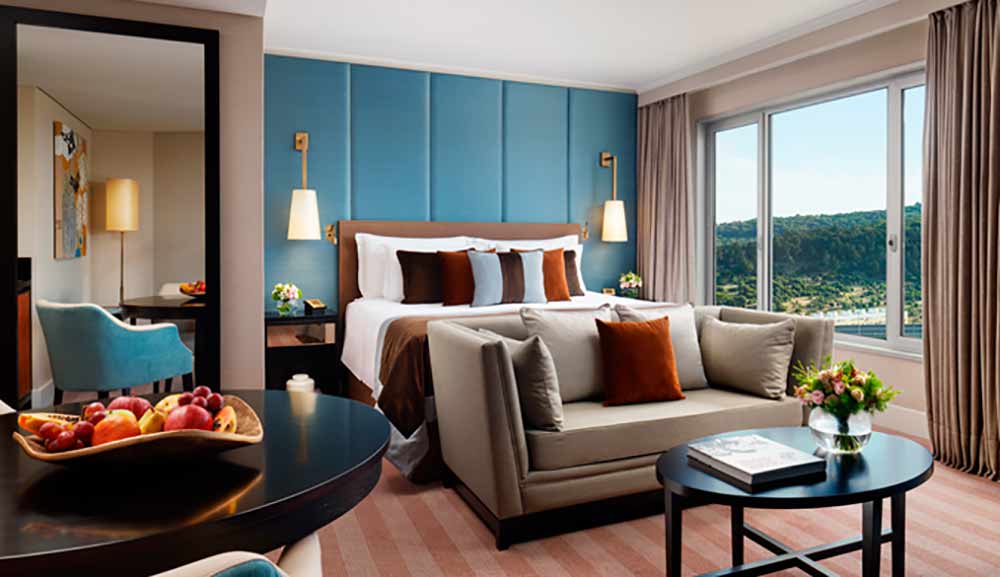 In a few words: A tranquil spa hidden in the middle of the busy financial district.
"A surprisingly intimate hotel with phenomenal views and top-notch facilities."
Check availability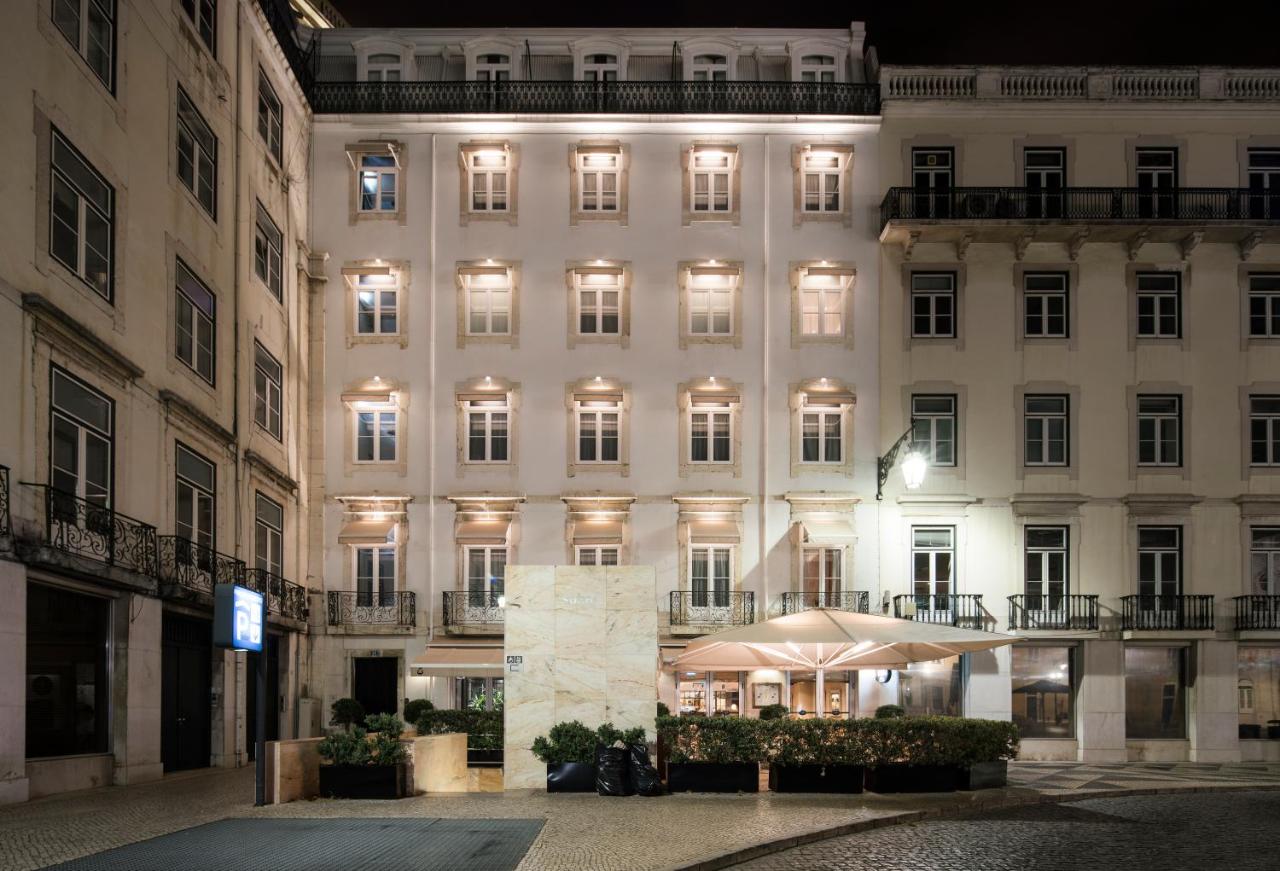 Located on the magnificent Praça de Munícipio, the boutique hotel Alma Lusa Baixa/Chiado is an absolute gem in the centre of the action. Close to Lisbon's City Hall, not far from the banks of the Tagus River and Praça do Comércio, it offers you individually styled rooms with a variety of design elements. From antique fireplaces to original tile floors and wooden details. The hotel's brasserie-chic Delfina restaurant serves breakfast, lunch, and dinner. A trip to neighbouring Sintra is more than recommended, and a tour of Lisbon's winding streets is a must.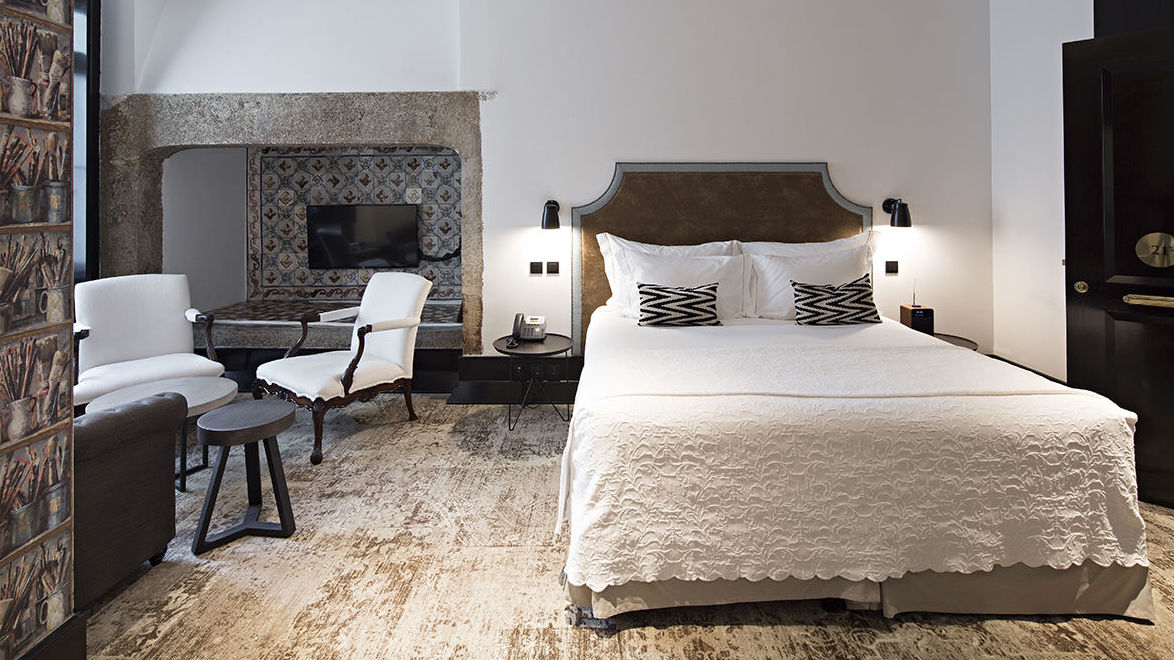 In a few words: Its central location makes it perfect for city breaks.
"The perfect ambient scent and the interior design choices made this hotel a stunning place to stay at."
Check availability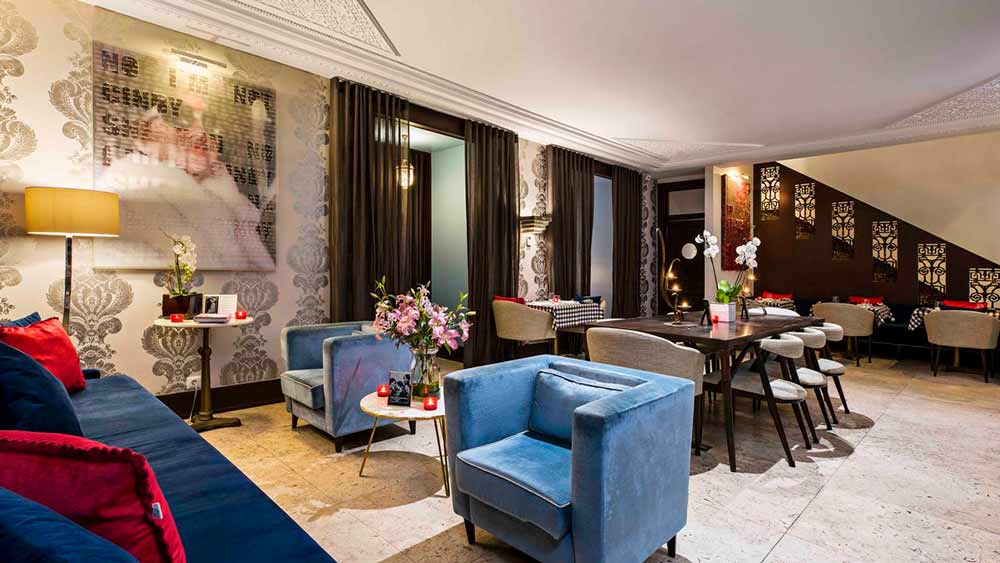 Santiago de Alfama Perfect accommodation in Lisbon's old town
The Santiago de Alfama's 15th-century building in the Alfama district has been lavishly restored by renowned architect Luís Rebelo de Andrade and owner Heleen Uitenbroek. Antique walls, shimmering tiles, modern artwork by Sandra Baia and intimate sitting areas are the inviting result. Oversized windows flood your rooms with sunlight. Powder blue accents, wood-panelled ceilings and freestanding bathtubs emphasize the unobstructed view of the Tagus. The hotel's cheerful Café Audrey provides you with refreshments for the many attractions on your doorstep: The Tile Museum, the magnificent Feira da Ladra flea market, and the Fado Museum.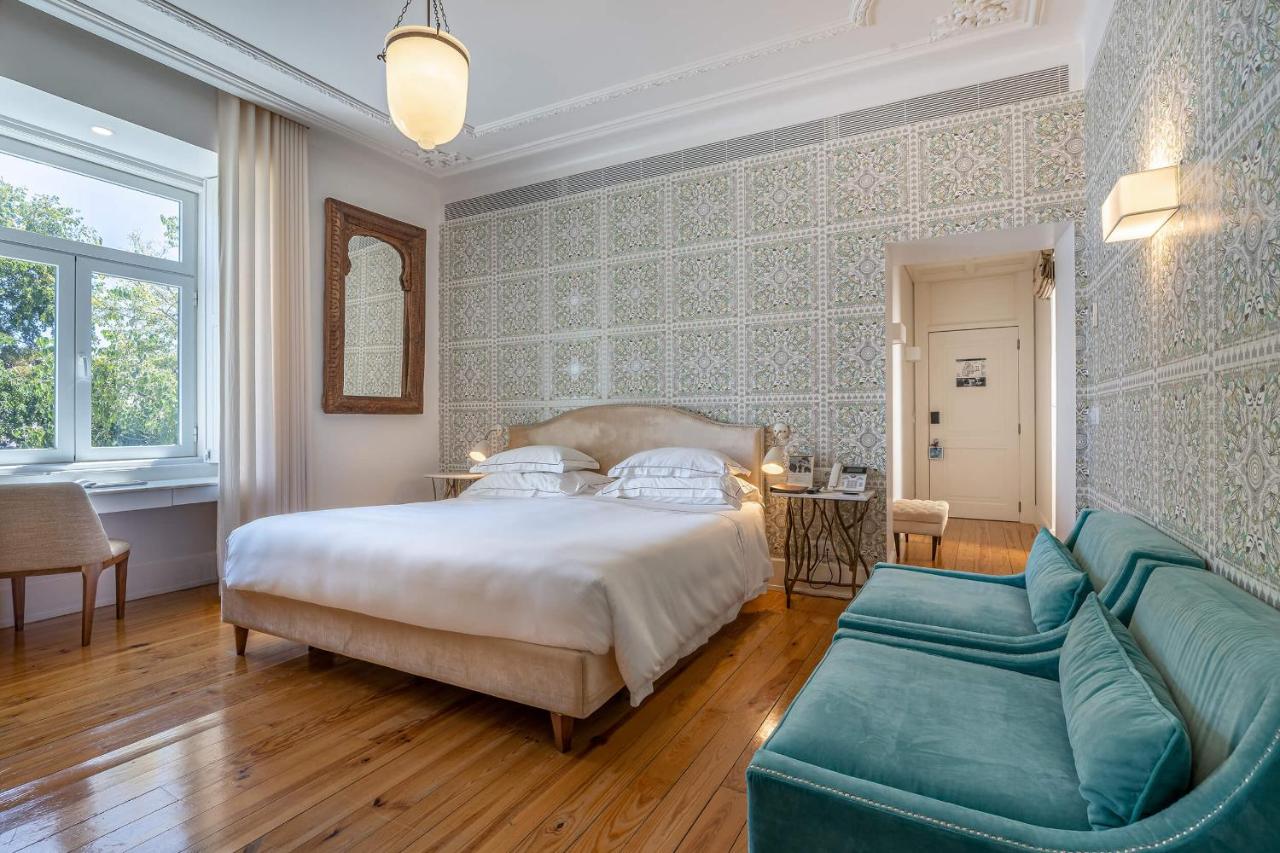 In a few words: Stunningly traditional but lavishly decadent.
"A heavenly hotel with uncompromising attention to detail and quality. It gives its guests enough reasons to make them feel special in an exceptional place."
Check availability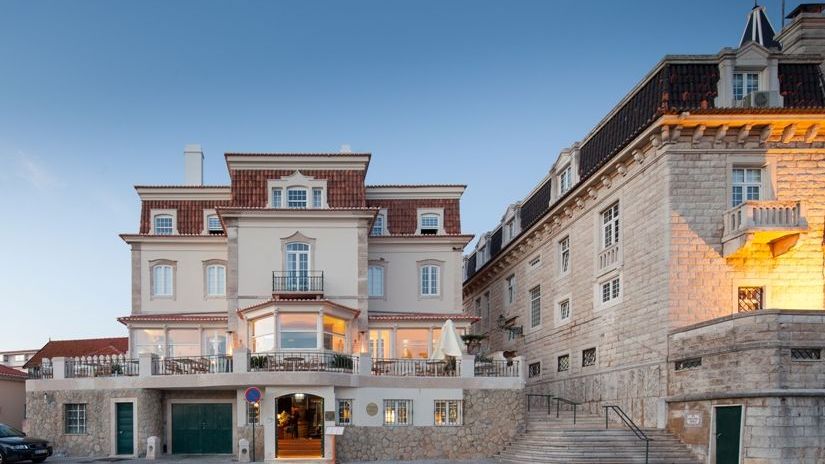 Villa Cascais – Lisbon hotel for beach breaks
Twenty minutes outside of Lisbon, this 19th-century mansion sits right on the sea in Cascais. The sleepy fishing enclave, with gorgeous beaches and outdoor seafood restaurants, inspires the interiors of the Villa Cascais in bold blues, with ceramic tiles and iridescent gold accents. The penthouse suite, which stunned us the most, enthuses with three terraces and a huge freestanding bathtub in the cubic, high-ceilinged bathroom and 360-degree sea views. The villa's restaurant serves up those delicacies that you can work off afterwards on a relaxed bike trip to Paia do Guincho, the best surfing beach around.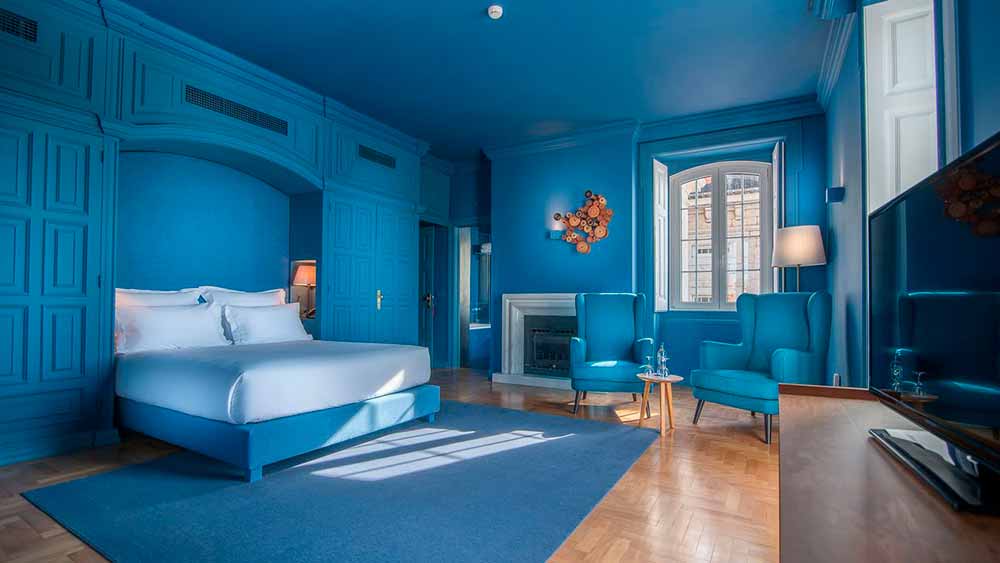 "Legendary terraces and beautifully appointed rooms: everything in this hotel offers an exceptional standard."
In a few words: The coastline views are stunning.
Check availability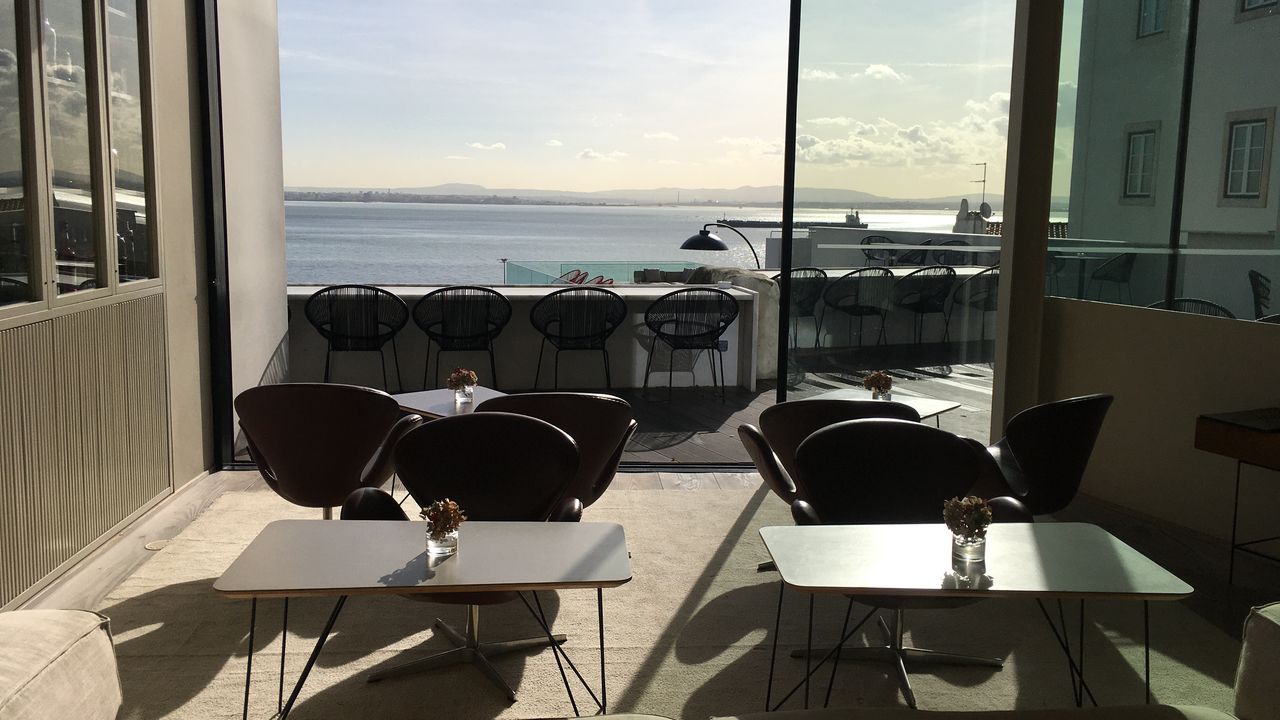 Memmo Alfama – One of the best places to stay in Alfama
Deeply hidden in the hills of Alfama, this romantic boutique hotel has a whitewashed facade and an old courtyard. The interior describes itself as simple, straightforward, and decorated in taupe and wood tones. We were escorted by bellhops to our rooms. The Memmo Alfama's rooftop lounge stuns with moments of pink-hued sunsets behind the Tagus River. We got to enjoy sophisticated drinks by the red-tiled pool, and the many attractions, including São Jorge Castle, the 12th-century cathedral, and the speciality store Conserveira de Lisboa, do not only promise but provide exciting times in Lisbon.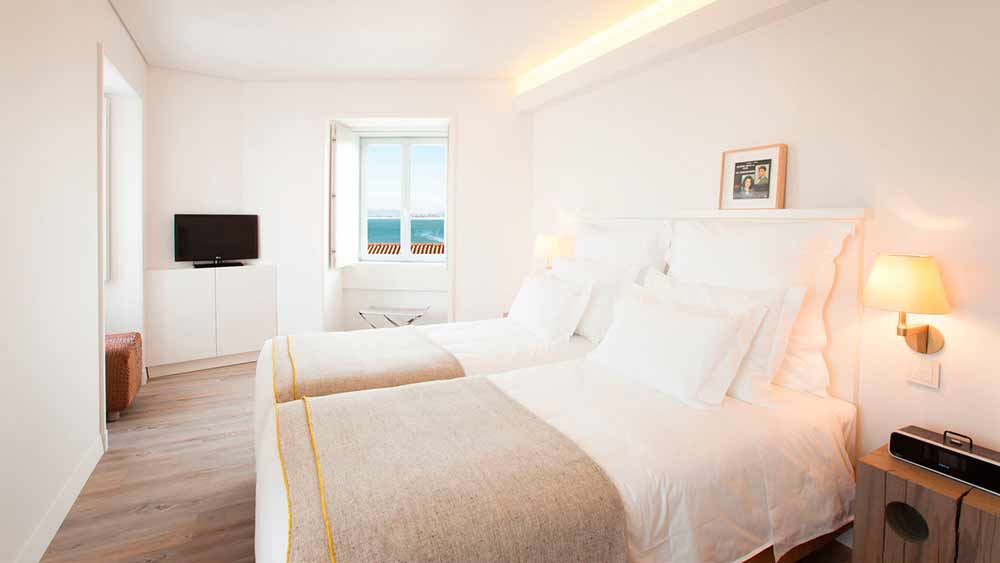 In a few words: A great spot for a romantic weekend away.
"An elegant and charming small hotel in the oldest part of the city, overlooking the river, with a stunning bar open until midnight."
Check availability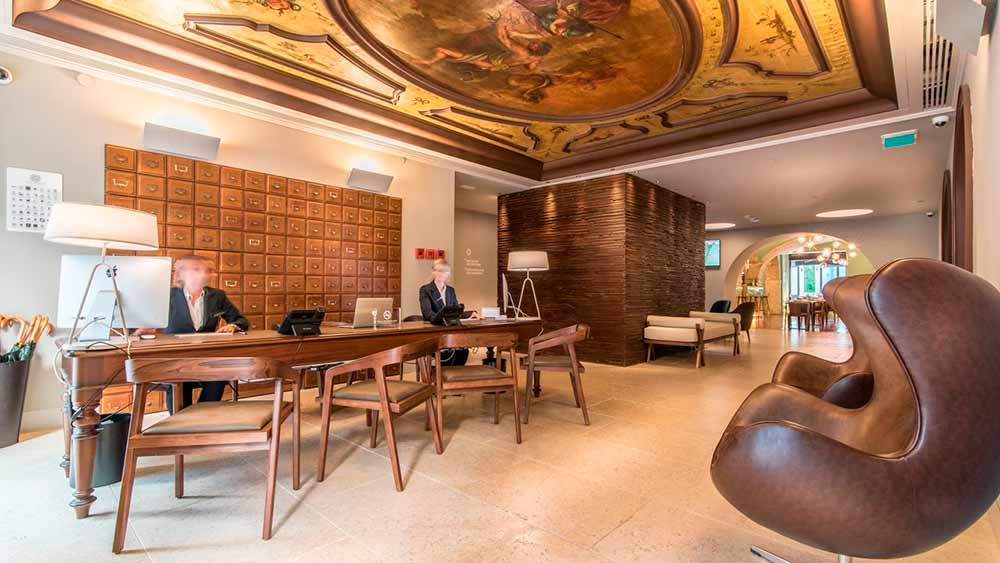 Hotel da Baixa – One of the Hotels in Lisbon's Baixa
Classic, modern, elegant and typical of Lisbon. Dove blue nestles against warm wood and sharp-edged shapes. This is how we experienced the Hotel da Baixa. Located in the heart of Lisbon – Rua da Prata – between Praça do Comercio and Praça do Rossio, it owes its name to the most charismatic neighbourhood in which it can also be found. A boutique hotel inspired by a combination of excellent service paired with typical Pombalian architectural elements. If you want to stay right in the centre of the city, as we did, it's worth checking in here.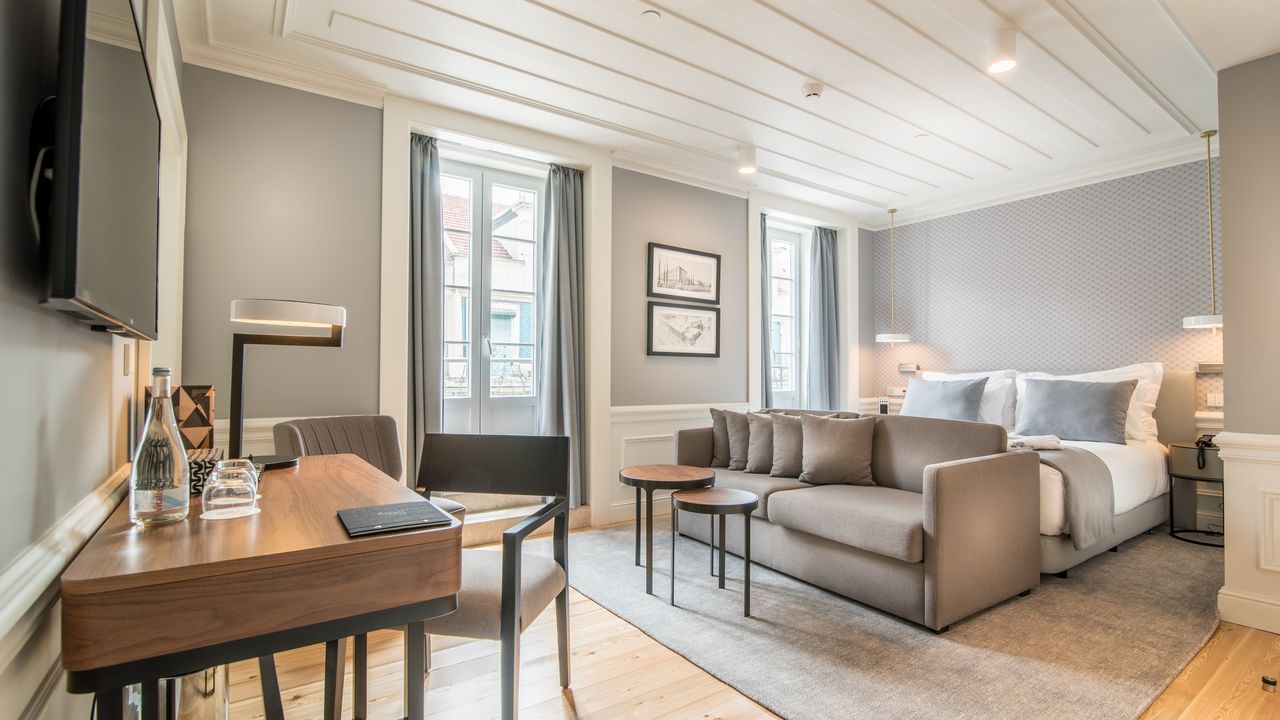 In a few words: The building itself is an architectural wonder.
"This hotel presents refined details alongside beautiful finishes. It seems to have been done by top interior designers."
Check availability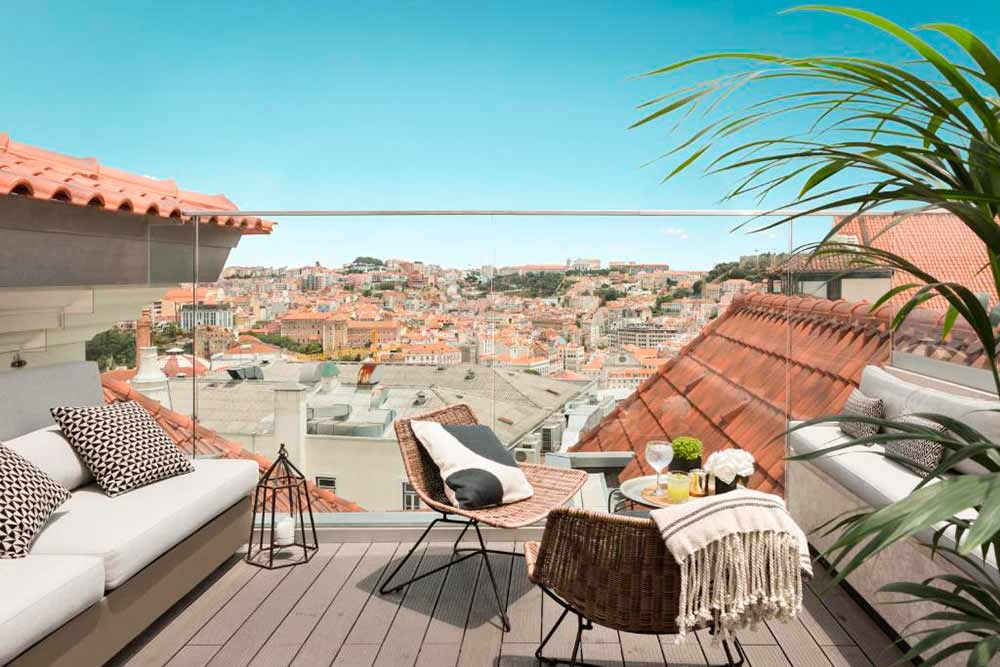 The Lumiares – A boutique hotel in Lisbon's old town
The Lumiares will amaze you with beautifully designed apartment-style rooms and its location in the heart of Lisbon's fashionable Bairro Alto neighbourhood. With five room sizes, from studio to penthouse, this stylish boutique hotel and spa has something for everyone. The Lumi Rooftop restaurant and bar on the top floor offer breathtaking views and are open all day. The small but perfectly designed spa provides you with a full wellness and beauty menu, including treatment rooms, a sauna, a steam room, and a 24-hour fitness room, which gives you many options.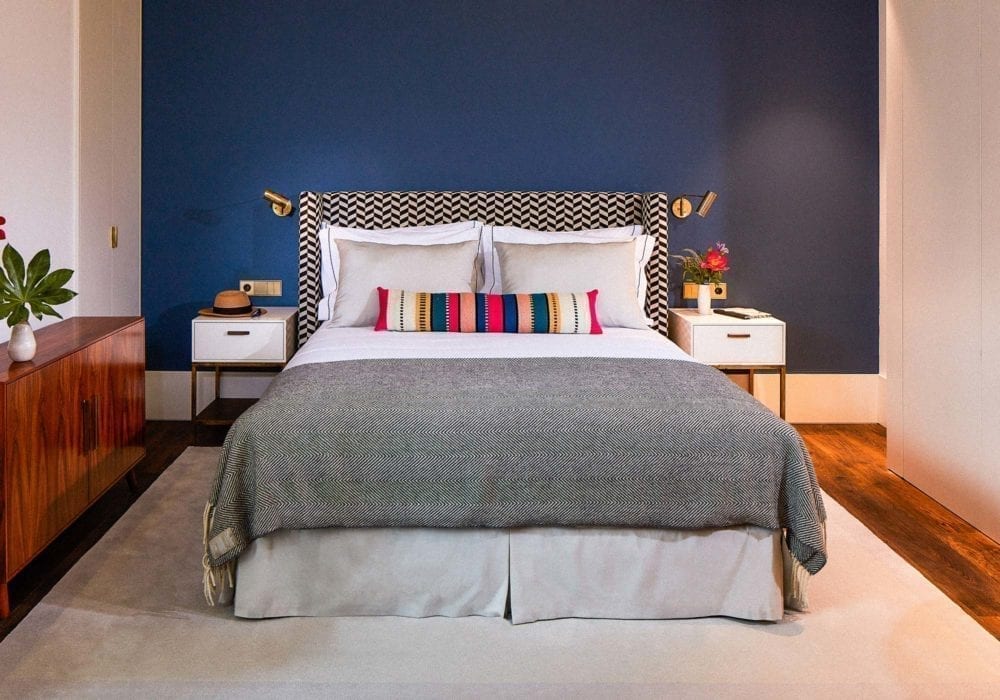 In a few words: A great metro-style hotel with all the facilities you could require.
"Understated luxury in the heart of Lisbon's old town, with special rooms including a beautiful penthouse apartment on the top floor."
Check availability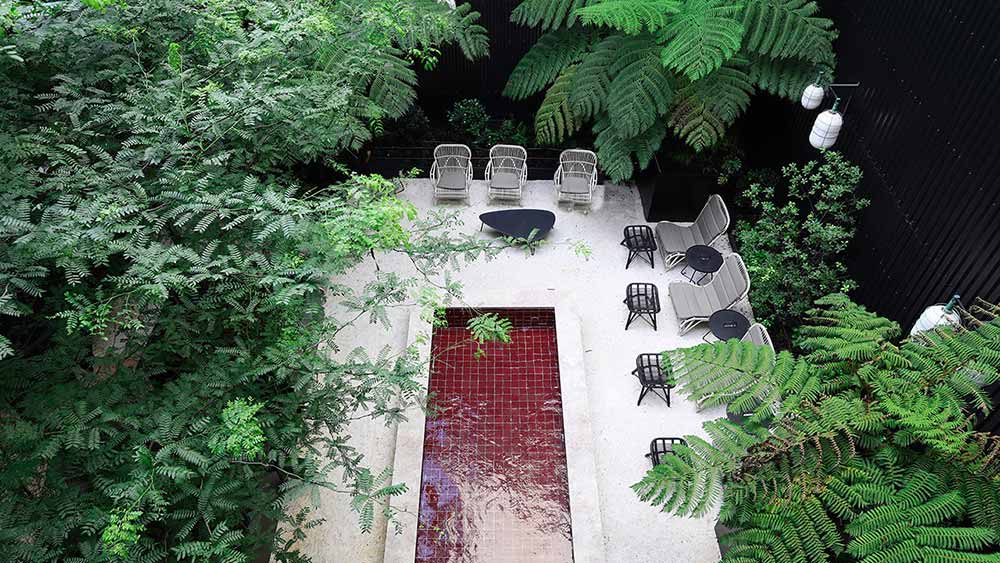 The Hotel Valverde – if you're looking for a unique hotel in Lisbon
The Valverde Hotel may be in the heart of the city, but inside it is as though you have been transported to a different country altogether. With interiors that echo London and New York town houses, the rooms and hallways are adorned with dark oak furniture, stunning artwork, and packed with antiques. With a range of suites and rooms to suit every party, you'll also find a bar and restaurant in-house, as well as a full concierge service.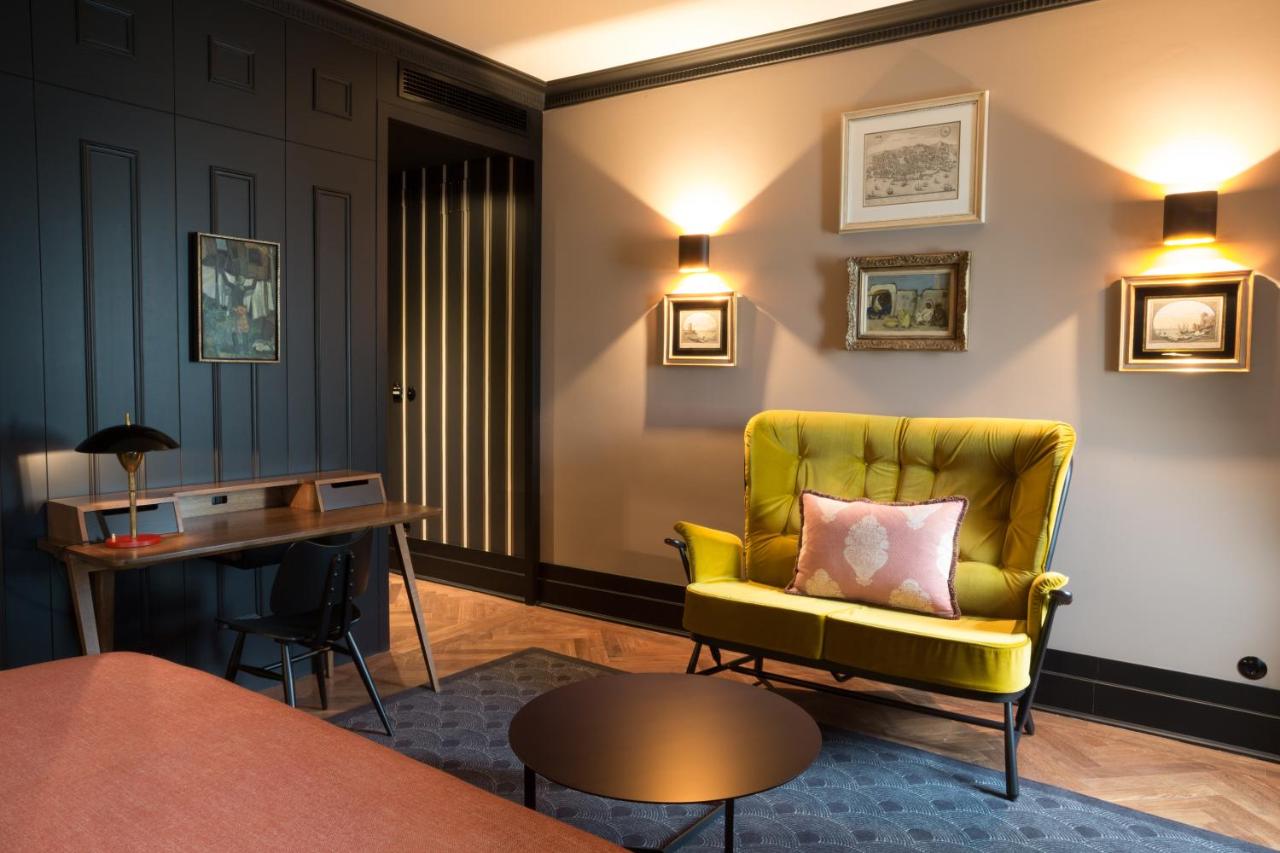 In a few words: A city break HAS to have a city-style hotel!
"We wanted something a bit different and stylish. The Valverde certainly fits that criteria."
Check availability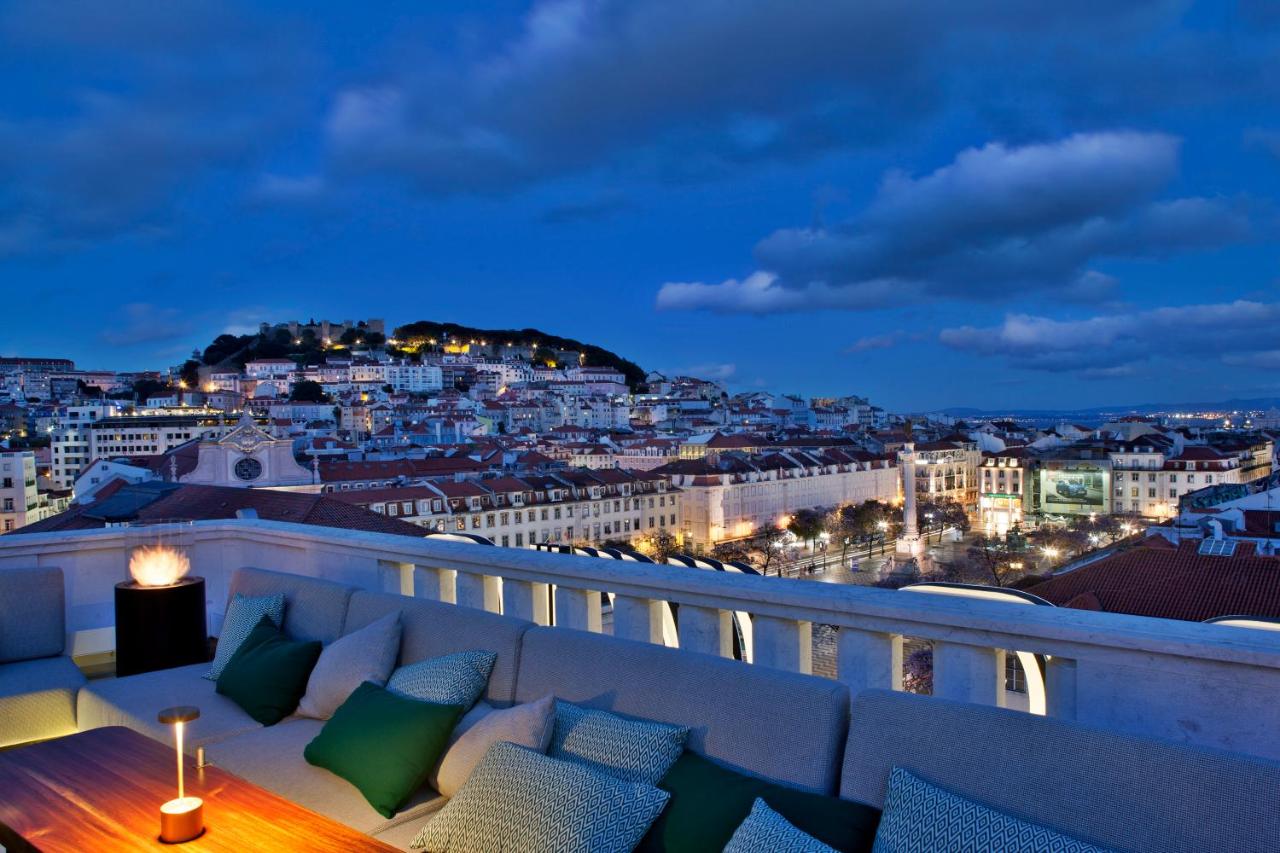 The Altis Avenida – one of the best Lisbon hotels for couples
Bringing glamour back to the centre of Lisbon, the Altis Avenida's interiors are exquisitely reminiscent of the Portuguese 40s. With art deco accents and a retro urban chic vibe, each room is beautifully decorated with an individual style. Paying homage to the building's original architect, Cristino Silva, the original staircase and façade are still present, while the rest of the hotel has had a modest yet luxurious update. With only 18 rooms, a lobby bar, and a restaurant, this cosy homage to the 40s is a great option for couples.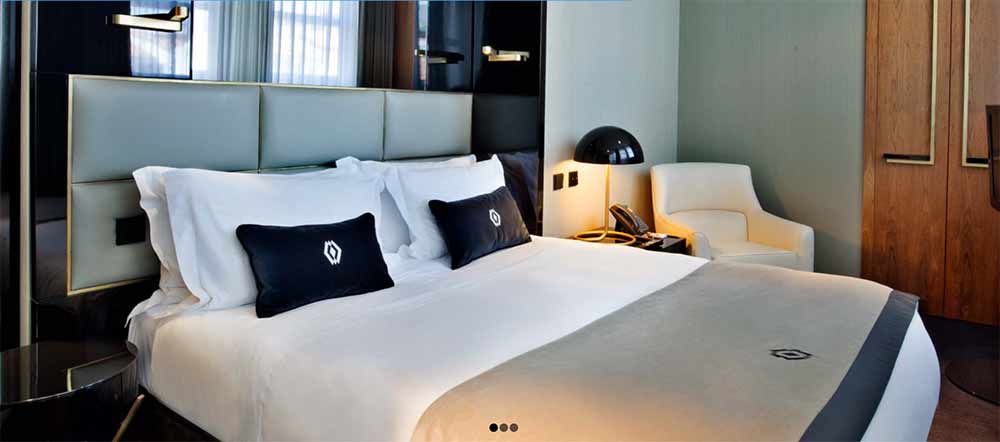 In a few words: The perfect city centre hotel for couples.
"Steeped in Portuguese history, it's no wonder people rave about this place!."
Check availability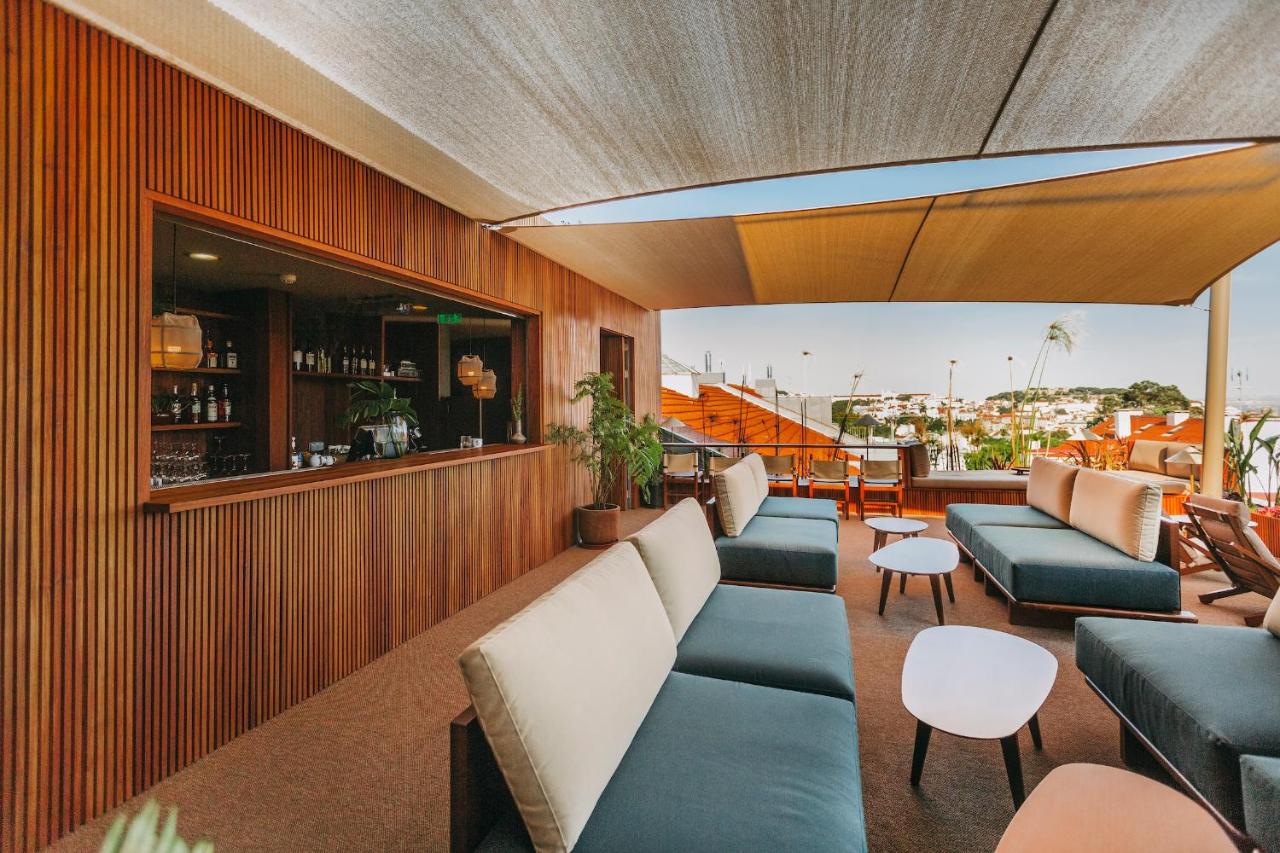 If you are looking for a unique hotel stay in Lisbon, then the Vintage Lisbon is certainly one to look closer at. This 5-star hotel has recently been renovated to accentuate its heritage by combining original features with newer one-off art and design pieces throughout the hotel. Each room is tastefully decorated to provide a comfortable stay, while the rooftop bar allows you to sip cocktails while looking out onto the city's vista. The Blue Bar and Restaurant, situated on the ground floor, offers a stunning menu of Portuguese classics as well as other options. Book in advance and ask for the table by the fireplace!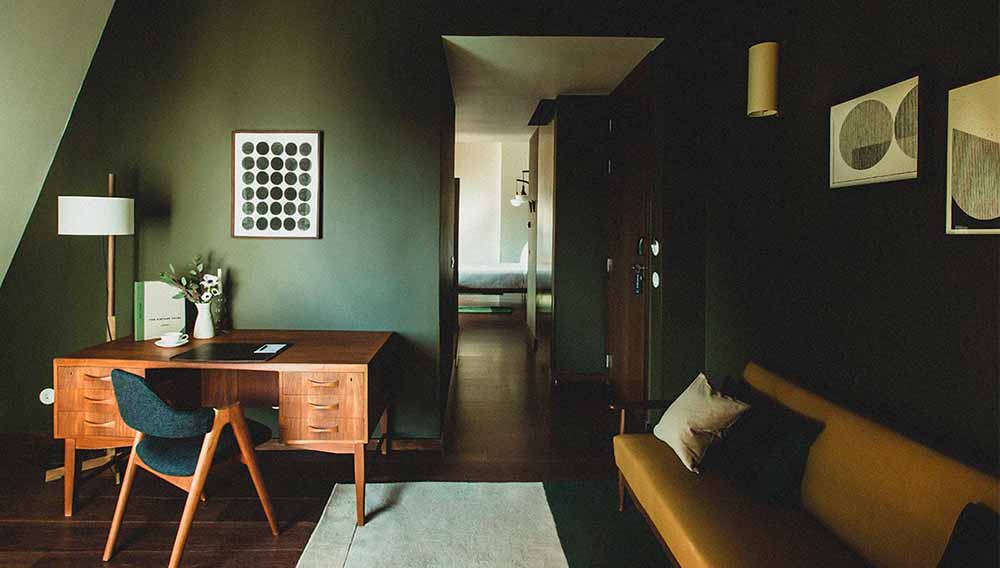 In a few words: Great for a weekend stay or a short city break.
"From the outside, we didn't know what to expect, but when inside this magnificent building, you are in for a treat."
Check availability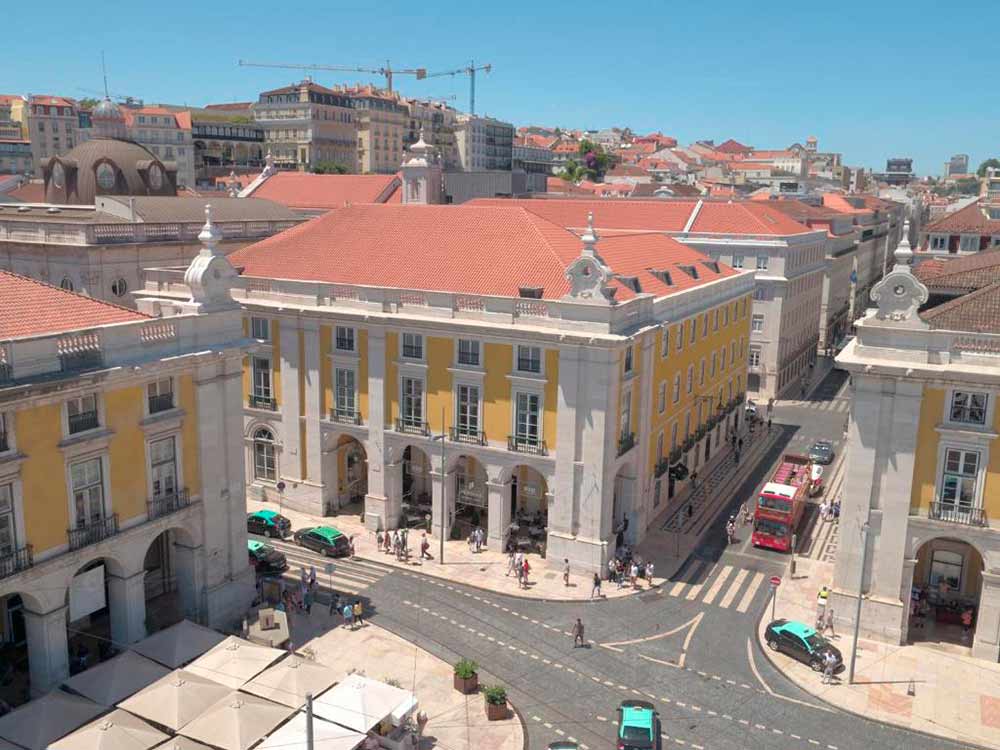 The Pousada De Lisboa – One of the most romantic hotels in Lisbon
Situated in the glorious Commerce Square, Pousada de Lisboa is a building steeped in history. Restored eternally to its former glory, the interiors speak a different story. With a boutique-style design that has contemporary elements entwined within, each room looks out onto the beautiful city of Lisbon. This hotel is one of the few to offer spa and pool facilities within the city centre, which is a real treat for those staying more than a few days. As well as intimate rooms, you'll also find more spacious suites, which have all been designed with a 5-star luxury feel in mind.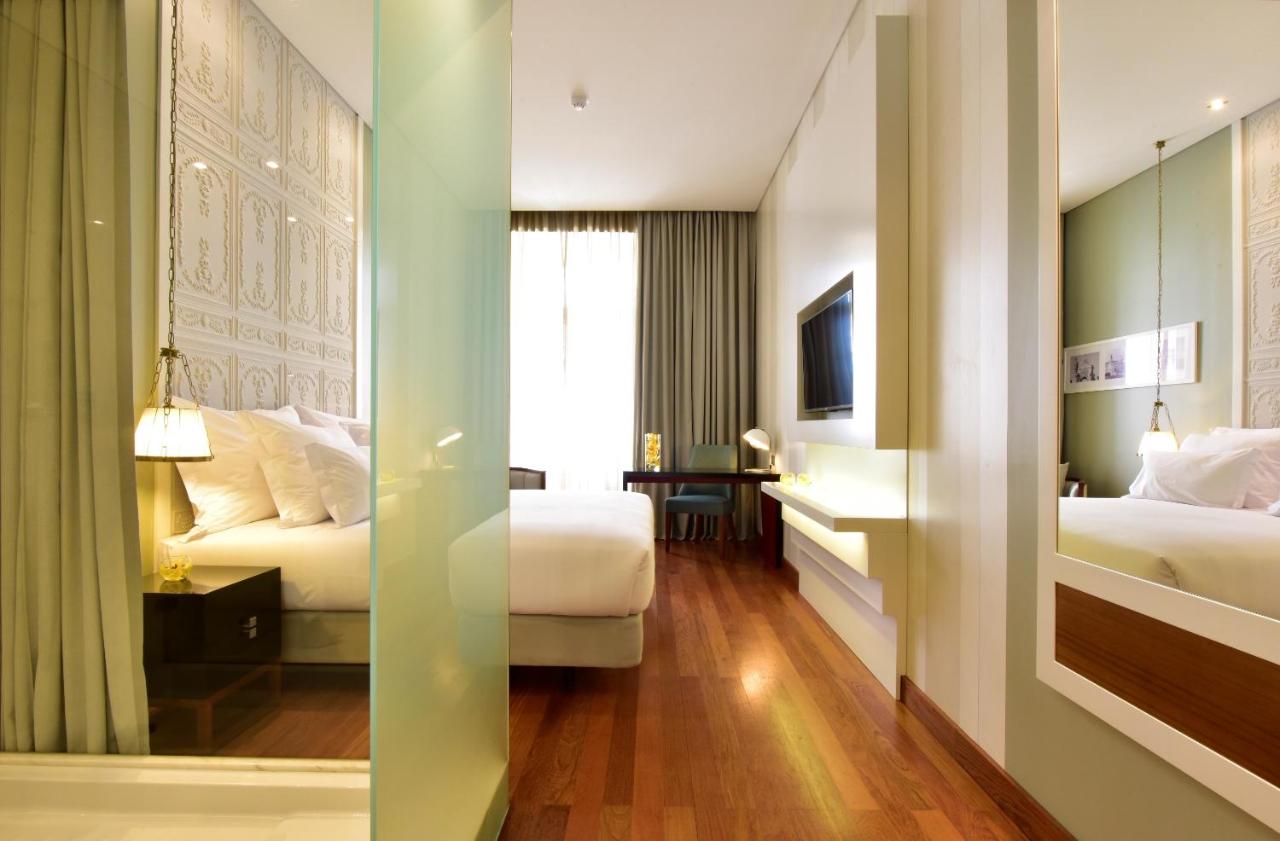 In a few words: A rare find as a city centre hotel with a spa and pool.
"Staying here was like being transported back to the Portuguese years of old. It combined history with comfort, which we loved."
Check availability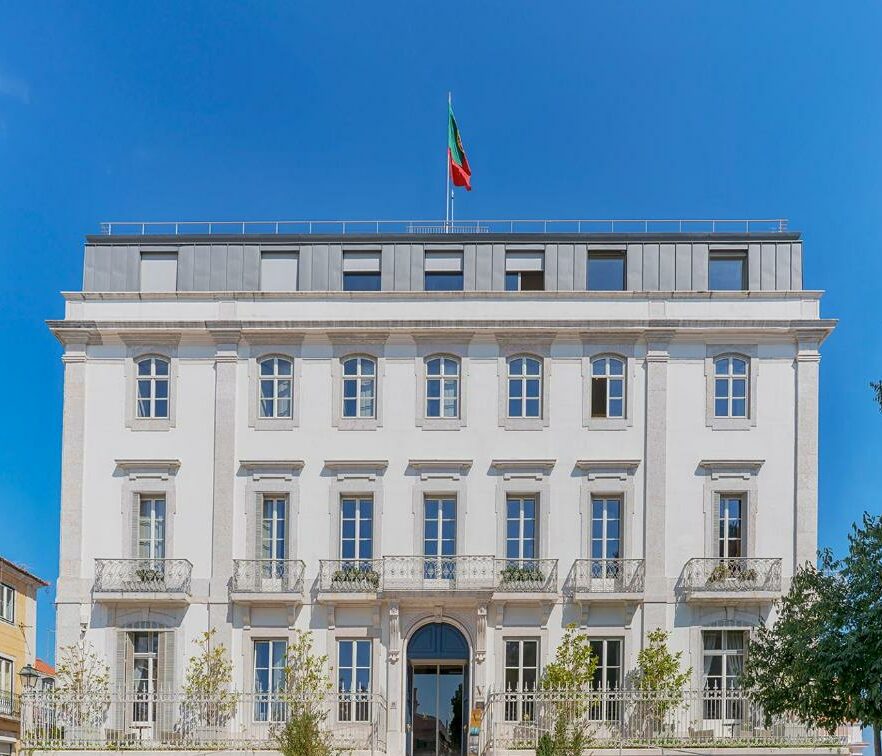 You may have realized by now that Lisbon is the epicentre of luxury city hotels. But while there are many, only a few of them have a rooftop pool that overlooks the entire city! The Verride Palacio Santa Catarina not only boasts such a pool, but is equally opulent inside as it is out. Combining glamour with history, each room at this hotel has a very regal feel about it. In the restaurant, you'll find each meal served on gold-rimmed china (unless you request a vegan-friendly alternative), and the rooftop terrace dining has a stunning view over the coastline. Overall, a regal stay for a cultural breakaway.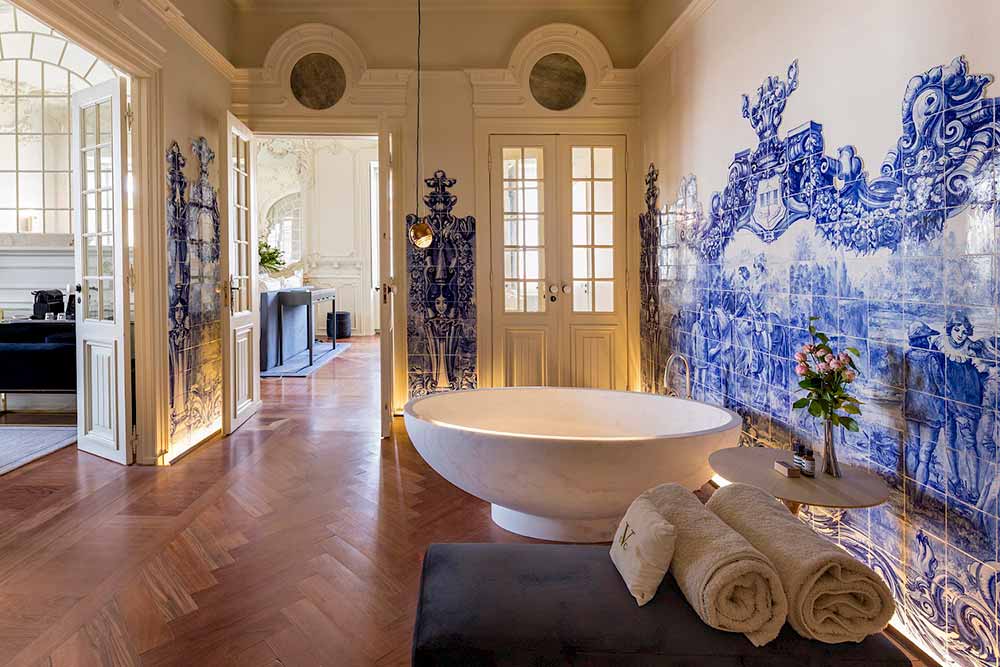 In a few words: Views near and far from the rooftop restaurant and pool.
"The rooftop pool overlooking the city was stunning! I could have stayed in there for the entire holiday."
Check availability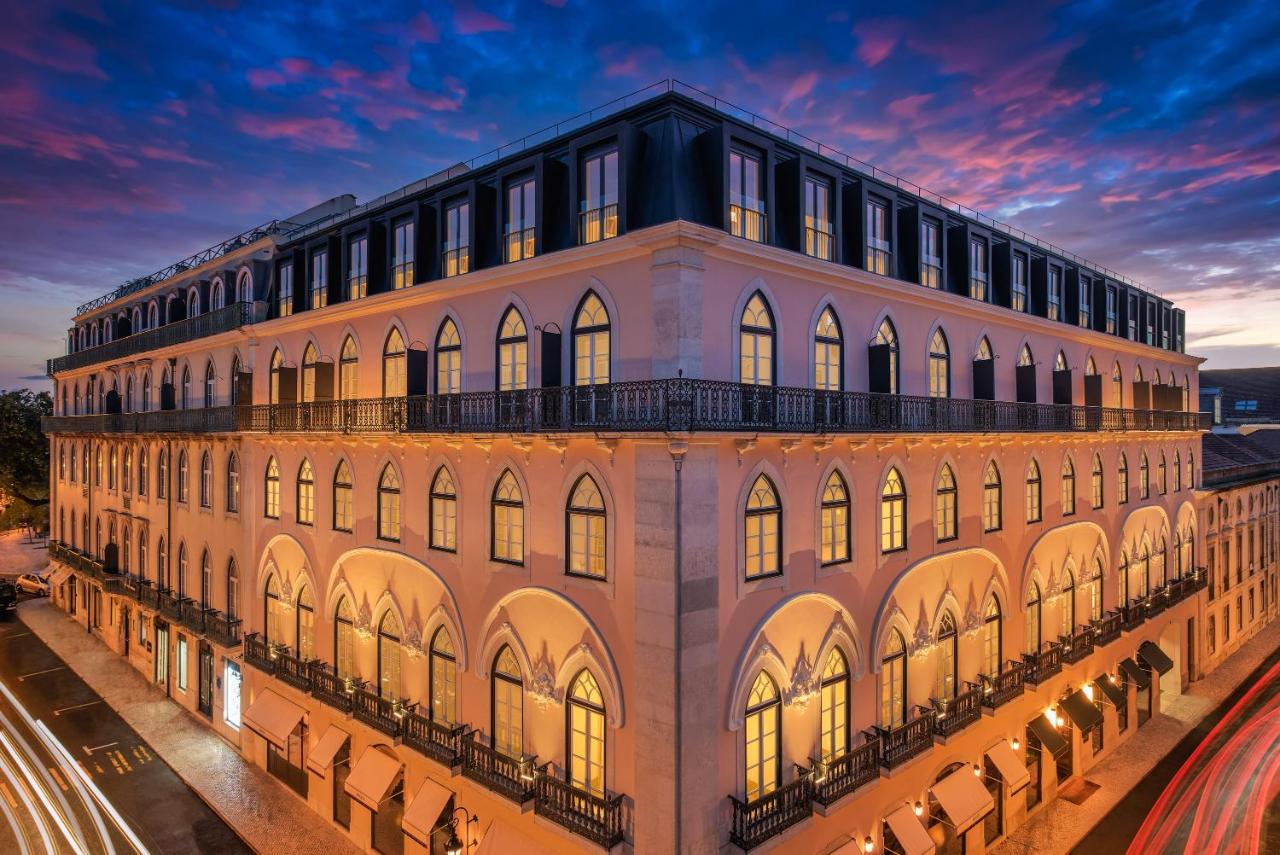 The Ivens – a unique hotel in Lisbon inspired by explorers Ivens and Capelo
Roberto Ivens and Hermenegildo Capelo were famous explorers who ventured into the jungle for over a year, exploring the unknown and returning to Lisbon with a whole catalogue of sketches, maps, fossils, and more. These curiosities adorn the walls of The Ivens, and it's what makes it such an interesting place to stay. The rooms are decorated with a light and airy design scheme, while the lobby and restaurant have more of a gentlemen's club feel. The stunning architecture of the building is the icing on the cake for this marvellous hotel.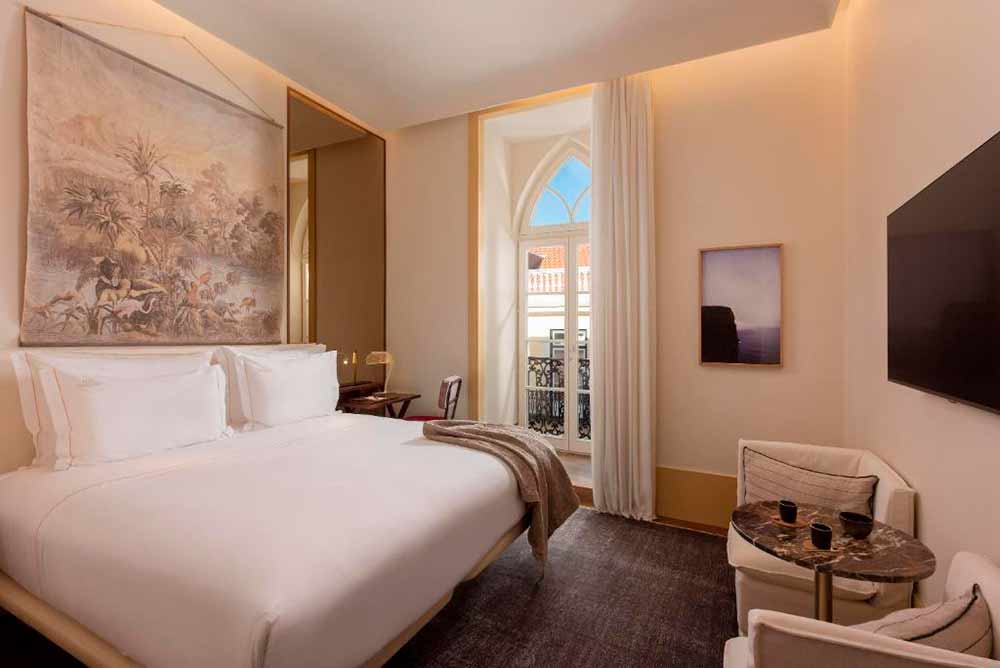 In a few words: Filled to the brim with homages to Ivens and Capelos' work.
"The number of artefacts and curiosities in this place make it such an interesting place to stay. Everywhere you look, there is something new that has a story or history behind it."
Check availability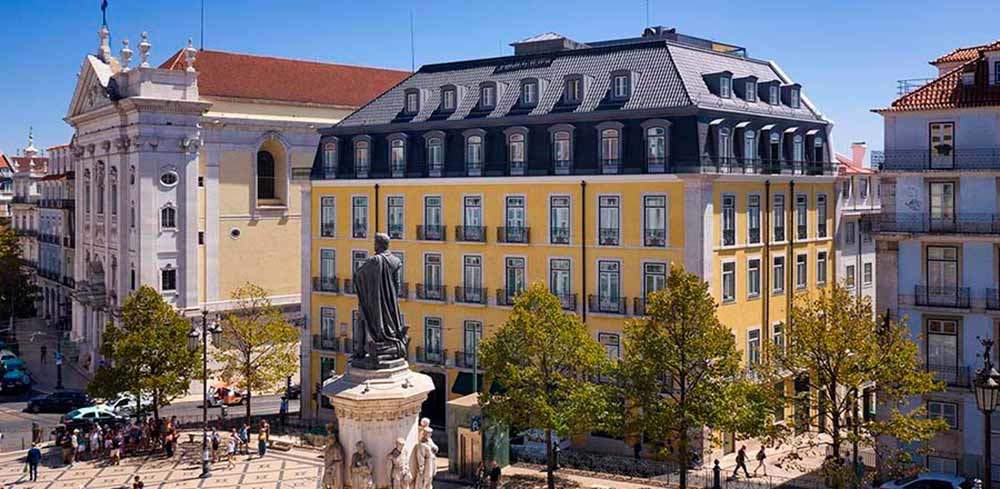 The Bairro Alto Hotel – One of the best hotels to stay in Chiado
A beautiful boutique hotel situated right in the heart of the Chiado part of Lisbon, the Bairro Alto Hotel is luxury at its finest. With rooms that ooze a modern touch and suites that provide a rather grander affair, this hotel is most known for its location. Chiado is the up-and-coming hipster area of Lisbon, where you will find independent art galleries, intimate pop-up restaurants, and quirky retail stores. The Bairro Alto is the ideal spot for those wanting a more laid-back feel, but with all the luxury attached.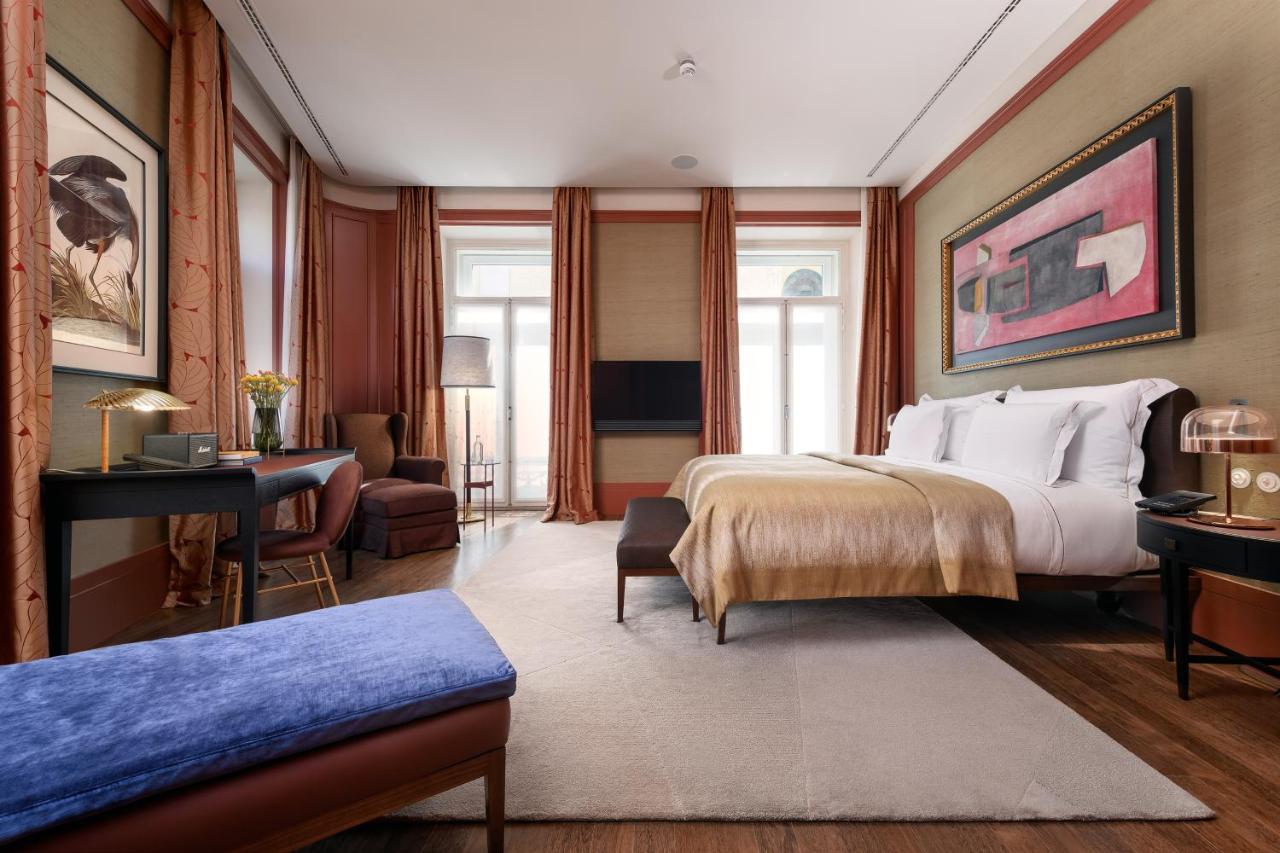 In a few words: Think boho chic on a big budget.
"We wanted something boutique that was around Chiado, and we heard it had a really great boho vibe."
Check availability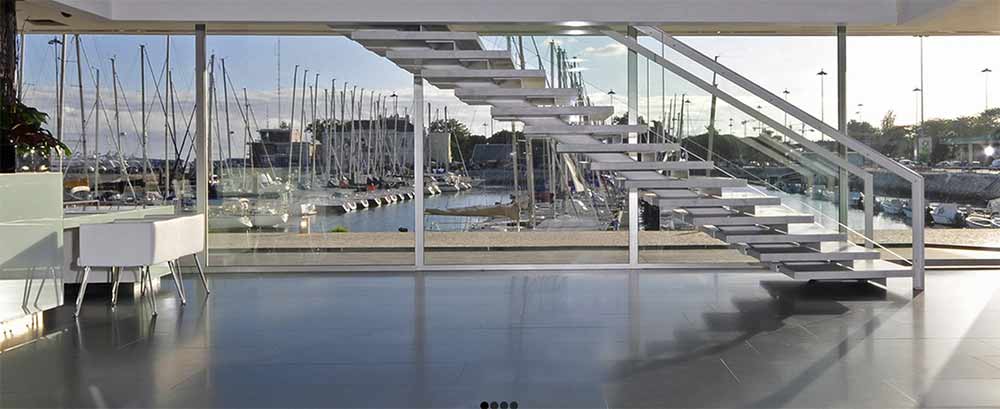 The Altis Belem may be perfectly situated on the water's edge, but it's the interior that really makes this hotel stand out from the crowd. With each room and suite adorned with illustrated wall panels from Africa, India, Osaka, and Brazil, each stay will allow you to bring home different memories. As well as the interiors providing stunning views, the exterior, in particular, the Gastrobar and cocktail lounge, provides you with a panoramic view across the Tagus River. Inside you'll find a pool, a sauna, a Turkish bath, a spa with a full range of treatments and a fully equipped gym.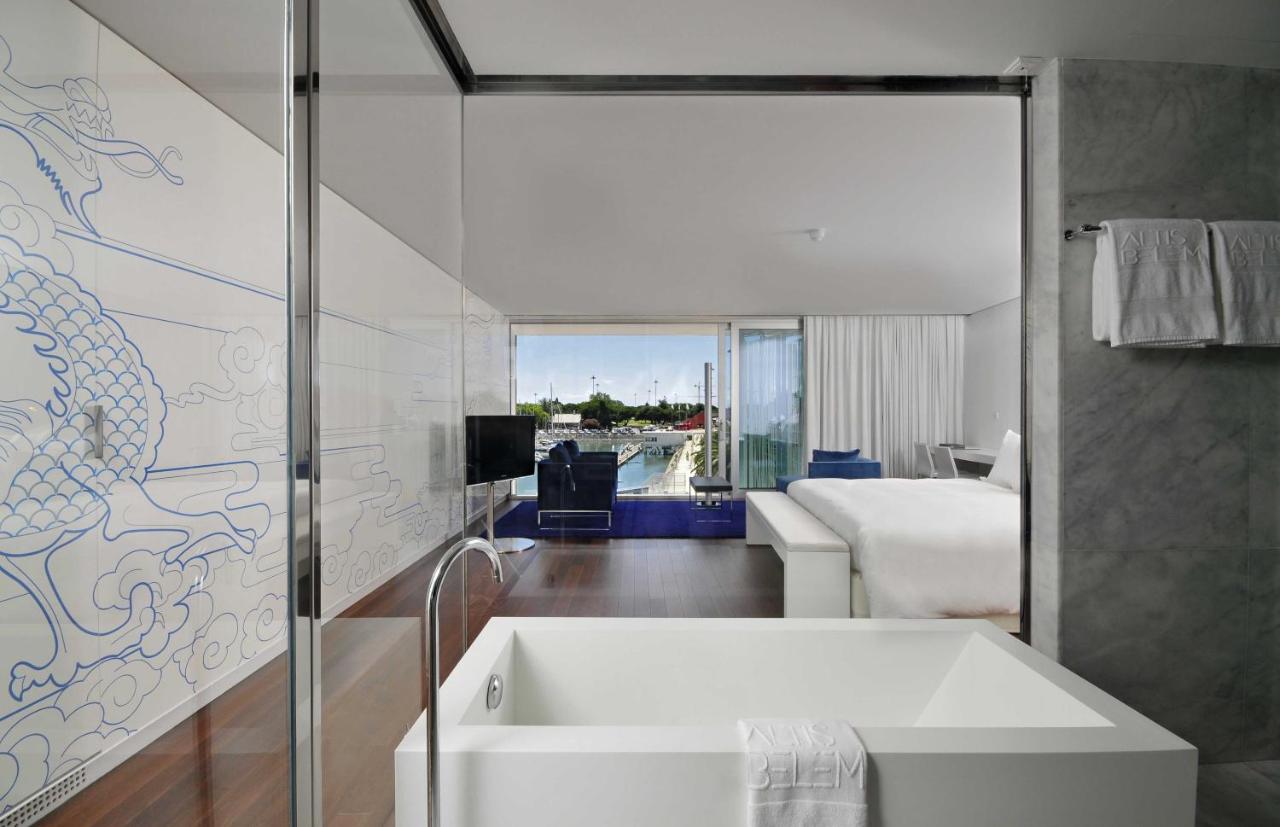 In a few words: Book for a week. You won't regret it!
"Nothing beats sitting on the terrace, overlooking the water, sipping on a cool glass of wine. One of the best hotels in Lisbon with balcony." 
Check availability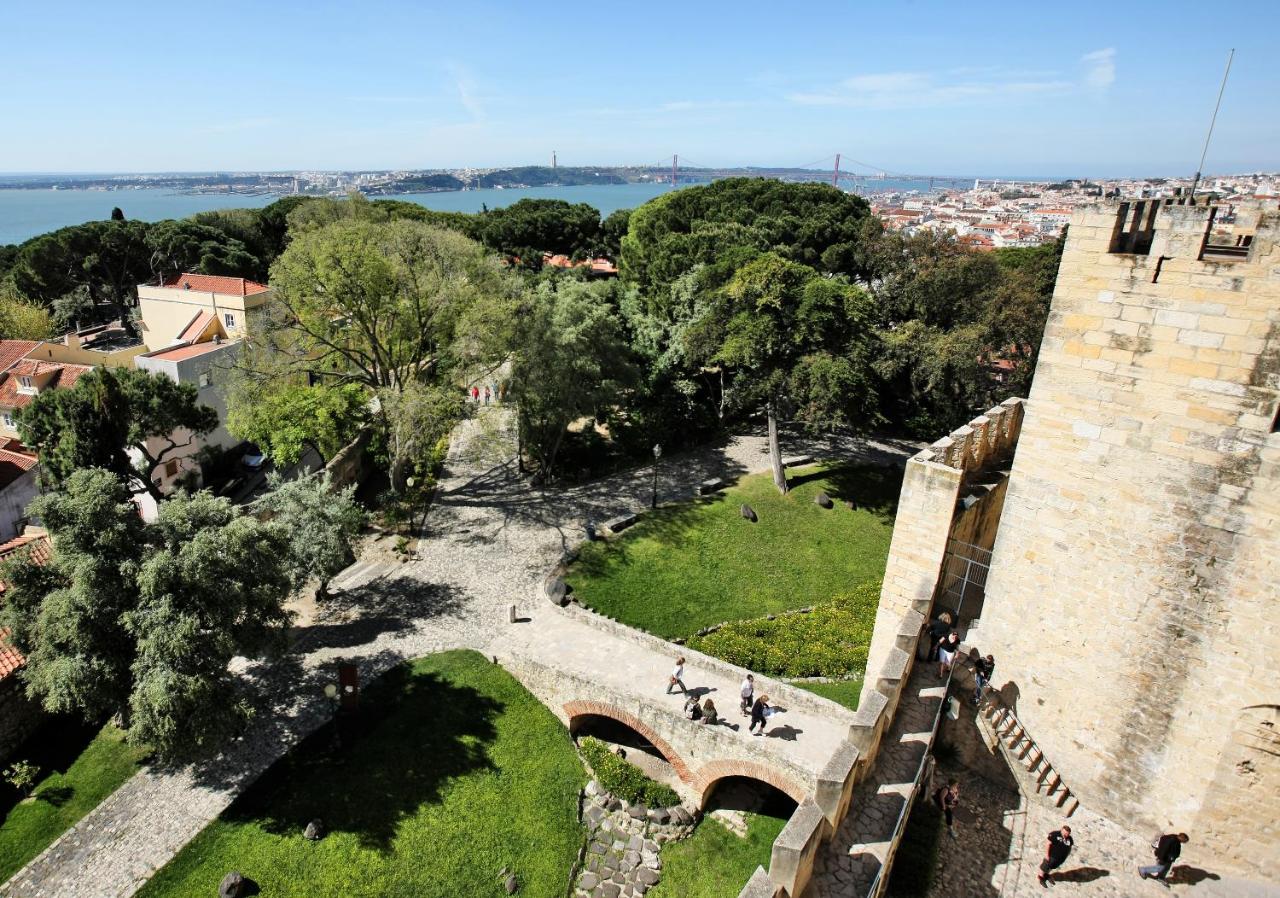 With views overlooking the Castle of São Jorge, the Solar Do Castelo is a perfectly located hotel for those looking to explore the rich history of Lisbon. It offers rooms that have been tastefully decorated and facilities such as a restaurant and a garden area. As well as being right next to the Castle, you are also only a short walk from lots of other beautiful areas of Lisbon, such as Alfama and Chiado.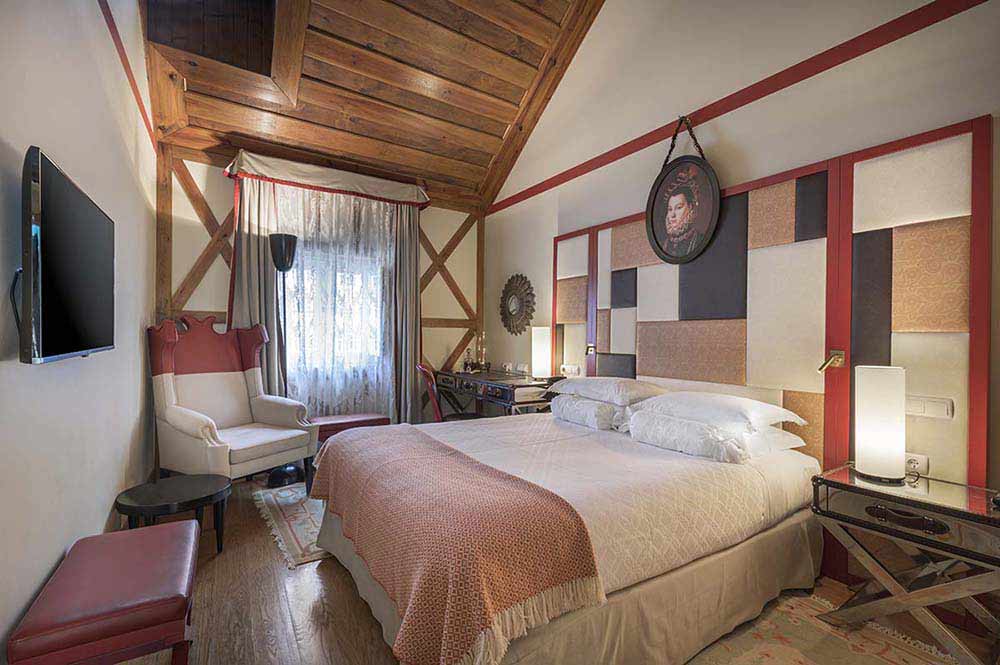 In a few words: A great central location for history buffs.
"We were keen to explore some historical sights of Lisbon, so this hotel seemed the perfect spot."
Check availability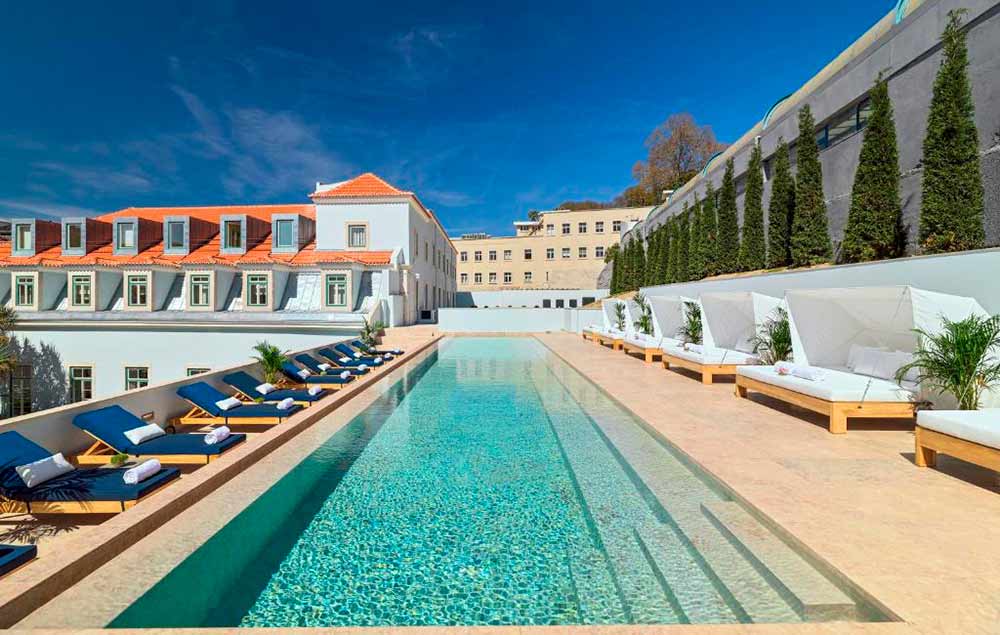 The One Palacio Da Anunciada is one of the newest hotels in the city, whose imposing building just oozes 5-star luxury. Located in the historic part of the city, the building itself dates back to 1533. Thankfully, the interiors have had a serious upgrade, with each room given a modern design and a spa and pool installed underground. Should you want to leave the hotel, you'll find the City of Light area full of little restaurants offering traditional cuisine.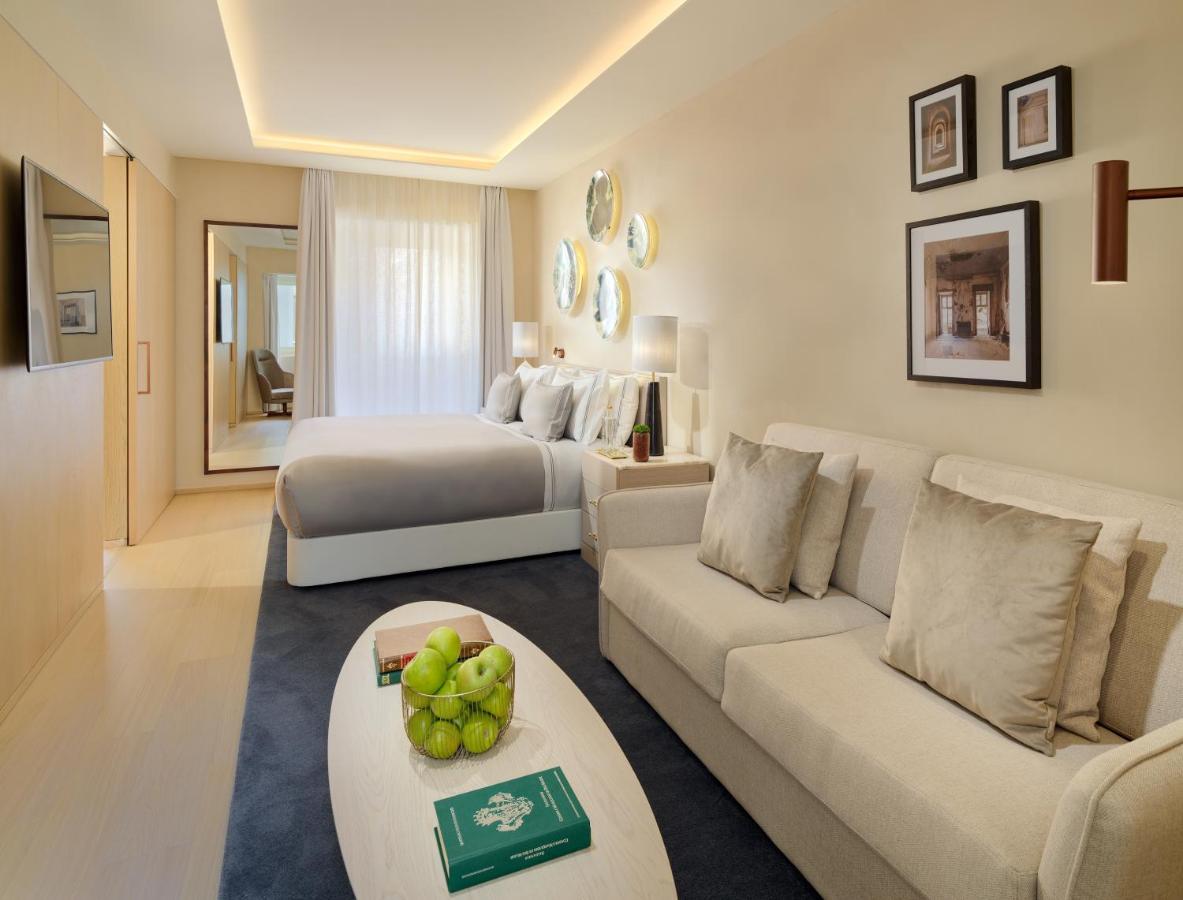 In a few words: Where modern meets historical, all wrapped up in a luxurious bow.
"The regal restaurant really was a thing of beauty. All the cornices and gold guilting were stunning."
Check availability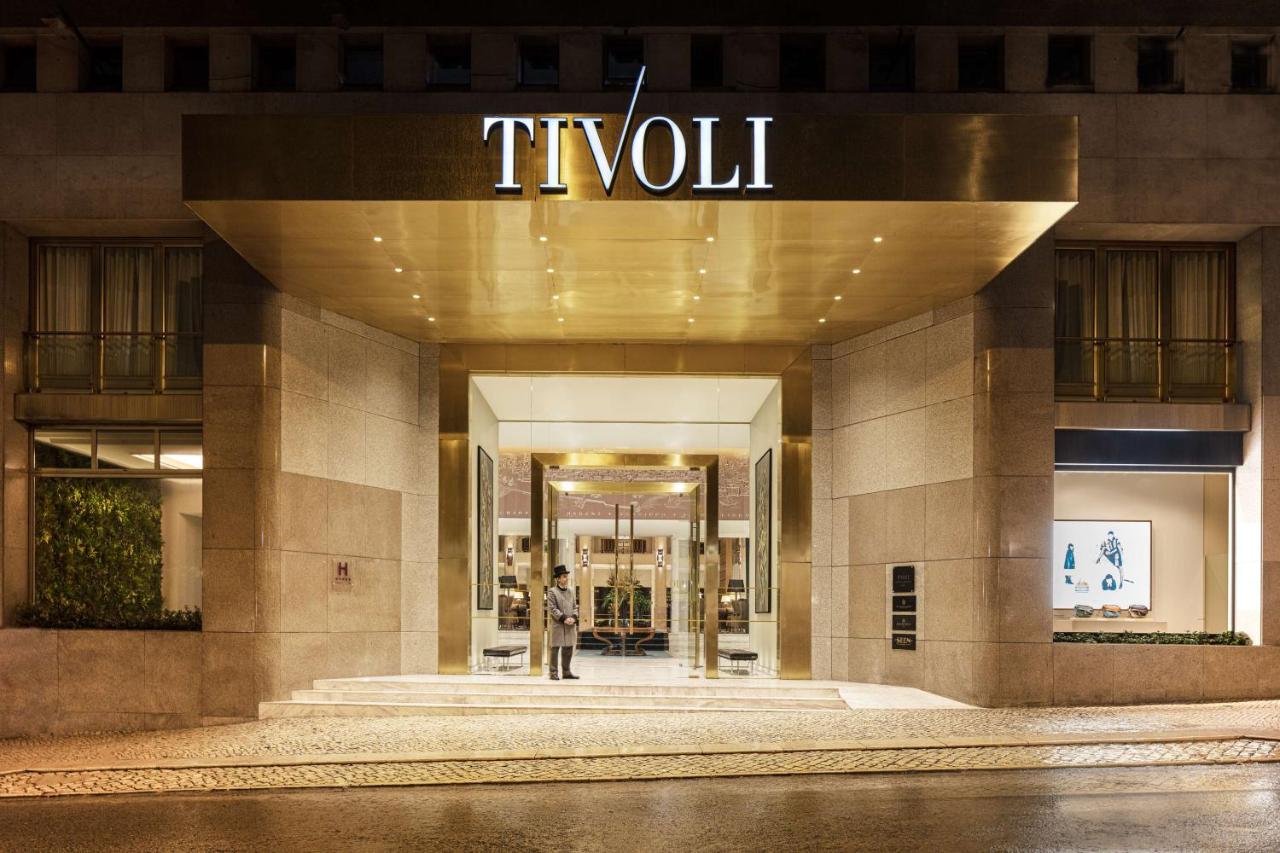 The Tivoli Avenida Liberdade Lisboa is a world-renowned hotel. Anyone who is anyone has stayed here, from heads of state to celebrities (not that we can disclose any names, of course). This imposing building has some of the most exquisitely designed rooms, with accents of history entwined throughout each space. The rooms themselves are under statedly opulent, while the Sky Bar, which overlooks the entire city, has much more of a modern luxury feel. With several restaurants on-site, an outdoor pool and a fully equipped gym, there's little reason to leave!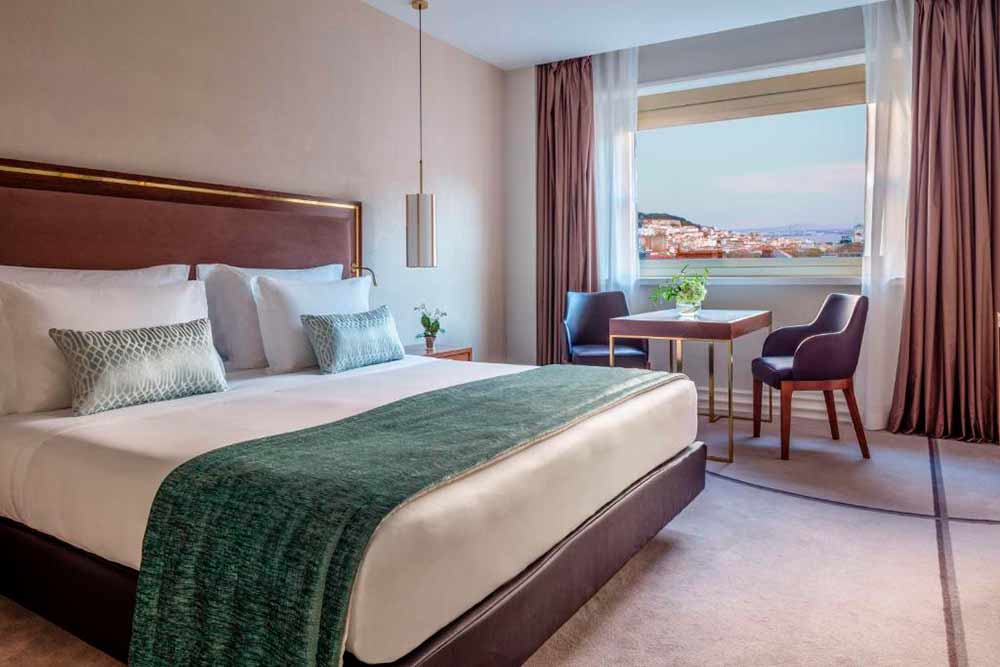 In a few words: Live like royalty, for a week or two at least.
"Walking into the hotel made us feel like we were walking into a Hollywood film! It was too grand to even comprehend."
Check availability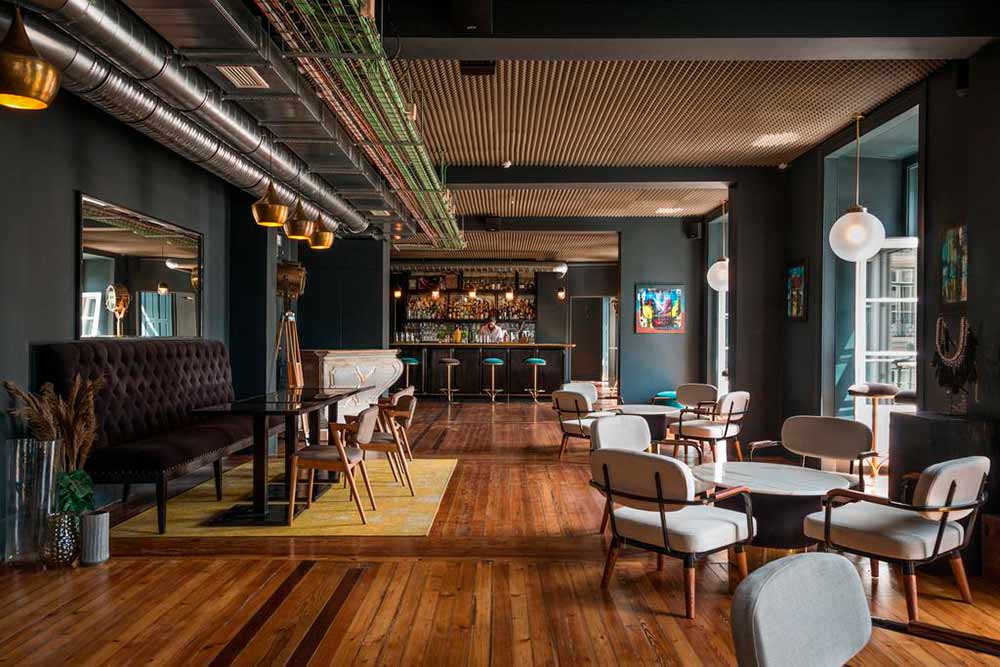 Le Consulat – 5-Star luxury – one of the best hotels in Lisbon city centre
Le Consulat is situated right in the heart of Chiado, the Bohemian sector of Lisbon. Its mix of apartments and suites are all tastefully decorated to hint at the luxury and elegance that come with the Chiado area. Once home to the Brazilian consulate, Le Consulat now adorns its walls with artwork from a variety of artists and styles. The restaurant is a gastronomic indulgence, but you'll need to book in advance because it is very, VERY popular.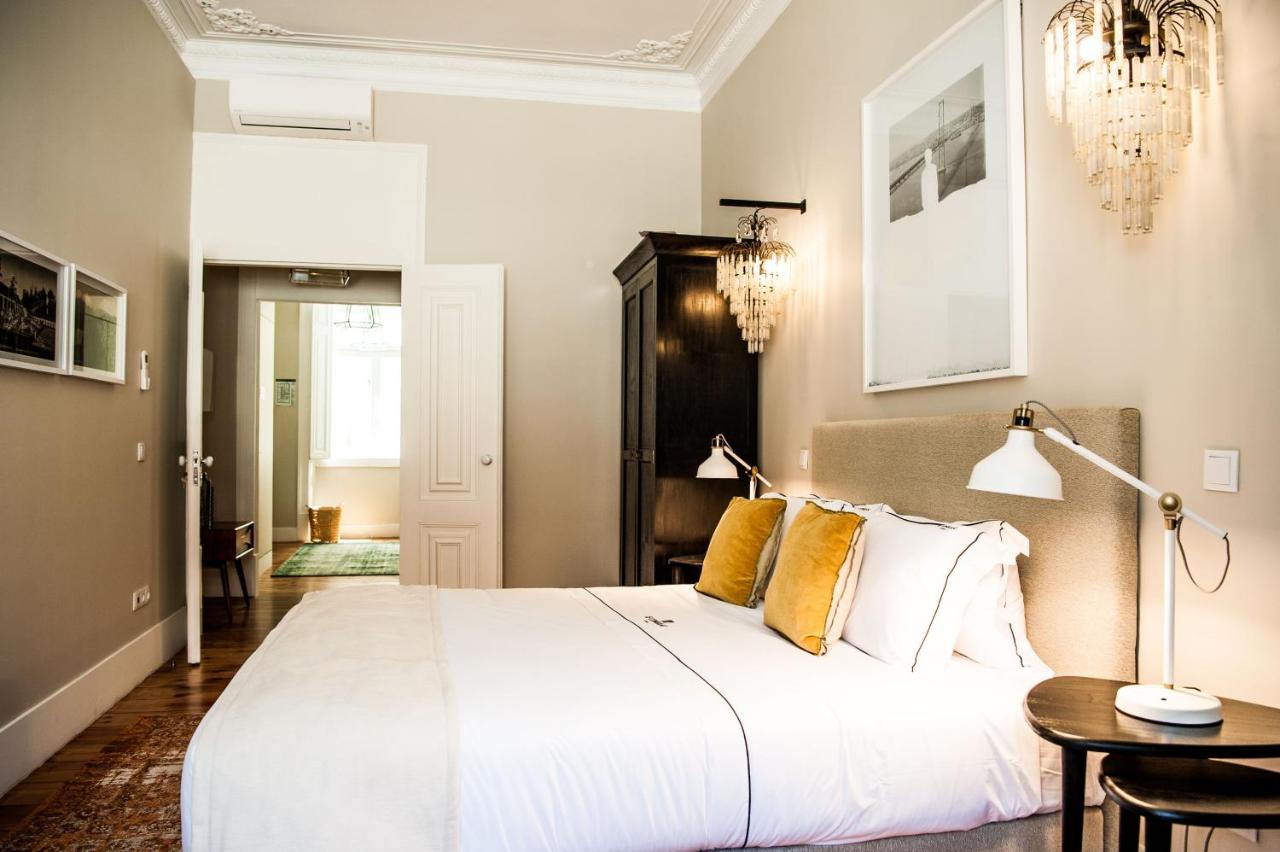 In a few words: Stunning interiors with a gastronomic delight each evening.
"The food was to die for! It was great to graze around Chiado's little bistros before enjoying a nice meal in the hotel in the evening."
Check availability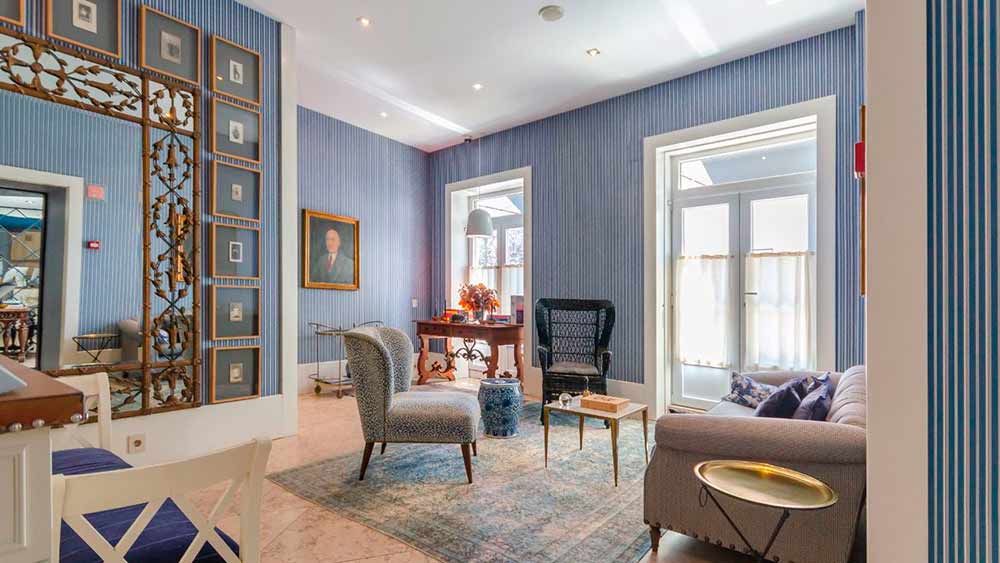 The LX Boutique Hotel – a boutique hotel in the heart of Lisbon – one of the best hotels in Lisbon for couples
If you are looking for one of the best boutique hotels in Lisbon as a base camp for your tourist exploits, then the LX Boutique Hotel is definitely one for the family. With a light and airy décor in the heart of the city, it is the ideal spot for families and couples alike. With balconies overlooking the city, this is a great contemporary hotel that ticks all the boxes.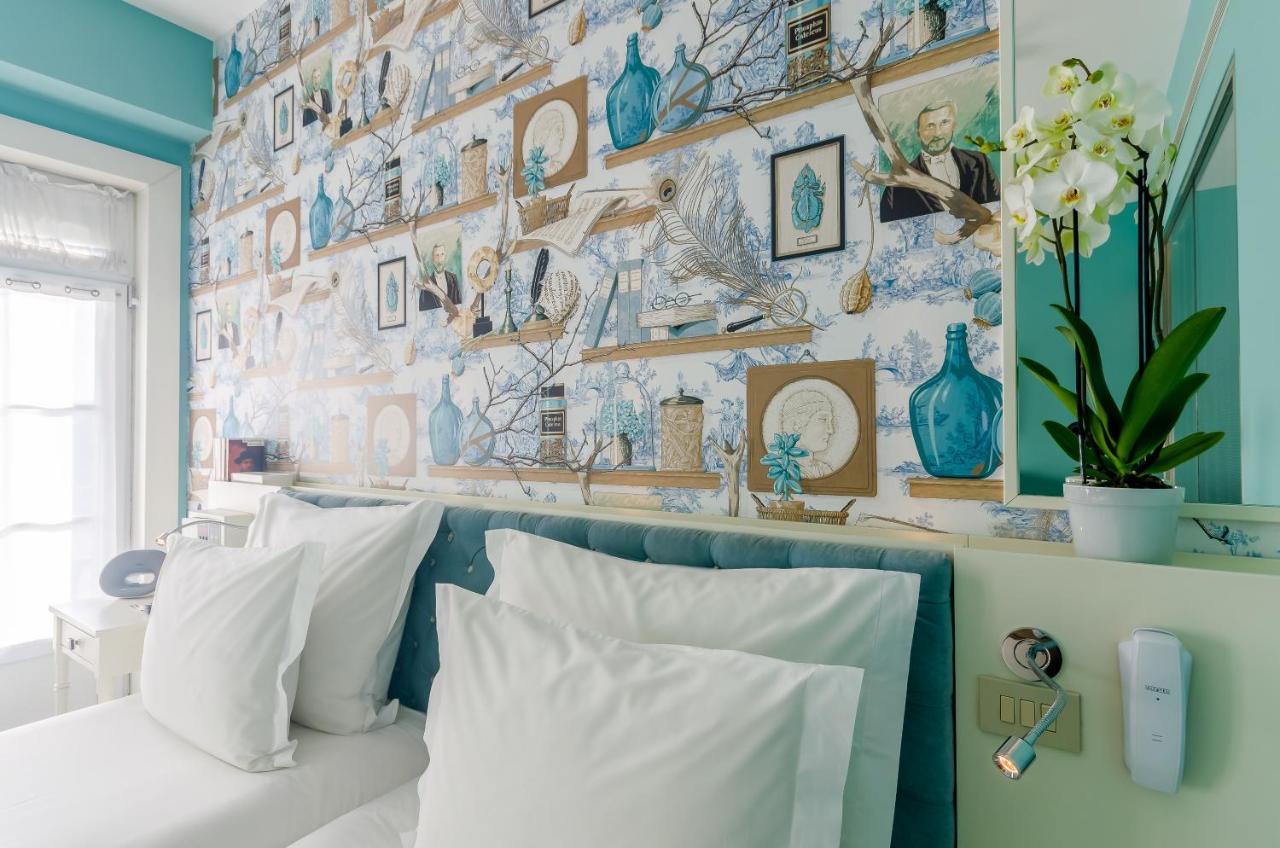 In a few words: A contemporary hotel that will suit families and couples.
"Modern and bright, this place is just what we needed."
Check availability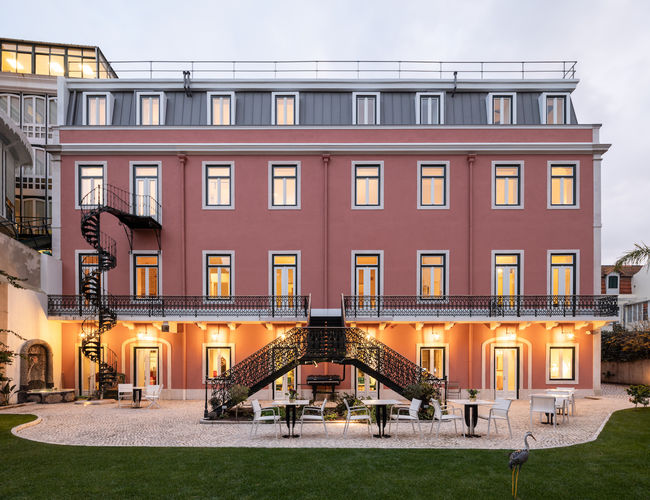 The Palácio Príncipe Real – a unique hotel – one of the best boutique hotels in Lisbon for travel and leisure
For over a century, Palácio Príncipe Real embodied cherished elegance as a family residence. Today, it invites guests to experience luxury in a historic palácio in Lisbon's trendy Príncipe Real district. A vast, delightful garden, heated pool, and wellness rooms await here, and all that in the heart of the city centre.
Spacious bedrooms provide the perfect sanctuary, and the service harkens back to a time when hospitality was personal and unhurried: Palácio offers à la carte breakfasts until midday, catering to your preference. Explore tranquillity at "Paz," a dedicated wellness area housing two treatment rooms for ultimate relaxation and an in-house therapist.
Offering a more modern form of luxury, the Palácio Príncipe Real blends both modern interiors with classic hints of the city's past. It's the perfect relaxing getaway.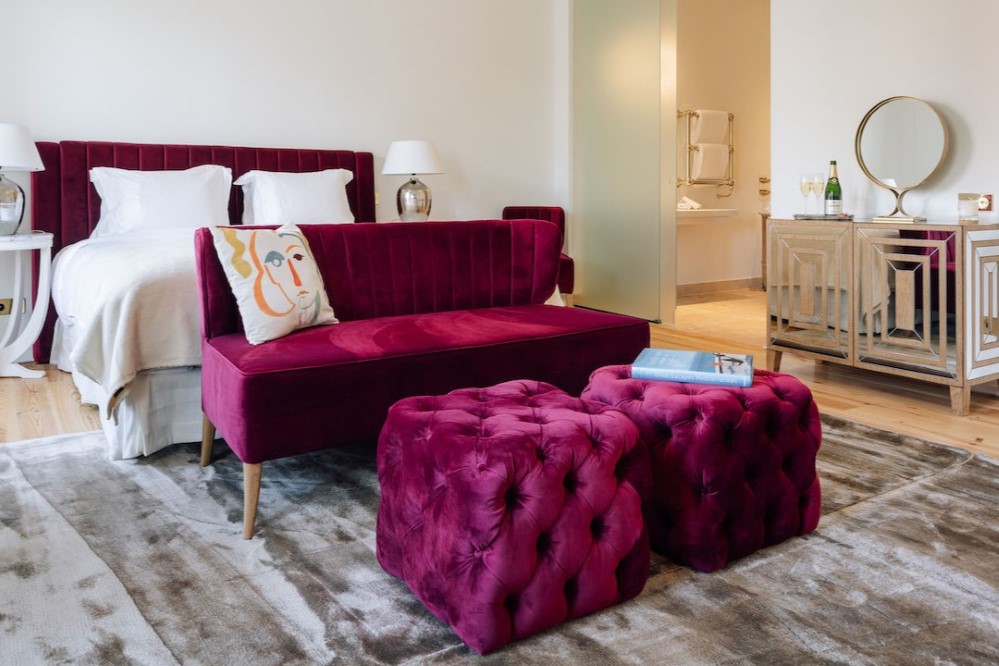 In a few words: The garden is a real gem and something that is hard to find in other Lisbon city-centre hotels.
"We wanted somewhere that was a bit more modern compared to the more traditional buildings we had previously stayed in. This hotel did not disappoint."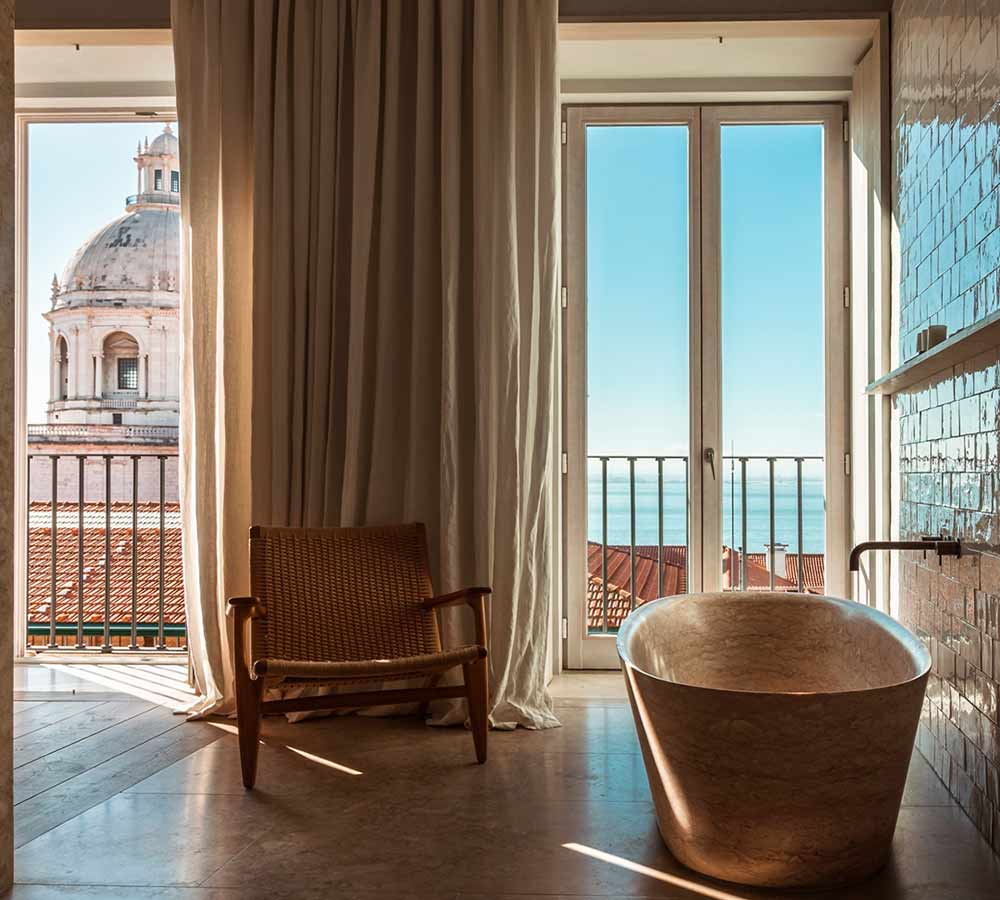 The Santa Clara 1728 – a unique hotel overlooking the Tejo River
While surrounded by rich history and culture, the Santa Clara 1728 is a little modern escape from a tapestry of buildings and architecture. Designed with simple designs, natural materials and light colours, this six-room hotel helps you escape from the bright and bold accents of Lisbon. While gigantic windows allow you to see across the water and the city, the stillness of the hotel itself feels like you're in a real tranquil haven.
In a few words: A calm retreat in a chaotic city.
"We're not really into classic design, so this hotel was right up our street."
The Best Luxury Hotels in Lisbon—The Bottom Line
So, there you have it, the best Hotels in Lisbon, a perfect collection of holiday escapes to choose from. Whether it is the sea, sun, or sand you are after, there is an ideal luxury hotel in Lisbon just waiting for you to visit.
Read More: