In the heart of the city, where only a few years ago the landscape changed from shabby backyard to urban chic, a part of India exists in a small quiet side street. More specifically, the Indian restaurant Chutnify as lively, colourful, cheerful, honest, authentic, as its owner Aparna Aurora.
Chutnify Prenzlauer Berg is the first of now five of her restaurants. Two of them are located in Berlin, one in Porto and two more in Lisbon, the city which Aparna has chosen to be her second home after numerous stages in her life.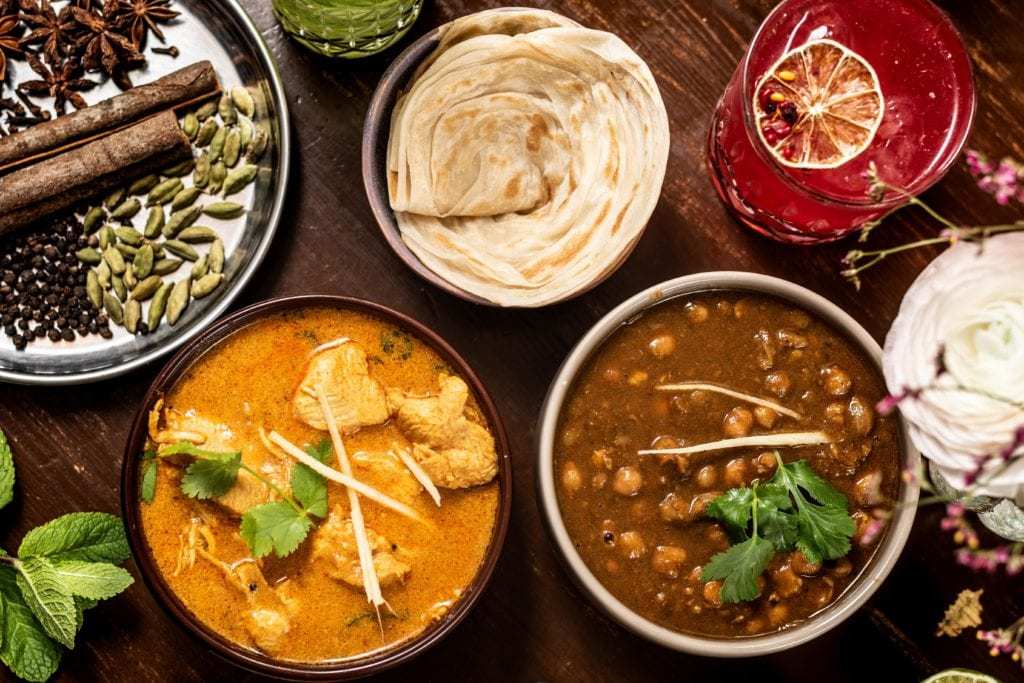 I meet the owner in her first Berlin restaurant on a hot Wednesday evening in August.
The tarmac is burning and the stoves are just getting fired up when a lively, beautiful woman comes towards me beaming. Aparna doesn't only welcome me, but also introduces herself warmly to her new waiters, sharing a friendly hello with everyone involved. She invites me in, offers me a drink, grabs a coconut water for herself and starts talking. And she has a lot to tell. What follows is the fascinating path of a self-confident Indian woman, who quickly began to look beyond the borders of her own homeland.
Born in Delhi, Aparna grew up in Hong Kong, studied in London and then lived in Spain for many years. After twenty years in the fashion industry, working for Hugo Boss among others, she was in the mood for change. The fact that she'd never cooked professionally before didn't deter Aparna from pursuing her dream of opening her own restaurant.
Coming from a family and culture where food is very important, Aparna was determined to make it work, focusing on an often overlooked part of the Indian cuisine due to her background. She and her chef invested countless hours to make the perfect Dosa, for example, a speciality from South India, a crêpe of lentils and rice, that is thin, fine, crispy, golden yellow and served with various dips. Getting the perfect Dosa requires a lot of dedication and is almost a craft to itself.
Initially criticized as "too spicy" by Berliners, who don't shy away from trying something new, the Chutnify dips and Dosas soon found recognition, as well as the restaurant's well-balanced interior. The meals are presented in typically Indian metal bowls, colourful chairs are placed around the red and saffron-yellow wooden tables, and a royal blue awning extends over the outside. The entrance is painted in the colours of the rainbow, whilst portraits of elegantly uniformed Indians, their twirled moustaches swaying, are smiling at the guests from the walls and from the menus.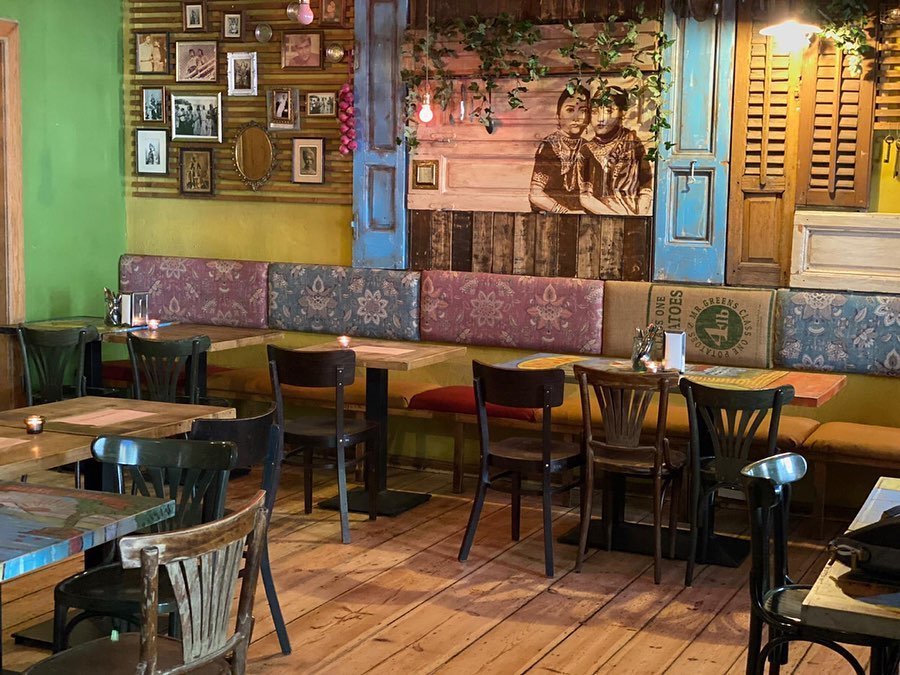 The Restaurant Chutnify and cuisine soon turned into a hit, with queues of people lining up around the corner. More dishes were added to the menu and slowly and organically Chutnify grew from a small insider tip to a Berlin institution.
In the beginning, despite never having prepared so many meals at once, Aparna even worked in the kitchen as a cook, whilst doing almost everything herself from the design and interior to the menu. The only assistance came from her family and from a few hand-picked specialists. Trusting her gut feeling reigns above all, one of her greatest gifts as an Indian.
Aparna believes that if you grow up in the spiritual awareness that everything in life is fleeting yet eternally returning, you gain such a basic trust. Mistakes are a part of life. If something does not work out, there is no point in getting angry or shying away from changing it – and on the other hand, if it feels right, then it is right. The same principle led to success when she met her husband, whom she decided to marry after only two months, leading to 22 years of nuptial bliss.
Fulfilling a lifelong dream of living by the sea, Aparna and her family relocated to Lisbon a few years ago. The region reminds her a little of home, she admits. Due to the common colonial past, there are many similarities in cuisine, culture and behaviour. Portuguese cuisine, for example, is based on many recipes that were brought back by sailors. Whereas in Berlin she still had to explain how to enjoy Indian cuisine best, Lisbon welcomes her style of cooking with the knowing palate of two overlapping cultures.
But not only the cuisine is similar. Lisbon has an enjoyable culture of chaos. Something that Aparna needs like air to breathe. If things are too orderly, she says, then there is chaos in her head, she prefers chaos on the outside. Maybe these are also legacies of her Indian roots. In general, the longer I talk to her, the more I am reminded of a female version of wise spirits like Krishnamurti or Ram Dass. Her statements carry wisdom and her loving nature only arouses more admiration in me for this strong female entrepreneur.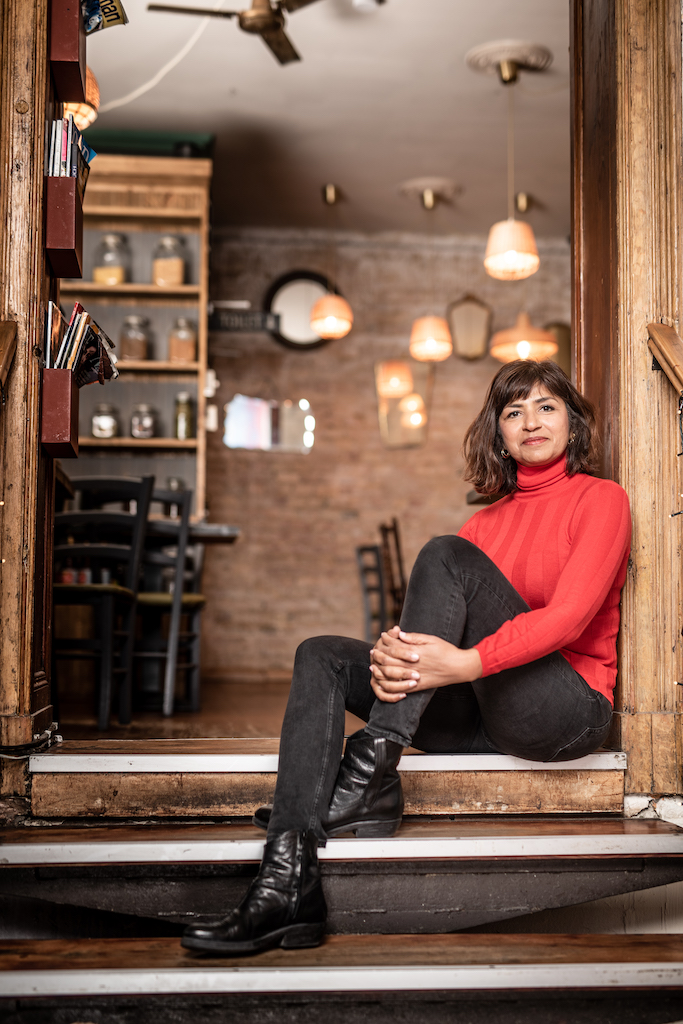 Despite the enormous difficulties she's encountered as a woman in a male-dominated business, she appears remarkably calm and committed. She seems as if nothing could shake her. In the beginning, she says, people requested to talk to her husband. Also, many suppliers were initially irritated to do business with a woman. But the question is not whether you open a restaurant as a man or a woman, but whether you do it well. She doesn't believe in judgements based on gender and generally rises above others' opinions — except when it comes to her mother. Her positive judgement was crucial for Aparna, as her mother has been her role model in so many aspects of life, but especially as a cook.
When I ask her what advice she has for young women following her example, she smiles and allows herself a moment of contemplation. What comes next is a sentence that shows that the Chutnify restaurant owner can really get to the heart of everything: "When you decide to do something, you should always be passionate about it, trust your intuition and do not take things too seriously."
You can't do without: Order a handmade Masala Dosa, an original Indian Chai tea and round it off with some sweet Gulab Jamun, warm milk-based dough balls in a sweet brew. Delicious.
One should: Try all the restaurants because they all have a different flair and personalised interior.
A tip: Arrive early, because the seats are in high demand. Inside and outside. And bring your friends or family, Indian cuisine tastes especially good when shared.
Namasté and enjoy Chutnify.
Words: Esther Seibt
Photos: Clemens Bauerfeind
Check out Berlins best designed restaurants and Best Mexican Food In Hamburg