The world's most renowned ice cream parlour, Heladeria Lucciano's, has finally made it to Europe – and it's simply out of this world. Lucciano's origins may be firmly rooted in Argentina with over 50 high-end parlours situated around the country, but its traditions and ice cream making methods stay true to the artisanal Italian approach to gelato.
Using classic ingredients and combining them to create innovative flavours, Lucciano's prides itself on the highest quality gelato in the solar system. Introducing Barcelona to its trademark iconic ice pops, Heladeria Lucciano's has even created one flavour exclusively for its latest store.
A Big Bang in Barcelona
For Heladeria Lucciano's landing in Europe, it was only natural that they chose hip and exciting Barcelona. Renowned for its creativity, design and trendy culture, Barcelona was the perfect place for a Lucciano's Ice Cream Parlour with a unique design aesthetic. The second Lucciano store to open in Europe (the first being Rome) can be found at Rambla de Catalunya, just a short stroll from Catedral de Barcelona.
Lucciano's currently has 59 stores in Argentina, 2 in Uruguay, 3 in the US and 1 in Italy, so Barcelona seemed like the natural next step. There is also another European store planned in Malaga later in the year. With traditional methods and classic Italian ingredients, European palates will love the flavours and tastes of Lucciano's gelatos.
Intergalactic Interiors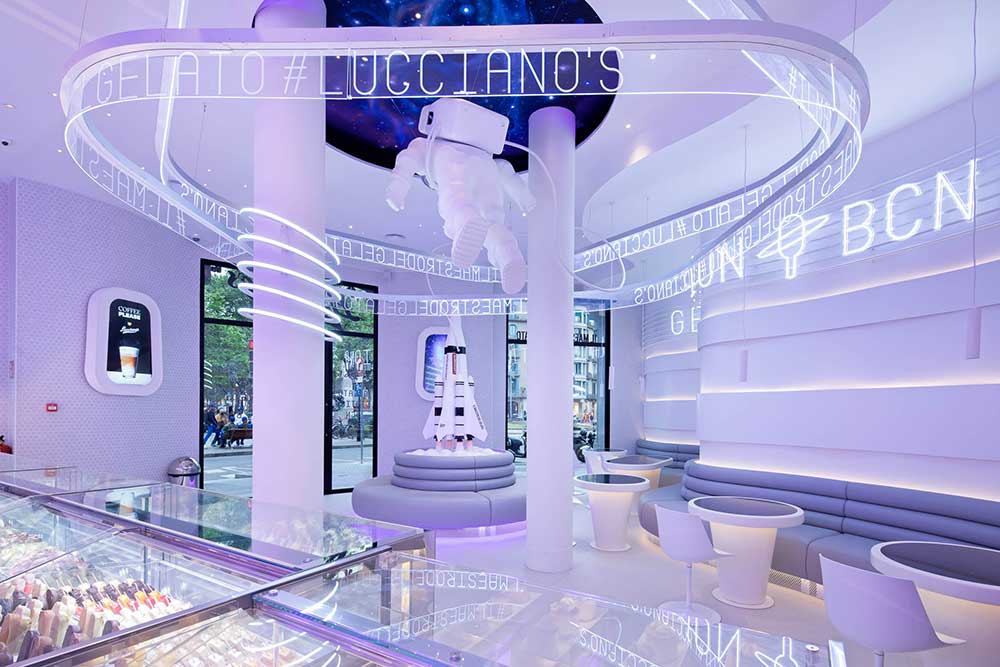 With a uniquely designed store in a hugely creative area, Lucciano's knew that the stakes were high to ensure they pulled off an interior that was interstellar. Creating a scheme based around a space station, the blue hue of the strip lighting and the bright white walls accentuate the grey leather seating and highlight the chrome finish.
In the centre of the location, you'll find a model of a spaceship as well as a very well-placed astronaut statue suspended from the ceiling. We can only assume that this astronaut is picking his next IcePop! The intergalactic design combined with internationally acclaimed gelato is a match made in heaven.
Heladeria Lucciano's: It's All About the Ice (Cream)
Christian Otero, Managing Director of Lucciano's Ice Cream Parlour was very keen to get a new store opened in Barcelona. When asked about his choices he says, "Barcelona is a city with a large consumption of artisanal ice cream, and it was a destination that we were very interested in". Bringing high quality gelato to Europe on a large scale is something that Otero is passionate about, and for the next step, a store opening in Malaga is planned.
But what is it about Heladeria Lucciano's flavours that make them stand out? Well, for starters, the flavours are divided into 6 different categories. Chocolate (including a 72% dark Belgian chocolate flavour), Dulces de Leche (a traditional Argentinean caramel cream that goes perfectly with brownies or hazelnut bonbons), Creams (including passion fruit mousse and pistachio), Raw (consisting of plant-based gelatos) and Vegan (including fruit based).
In addition to these iconic gelatos, which are traditionally served in a waffle cone, you will also find a whole range of IcePop which are flavoured, coated and distinctly shaped.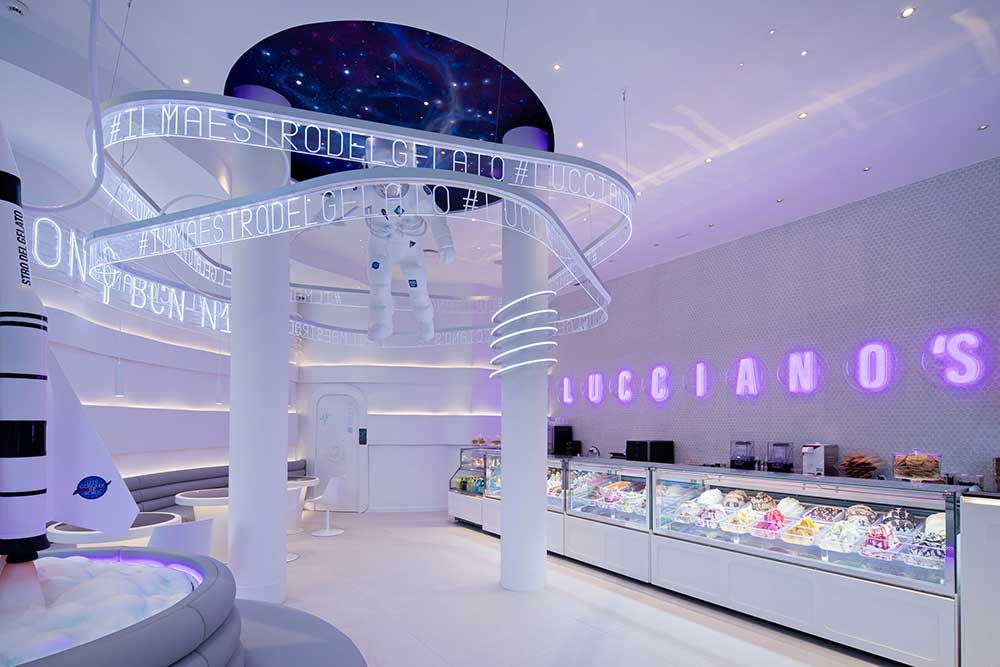 So next time you are in Barcelona, we highly recommend heading to Lucciano's. We suggest trying the Smile King IcePop, a hazelnut ice cream covered in dark and white chocolate. Creating some unique flavours while staying true to the traditions of Italian gelato, heladeria Lucciano proves that a superior-taste ice cream mixed with some fun and frivolity makes for an out of this world experience.