The "Art of Fusion" is an impressively unique concept brought into the world of watches by Hublot. Revolving around the development and utilisation of never-before-seen materials in watchmaking, watch lovers have grown to expect Hublot to expand what is possible in the construction and design of traditionally restrained luxury timepieces. In other words, Hublot has been consistently debuting crazy-creative watches which rightfully found their ways onto the wrists of world-renowned artists, athletes, actresses and actors… And, generally speaking, successful people with a sense of humour and taste for flamboyance.
The LVMH Watch Week of 2021 saw Hublot continue forging its own path with a series of positively outrageous and equally impressive watches that NOBLE & STYLE Magazine selected our very favourites from.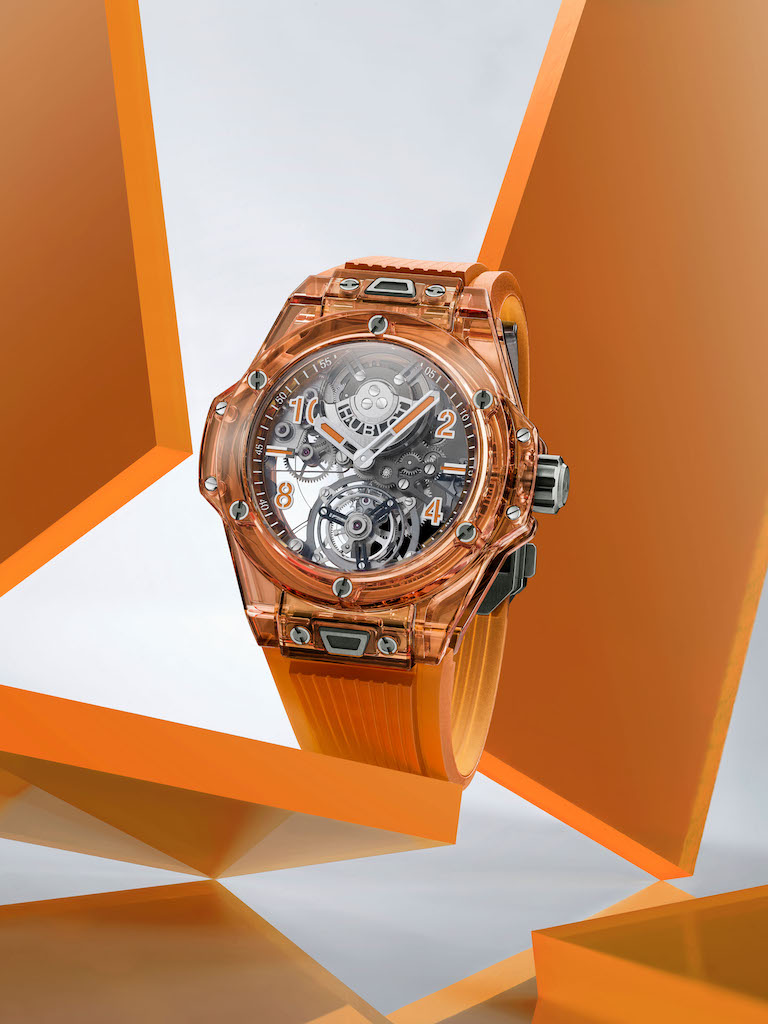 The Hublot Big Bang Tourbillon Automatic Orange Sapphire matches a descriptive name with self-explanatory looks: presented in vivid and translucent orange sapphire, this 50-piece limited edition serves as the perfect example to Hublot's Art of Fusion concept. It fuses its 243-part high-end mechanical movement with a world-first orange tinted sapphire case to attain an effect that would have been entirely unimaginable even just a few years ago.
Because Hublot's role in bringing down – better still: destroying – the antiquated restrictions built into luxury watch design should not be underestimated. Like any true pioneer in the fields of art, fashion, car design or watchmaking, Hublot had powered through the waves of immense push-back, as exercised by the competitively traditional Swiss watch industry. Hublot's colorful approach, its extra-large designs, and its systematic development of utterly unorthodox materials for watches have together allowed it to get stronger by the day, growing its global fan-base.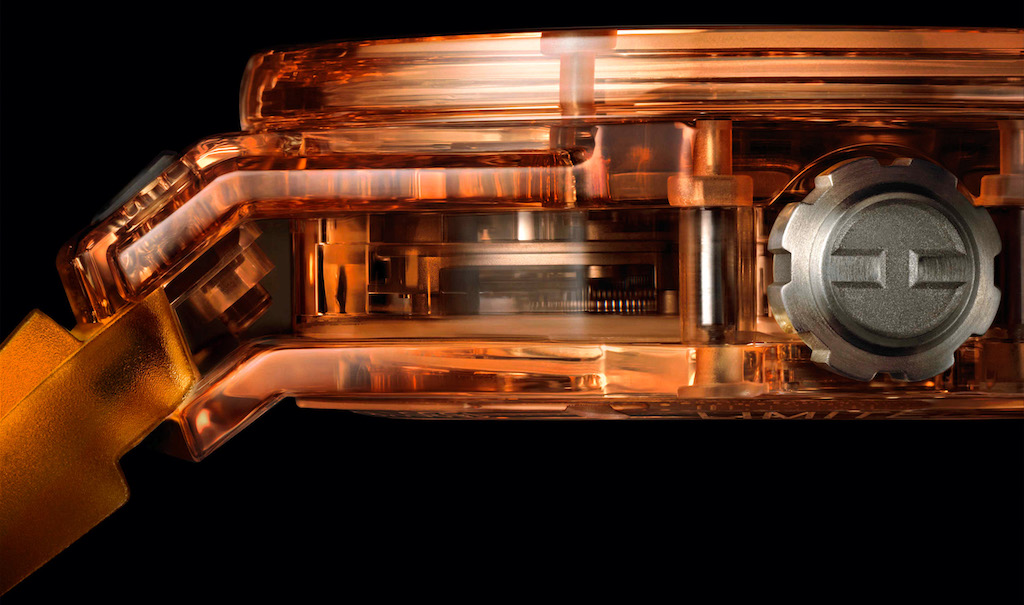 This orange tourbillon is the perfect case in point: strap this orange time-monster around your wrist and you'll quickly see just how different watchmaking can actually feel once it breaks with its own traditions. And it isn't all just about looks either: in an incredibly rare watchmaking feat, the MHUB6035 movement comprises three sapphire crystal bridges – replacing brass traditionally used in watchmaking – to create the effect of beautifully made gears and wheels floating inside the orange case. All in all, the Hublot Big Bang Tourbillon Automatic Orange Sapphire is an amazing experience presented in a 45mm capsule of orange translucence.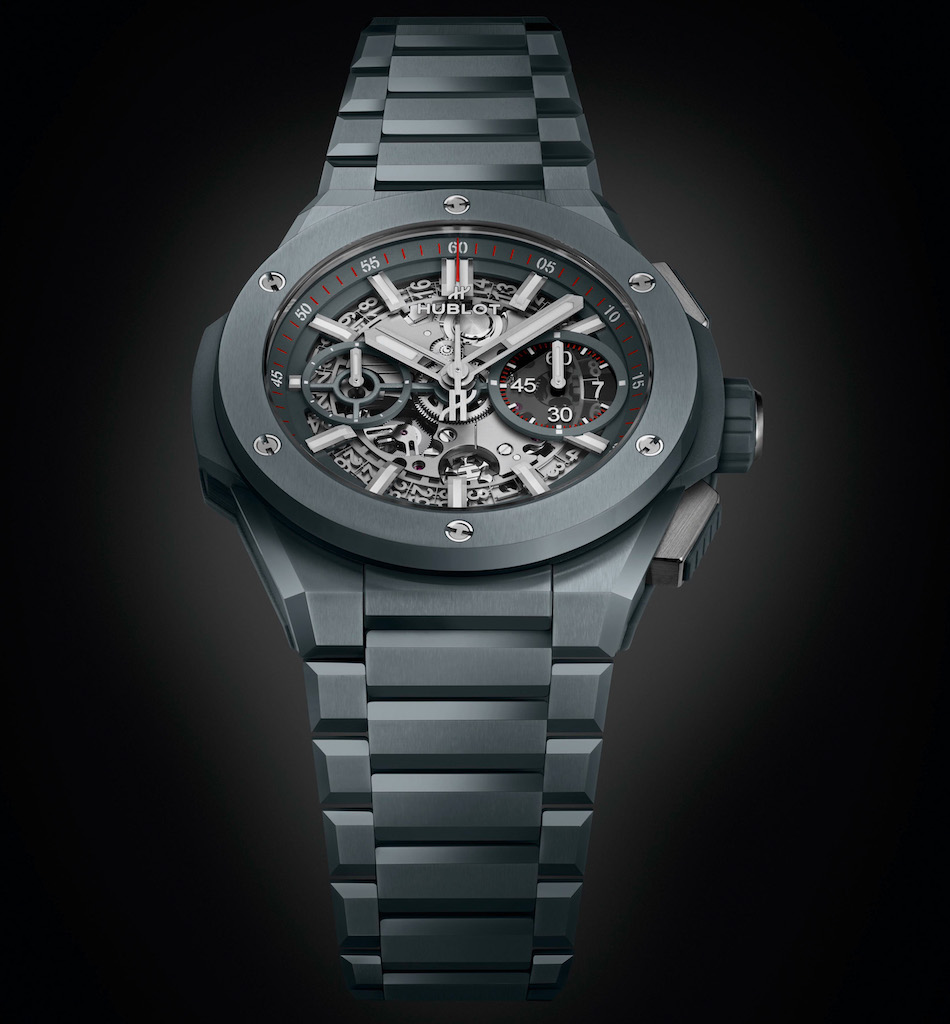 Focusing on improved everyday wearability, Hublot has mastered the in-house manufacturing of ceramic. The sort of ceramic used in high-end watchmaking is incredibly challenging to work with precisely because of the material's preferable attributes. First, ceramic is virtually scratch-proof – it can only be scratched by diamonds –, which means that a ceramic watch will forever look as beautiful as it did when it was brand new. Areas most frequently exposed to scratches like the clasp, the bracelet and the bezel of the watch will maintain their original finish, while timepieces crafted from steel, gold or titanium will pick up scratches everywhere they go. Second, ceramic can be worn even by those who develop allergic reactions to certain types of metals. Third, ceramic is around 30% lighter than steel and – a general rule in choosing your next timepiece – a lighter watch is always more comfortable to wear than a heavy one.
The Hublot Big Bang Integral Ceramic is built around this fantastically capable material that, for most of the last three decades, has exclusively existed in white or black. The reason for that is that the sort of ceramic used for watches has for long proven to be impossible to colour to vivid and interesting hues. Why? Because the immense heat required to manufacture ceramic spoils the pigments which show up as unsightly discolourations in the material, unworthy of a luxury watch.
Hublot has mastered coloured ceramic in ways no other Swiss watchmaker has managed. This proprietary know-how has opened an unmatched palette of colours for Hublot to choose from for its ceramic watches and the new-for-2021 Hublot Big Bang Integral Ceramic drives that advantage home.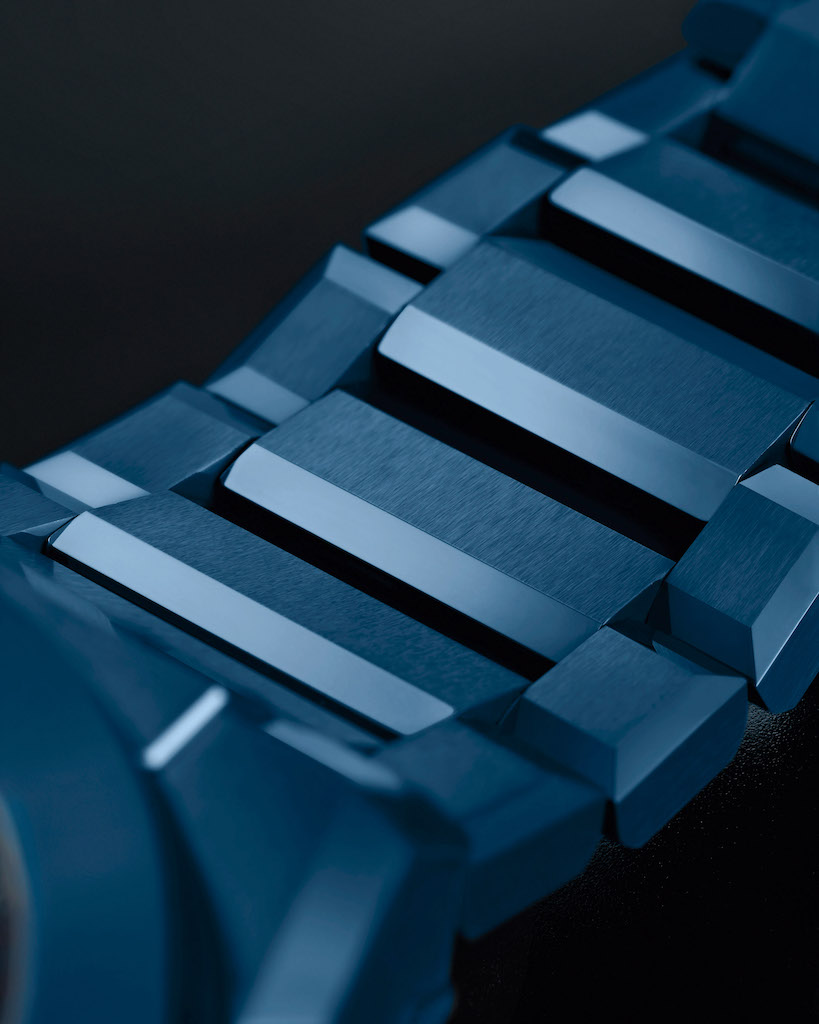 The three new versions include a satin-finished and polished white, complemented by rather more high-tech-looking variations in blue and grey. The name Integral refers to the tight integration between case and bracelet: the last link in the bracelet is hugged by the lugs of the case, while the external links serve as a continuation of those lugs. The entire watch looks more like a bracelet than a traditional timepiece on a leather strap, leading to a more contemporary – although not entirely new – aesthetic on the wrist. For many, a nicely integrated case-bracelet design, such as this one, provides greater wearing comfort too.
With the light ceramic material, the more compact 42 millimetre-wide case, and the "Integral" design, this Hublot Big Bang Integral Ceramic has everything going for it to ensure superb wearing comfort throughout the day. The HUB1280 manufacture chronograph movement is revealed through the front and the back sapphire crystals, allowing for the easy appreciation of one of Hublot's best-loved in-house movements available today.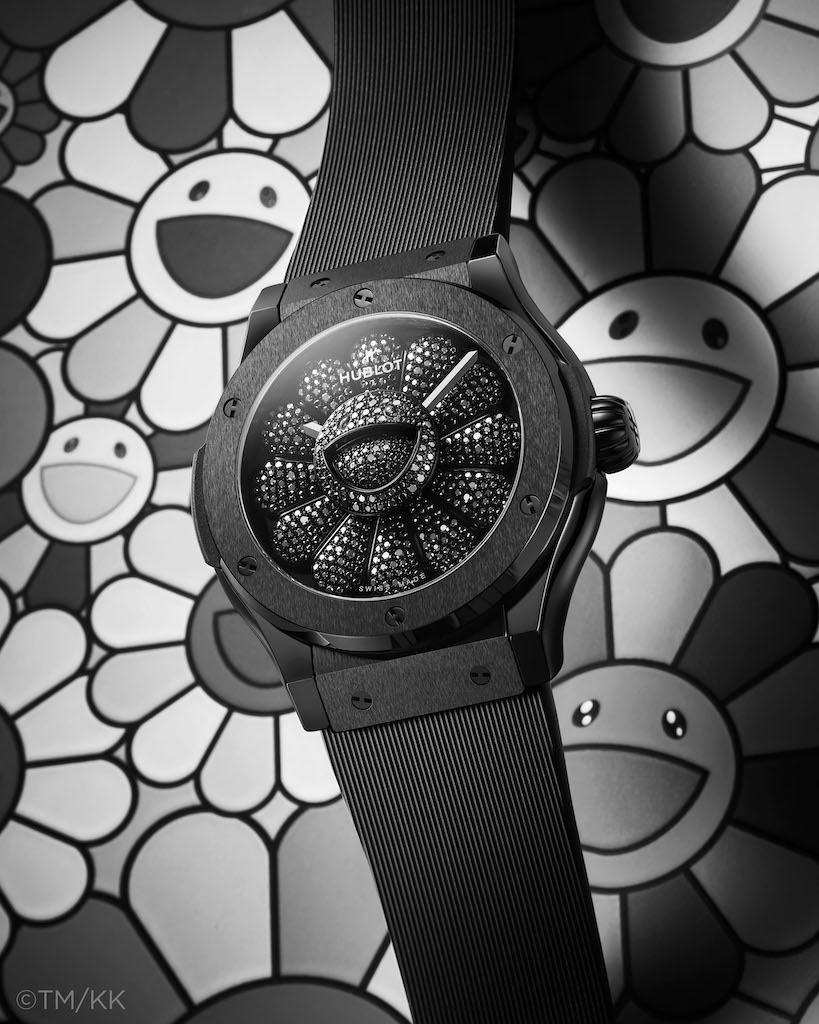 Hublot's no holds barred approach to watch design has attracted some of the most popular artists of our time to the brand – both as customers as well as active collaborators. Joining the likes of Richard Orlinski, Sang Bleu, Shepard Fairey and Tristan Eaton is celebrated Japanese graphic artist Takashi Murakami. Takashi-san was very open about turning down multiple requests for collaborations with others for he would settle for nothing less than a clean sheet and absolutely no restrictions on how and what he can do.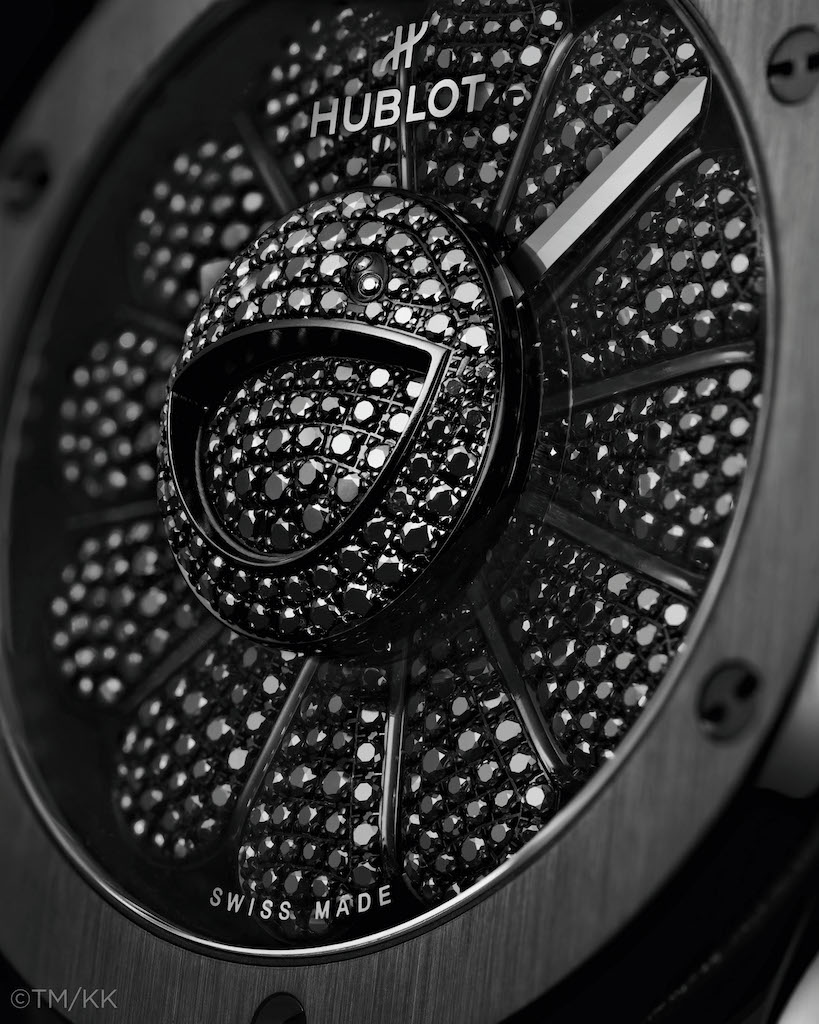 The result? It's the Hublot Classic Fusion Takashi Murakami All Black, a watch with his signature "Smiling Flower" concept. Realized with an animated backdrop that rotates at the slightest movement of the wrist, there are twelve stylized black flower petals, plated in black and set with 456 black diamonds. If you look closely, the domed, black-diamond-set centre has a big, smiley face with two eyes and a large, open mouth. Combine that with Hublot's signature "All Black" look for one of the most artistic luxury watches we'll get to see in 2021.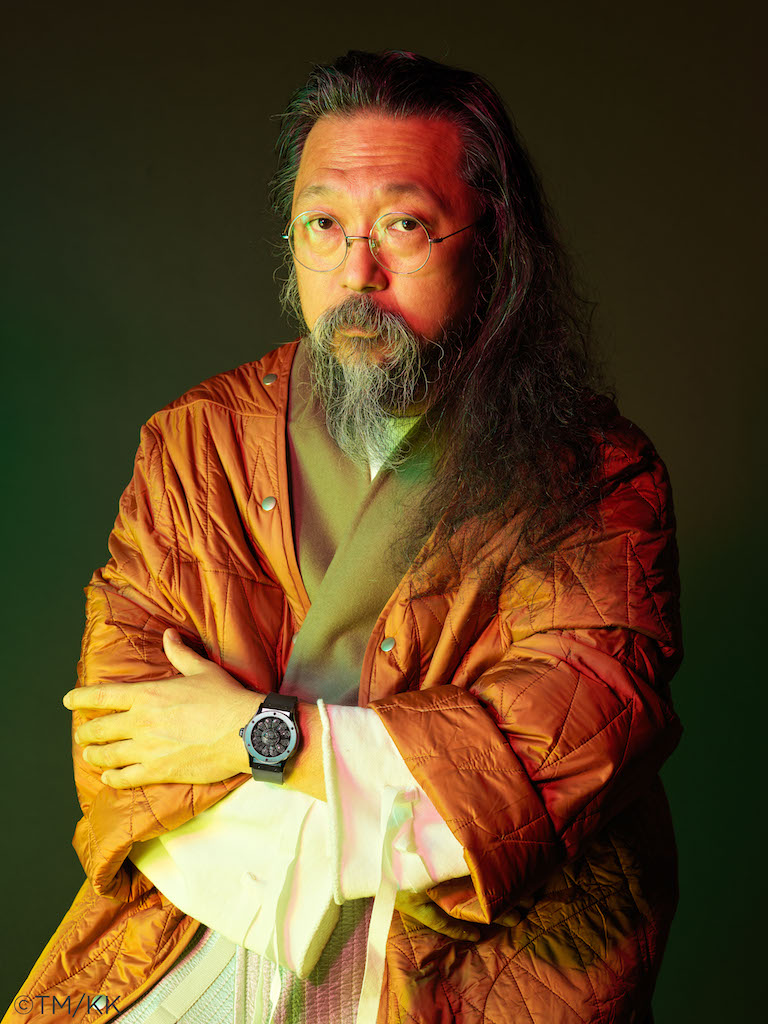 In line with our expectations, Hublot has brought its best form by launching technically and aesthetically novel timepieces at the 2021 edition of the LVMH Watch Week… But there surely are more to come from the Nyon-based manufacturer soon!
Read More:
Words: David B.
Photos: Hublot