Earlier this year, photographer Nicola Rehbein bought himself a vintage Rolex Datejust 1601. Half-Serbian and half-German, Nicola says he didn't come from a particularly privileged background and spent most of his childhood and early teens living in Cape Town, South Africa, which he calls "a difficult place". The watch was a gift to himself, celebrating what he's achieved, the places he's been and how far he's come thanks to his photography and hard work.
Nicola's commercial photography has brought him to where he is in the present and will take him elsewhere in the future. Yet, his personal photography, which he rarely shares, is his way of seizing the past, turning moments into tangible objects he can hold onto forever.
"To collect photographs is to collect the world," said Susan Sontag, whose commentary on photography may be more relevant today than ever before as we continue to share close to 100 million photos and videos to Instagram each day. "Photographs really are experience captured, and the camera is the ideal arm of consciousness in its acquisitive mood."
To find out more, Nicola Rehbein and I had 2020's version of an in-person conversation: a video call. Read on as we discuss his new timepiece, approach to photography, how he experienced lockdown and more.
Rolex Datejust 1601

Let's start with your new vintage Rolex, do you have it there with you? Tell us a bit about what it is, when you bought it and why.
Nicola: I have it on actually. I got it not too long ago, at the beginning of the whole corona thing, so a few months ago. It's a Rolex Datejust 1601 in white, it's stainless steel and gold. What I like about it is that it's an old watch, it's from 1973 or 1974 and I like the old models more than the new ones because they're way flatter and look more elegant on the arm. That was the reason I wanted to get an old one. Also, price…
Is it something you've wanted for a long time?
Nicola: It sounds really stupid and materialistic and weird but coming from nothing, it's something I always dreamed of, to be honest, as a child. Everything I have are things I've made for myself and this was just a gift to remind myself and celebrate.
Are you interested in watches in general or just that one?
Nicola: I am a little but I'm not a full-blown geek or expert. I pretty much only got into watches because I wanted to buy one. I always knew which watch is which but it's such a big field, it's impossible to know everything about them.
When did you first pick up a camera?
Nicola: When I was a kid I always ran around with those 2.3MP digital cameras. I was always taking photos and videos. I think that got me hooked on photography. Also, my dad loves analogue photography so he was always there as well. He gave me my first analogue camera that I started taking pictures with.
Are you self-taught or did you study photography?
Nicola: I didn't study anything. When I moved to Germany I did an abitur in art and design but that's all I did. They don't really teach you anything. My girlfriend is also a photographer and she's one of those who has to plan everything, make mood boards, et cetera. But I can't do that, I go somewhere, I take photos.
In an interview a few years ago you said, "I don't see [photography] as art, I see it more as documenting." What's the difference and why is it important to document?
Nicola: There are some people who document in a more artsy way which is not my style at all. Each to their own. I just see photography more as a documentation of what's happening right now. I love time being held still forever and for me analogue photography is a moment that will always be there.
Because I always get my analogue photos printed out and I've got just boxes and boxes full of analogue photos, everyone asks: "what the fuck are you doing with all those photos?" And I say: "it's fine, just leave them there, don't touch them." They teleport me back to the exact moment, the exact time and exactly what happened and I can recall what happened and who I was with just by looking at a photo. I guess that makes me happy.
You also mentioned not being inspired by other artists and never aspiring to achieve anyone else's style. Is that still something you believe in?
Nicola: Not really. There are some photographers whose work I like looking at but I think that's a general problem of our generation at the moment that we're constantly comparing each other or other people to ourselves and I don't think that's a very good thing. The whole Instagram thing, you're always scrolling and seeing so many amazing photos and you doubt yourself. That's why I said to myself, there's no point in comparing each other or to see other people as idols.
Obviously you can like people's work but I don't want to achieve what someone else does. They do their thing, I do my thing, everyone else has to do their own thing.
The digital world gives creatives more opportunities but also creates shorter life spans for their work. Once someone scrolls past a photo, maybe taps 'like,' they'll possibly never see it again. How do you feel about social media? Do you ever feel pressured by it to create and upload quickly? Is that good or bad?
Nicola: Definitely, yes. You do feel pressure because in the current times social media plays a big role for your jobs, unfortunately. As a photographer, you get paid more money if you have more followers. Which I find totally ridiculous. I don't upload stuff a lot, I do a lot of Instagram Stories but they're not always photography based, I don't care about those too much, I just show my lifestyle and what I'm doing, funny things that happen.
How has your approach to photography changed over time?
Nicola: It's hard to say. I cut my photography in two pieces: work and stuff I do because I want to. But I barely get my camera in my free time anymore because when I take my camera into my hand, I feel like I'm working. So I pretty much only take photos when I'm travelling. That's the only time I take photos privately because it's still my passion but it's shifted into a work-headspace away from the fun thing that I used to do back in the day.
Do you feel that's a shame? Do you miss shooting and just being able to enjoy it?
Nicola: Sometimes yes but I guess that happens with everything you have to do to earn money, the connection and the relationship to it changes after a while.
When I interviewed photographer Mustafah Abdulaziz last year he said photography fullfils his "curiosity towards existence" and "plays a crucial role for him in terms of how to be, what to look at, and what to do with his life." Does photography help you better understand the world?
Nicola: I guess so because it connects me with people I wouldn't usually connect with. It makes me travel the world. It makes me see places I never would've seen. It's funny because whenever I travel somewhere I video call my mum and say, "look mum, look where I am now" and she's always super happy for me. Otherwise, I never would've been able to live the life I have.
I love that you shot a short film in your apartment during lockdown. How did you experience lockdown? Was the time productive for you or a time to relax and reflect?
Nicola: The whole film was my girlfriend's idea; I find it difficult to sit down and think of cool things and be creative when I don't have anything else to do. I think people felt pressured through social media to do creative things: "If you're a creator you have to do something creative during lockdown, use your time wisely."
I hate being pressured and forced into things I don't want to do. I just took it as a timeout because I work so much. Someone's sent us the gift of not being able to do anything for a while so I'm just going to embrace it. I don't remember the last time I could just hang out at home for two weeks. The movie was kind of fun and it took us maybe two hours to film so it wasn't something super big. I liked the outcome of it.  See here: Instagram
Have you ever held an exhibition? If so, did it feel different to sharing your work online?
Nicola: Yeah I have, I've had exhibitions before and print magazine features. I think through a real exhibition you reach less people but you reach them more deeply because they're taking the time to come and see your work. Whereas on [social media], they're on the phone anyway so they see my stuff alongside someone else's stuff and someone else's stuff.
When you're shooting, do you think much about that connection and what you want the audience to feel?
Nicola: What I find weird is that I always shoot people in a way that they're looking into the camera. I don't know why but it's something I've noticed that I always do. I barely ever shoot people looking away because when people are looking at you or in the camera, you make a connection with them. That's just something I've always been doing and it's quite weird.
You can keep up to date with Nicola Rehbein's life and photography on Instagram or via his website Website.
Interview: Aaron Howes
Check out his vintage Rolex Datejust 1601 in more detail here.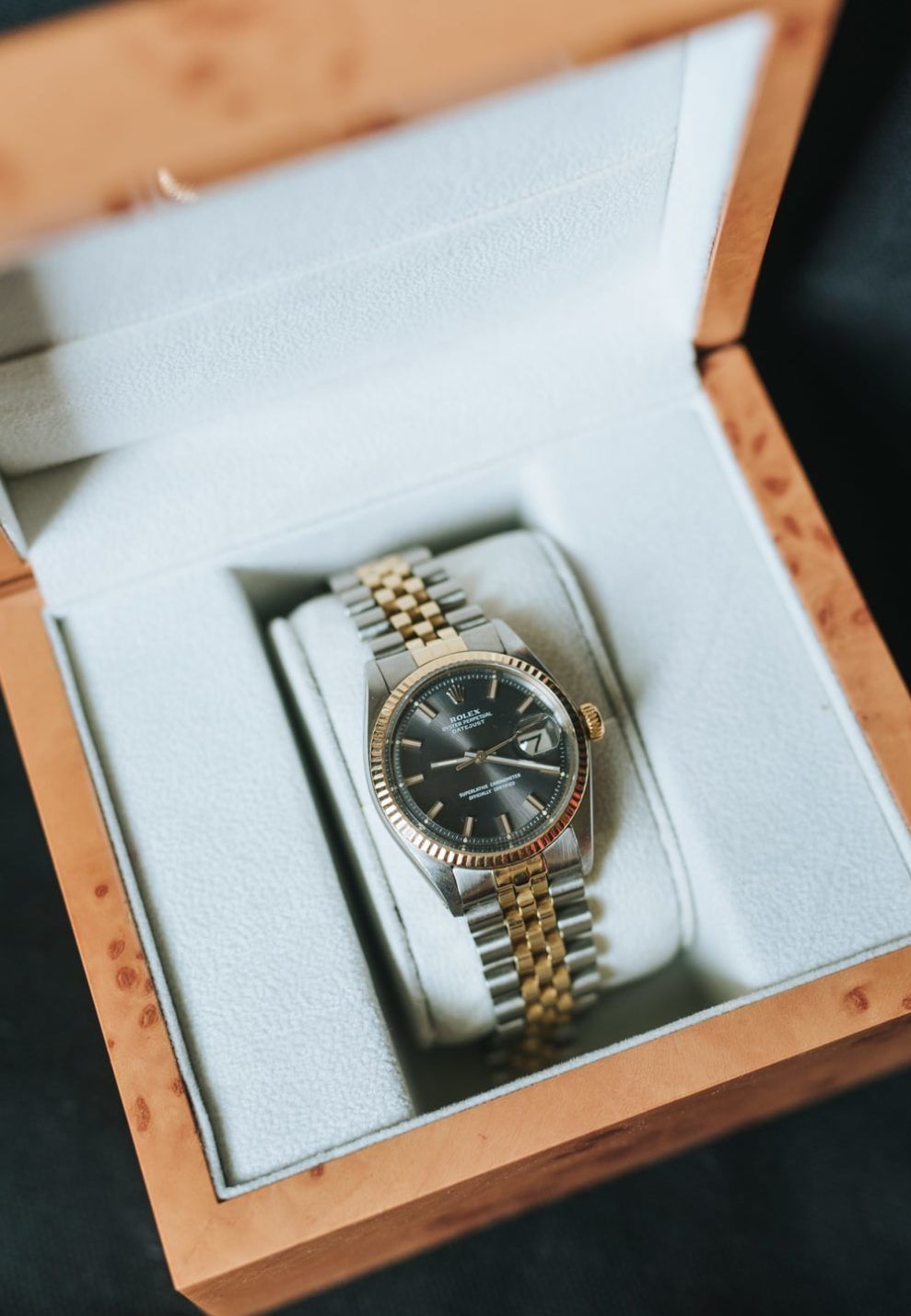 Since its 1945 introduction, the Rolex Datejust has proven to be one of only a handful of watches well and truly worthy of the designation "icon." Conceived and premiered under the reign of Rolex founder Hans Wilsdorf, the Datejust is forever destined to remain a fundamental component to the Crown's success for its historical significance, unassailable style and unshakable appeal.
This particular example, reference 1601 from 1973, maintains the original's 36mm diameter — widely considered to be the perfect case size for every piece in the Rolex Classic range, including the Datejust and Day-Date. The fact that today, almost half a century later, Rolex continues to produce the Datejust 36 in essentially unchanged functionality, proportions and design is proof positive of resistance to the passing of time and, with it, of fashion trends.
Matched to the famed five-link Jubilee bracelet that has been a preeminent part of the Datejust, complemented by an equally complex-looking fluted bezel, the Datejust reference 1601 is as easy on the wrist as it is on the eyes. An utter joy to wear and to appreciate.
Read More:
Words:  David B.
Photos: Nicola Rehbein