A range of three new watches, comprising steel, two-tone and solid gold references, premieres with the Cartier Santos-Dumont XL Hand-Wind. Sleek yet striking, modern yet true to its singular origins, 2020's Santos-Dumont is a refreshing take on what ranked among the first wristwatches to defeat the dominance of ladies' wristwatches and popularise these handy timepieces among men. That notable achievement was possible through wristwatches worn by men through daring new adventures — and that's where Santos-Dumont comes into the picture.
The word Santos stands for a man and a watch, both with pioneering roles in their respective fields. Alberto Santos-Dumont invented delicate, poetic flying machines at the very dawn of aviation, tirelessly pushing the boundaries of longer, faster, and more heroic flights. The success of his bold adventures rested heavily on the accurate and easy telling of time — the latter being an especially compromised element of his flights as Santos-Dumont had to rely on clunky pocket watches.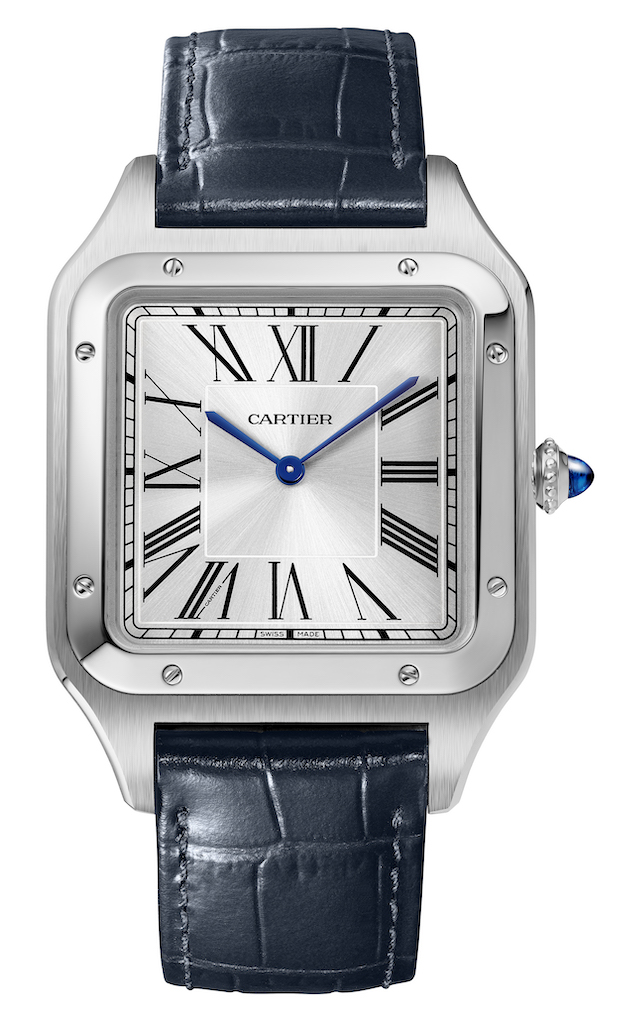 Cartier rushed to his assistance with a rugged and dependable timepiece that soon became a staple of the brand. The Santos displayed a tasteful combination of squares and organic curves, rendered sharp and distinctive by Roman numerals.

Today, the Cartier Santos-Dumont XL Hand-Wind returns with a 46.6mm by 33.9mm case that is just 7.5mm thick, courtesy a Piaget-derived Cartier 430MC hand-wound caliber that measures just 2.15mm thick. 46.6mm sounds like a lot in the world of watches — but bear in mind that that figure stands for not the width but the height of these watches, meaning that they will stretch along your wrist less than a 41mm-wide round cased watch would.
In other words, don't let the XL designation turn you away from trying these on.
More details of the watch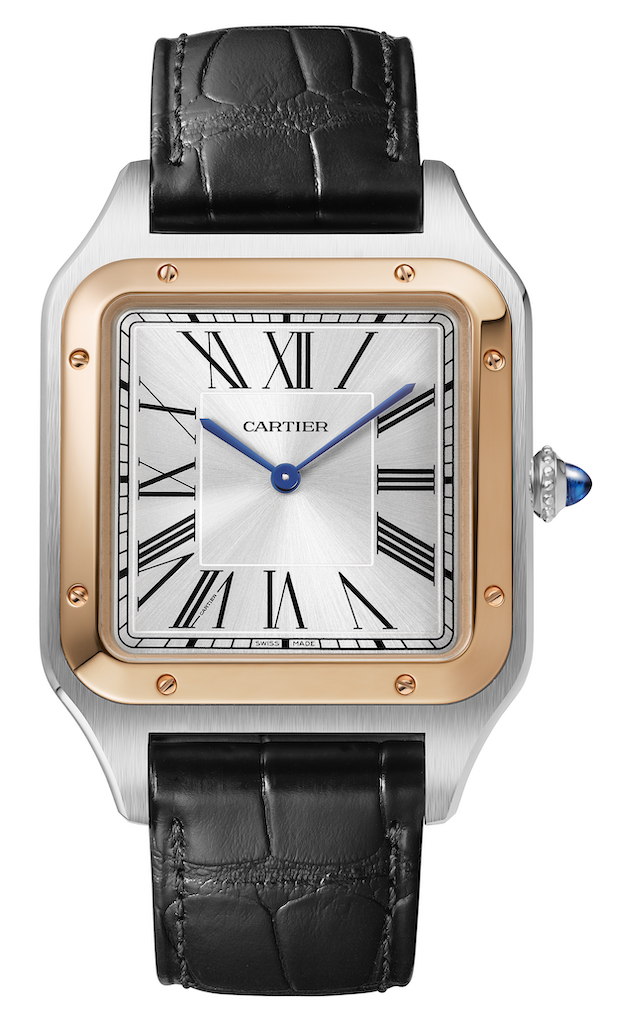 The trademark dial with its elongated Roman numerals now features blued sword hands and a recurring component familiar to the dedicated Cartier fan: the secret CARTIER text hidden inside the spokes of one of the numerals — in the "V" of number "VII" in this instance.
Beautifully crafted and available at highly competitive pricing in the segment — especially for the steel and two-tone versions — the Cartier Santos-Dumont XL Hand-Wind is a stunningly beautiful dress watch with a history few other timepiece could match.
Click here for more details of the watch.
Words: David B.
Photos: Cartier
Read More: