"Redolence" is a concept that's as beautiful as the sound of the word itself. Taken from Old French, from re(d)– 'back, again' and olere 'to smell', it means the emotions and memories created upon smelling a scent. The classic example is the thoughts and feelings evoked from freshly brewed coffee in the morning, or a passing fragrance from a person in the street that transports you to a time or place in childhood.
The point is: smell matters. You can look terrible but you always have to smell good – never the other way around. Scents create atmosphere; they tell stories and speak of something deeper. They are as powerful a force on us as they are romantic. 
While fragrances for the person have consistently been seen as important, it's only in the last few years that scents for the spaces we live in have taken on a similar level of import. You might attribute this to the rise in independent, boutique fragrance brands, but whatever the reason, there's now a wealth of beautiful scents for us to experience and light up our living spaces.
From the more established independent brands empowering everyone in their supply chain, to small, hyperlocal family labels nestled in ancient city streets, we gathered up some of our favourites.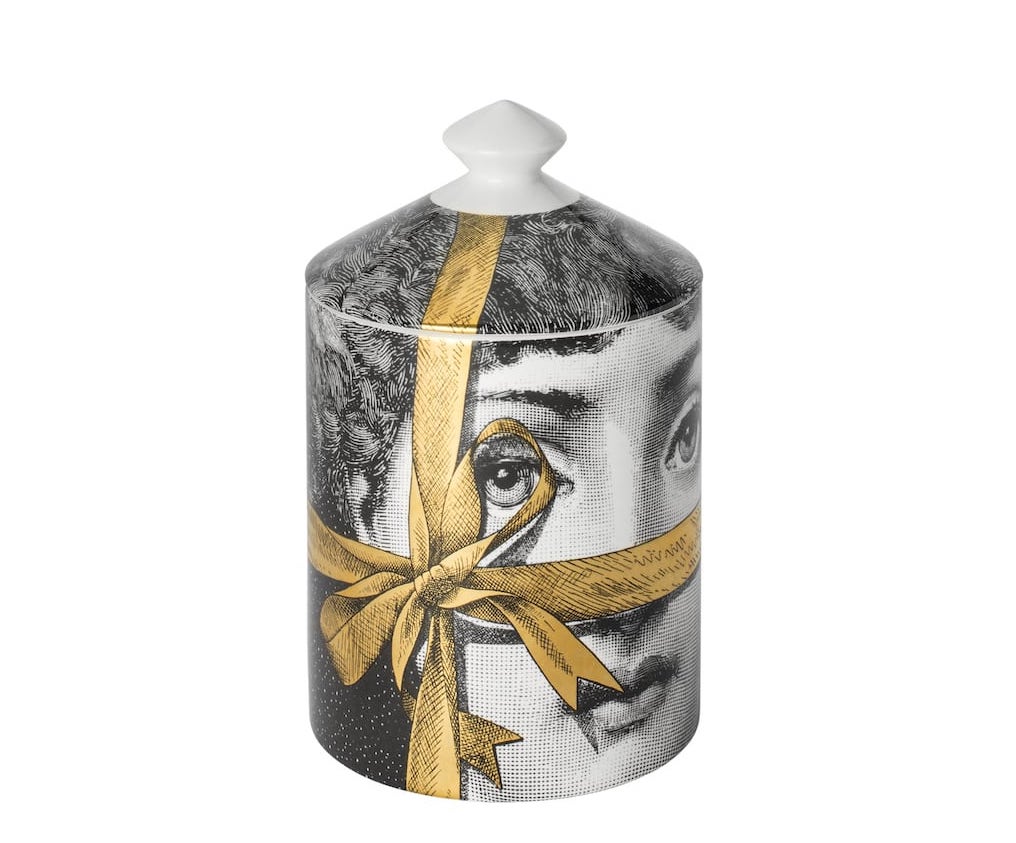 From the combined skill and flair of the legendary Milanese atelier Fornasetti and master Chanel perfumer Olivier Polge comes the Regalo Otto scented candle. Housed in a ceramic lidded container with Fornasetti's iconic visage motif, the Regalo Otto mixes Mediterranean herbs, wood and incense—scents all connected to the atelier itself. For a Milanese, Fornasetti may need no introduction, but for everyone else it's important to understand Fornasetti's place in contemporary Milan. Founded by Piero Fornasetti in the post-war moment, the atelier is now headed by his son, Barnaba Fornasetti, and continues to design and produce all of its wares proudly and meticulously within Italy. Place the Regalo Otto candle in your home, and you'll truly enjoy a multi-sensorial experience.
Amsterdam's The Very Good Candle Company also places its ethics front and centre. Owned and run by just two, the 'music loving' couple Isil and Emre, their cruelty-free, non-toxic company focuses on crafting plant-based candles and fragrances for the home. Using rapeseed wax for the candle body, each product is hand-poured into their recycled amber glass jars (complete with lid) in their Amsterdam West workshop. However, we're particularly taken by their latest range of Terra candles: fragrances poured into beautiful, earthen-ware terracotta pots. A collaboration with Utrecht's Husk Ceramics, they're glazed on the inside while the exterior is left bare, leaving a rough and earthy source of fragrance in the room. True to their word, each scent is inspired by the music festivals they've visited. Our favourite is Pilton, inspired by the spiritual home of music festivals that is Glastonbury (held not far from the quiet village of Pilton in Somerset) with notes of soft and woody sandalwood, musky amber, earthy cedar, a hint of cinnamon, some hidden spices and a touch of raspberry.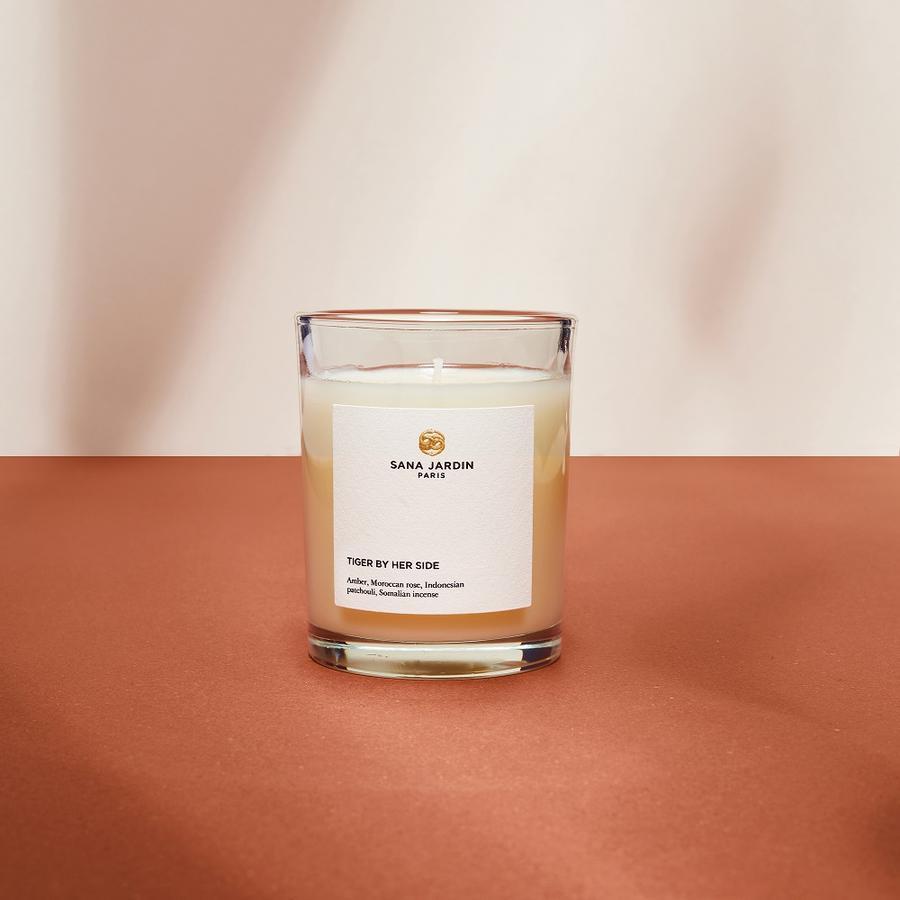 Established by former aid worker and social justice policy advocate Amy Christensen, Sana Jardin is a fragrance company that aims to go 'beyond' the buzzword of sustainability by focussing on economic female empowerment. Using circular economy principles, the brand enables the women harvesters supplying the raw ingredients for Sana Jardin's fragrances to become entrepreneurs in their own right, offering skills training so they can develop and upcycle remaining raw materials to develop and sell their own products in their own local economies themselves. On the cusp of 2021, we say this is where sound, future-proof businesses need to be operating. As for the scents themselves, we believe the label's most popular, Tiger By Her Side, is the best introduction to the brand. With notes of Moroccan rose, Indonesian patchouli, and Somalian incense, the base is amber—the essential oil associated with emotional clarity and inner strength.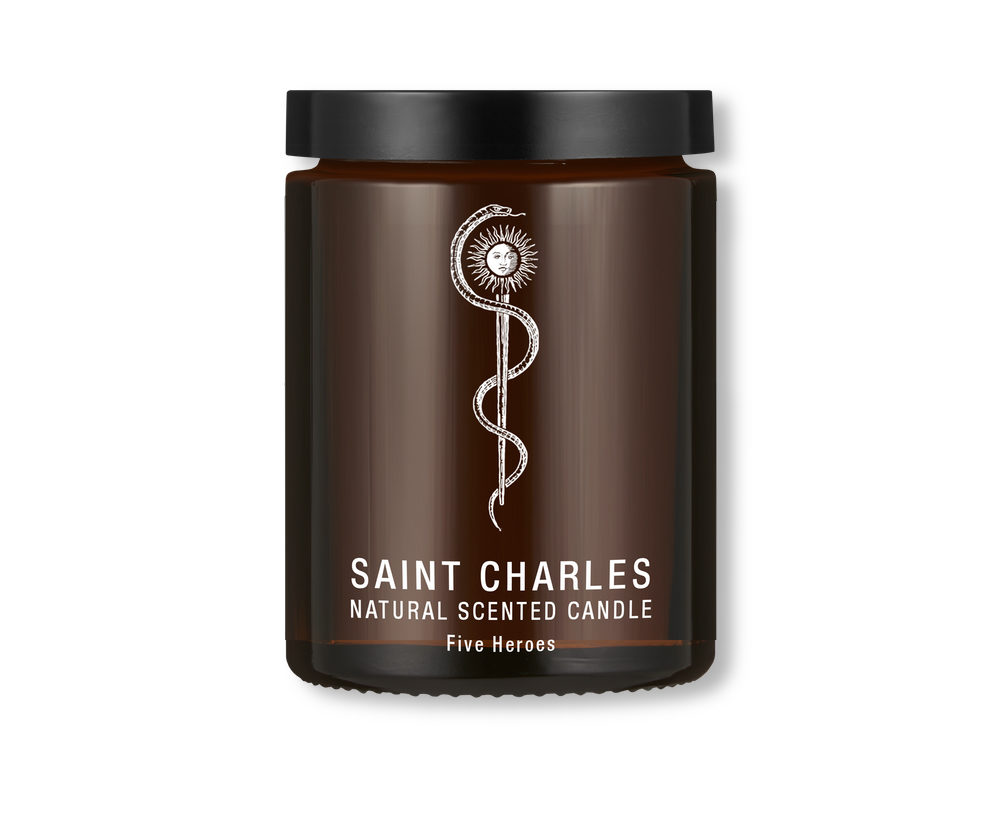 History is everywhere at the Saint Charles Apothecary. Replete with deep mahogany-coloured wooden shelves and with roots that stretch back to 1886, the Saint Charles Apothecary in Vienna's Mariahilf district is as close to a traditional apothecary that you can get. Except sixth generation pharmacist Alexander Ehrmann and his team make modern-day creations wedded to the highest ecological and ethical standards. Among the wealth of natural cosmetics and aromatherapy you'll also find their natural scented candle, Five Heroes. 
The hand-poured candle combines eucalyptus, clove, rosemary, cinnamon and lemon which are known for their antiviral and antibacterial qualities. Inspired by a legend of the four Viennese thieves who survived the 18th century plague with this herbal mixture, the scent is both healthy and homely in equal measure. The very definition of aromatherapy.
Cap d'Arsène is a smaller French brand inspired by the country's riviera and Mediterranean beach lifestyle. Fun and light, with airy, carefree connotations, the brand rewards daydreaming and sun-kissed hedonism, offering its scents as pure escapism. The maison's fragrances are headed by Nathalie Gracia-Cetto, herself a French Rivera native who has led the creation of some of the most successful scents from larger, iconic maisons before working with Cap d'Arsène. Currently, their home scents center on three: Dans le Midi, a scent with fresh herbal elements and light notes of mint, basil and tomato; Sable Cypres, which, like the brand, draws its inspiration from the coastline, with a scent that speaks to the energy of the sea, the air of coastal pine forests, and ocean spray. Finally, Amande evokes the warm, comforting softness of cotton. While every scent is suited to every season, we believe Amande is the best one for the current winter months, while spring and autumn can be equally served with Dans le Midi and Sable Cypres.
The product of friends Niko Dafkos and Paul Firmin, Earl of East is much more than simply a London-based boutique candle brand, it's a community. Established in 2014 with just three candles, Dafkos and Firmin's side-hustle-turned-business now encompasses two sites in their native city (one in Hackney and Kings Cross), with candle and scent making workshops, in-store candle pouring, a book, "The Scented Candle Workshop", and a product range encompassing candles, incense, bath and body products, and home mists. On top of all this, their candles can be selected via specific scent or for the mood you want to evoke. To say these two are experts in what they do would, therefore, be quite an understatement. It was hard to choose our favourite, but for the personal touch, we choose Greenhouse that's inspired by long summers spent in co-creator Niko's grandparents garden in Northern Greece as a child. With notes of parsley seed, basil and vine tomato, the fragrance is fresh and vital. Perfect for an instant daytime mood switchup.
Norwegian label Aleksander Sprekenhus is inspired by the far north of Scandinavia, where the Norwegian island and community of Vega interacts with the wildness of the surrounding landscape, and harmonious lifestyles that are created from it. Using only ethically sourced, natural ingredients, each with high levels of antioxidants, Sprekenhus's hair, body, and skin care, as well as their perfumes and home scents are based around the signature ingredient of Argan, the vitamin-rich oil that has been used as a food and cosmetic stuff for millennia. Their home scents, set in mouth-blown, hand-made, cold-cut glass, are no different. Speaking to the label's Scandinavian, northern roots, our choice is Aurora: a clean and crisp scent that is fresh and powdery.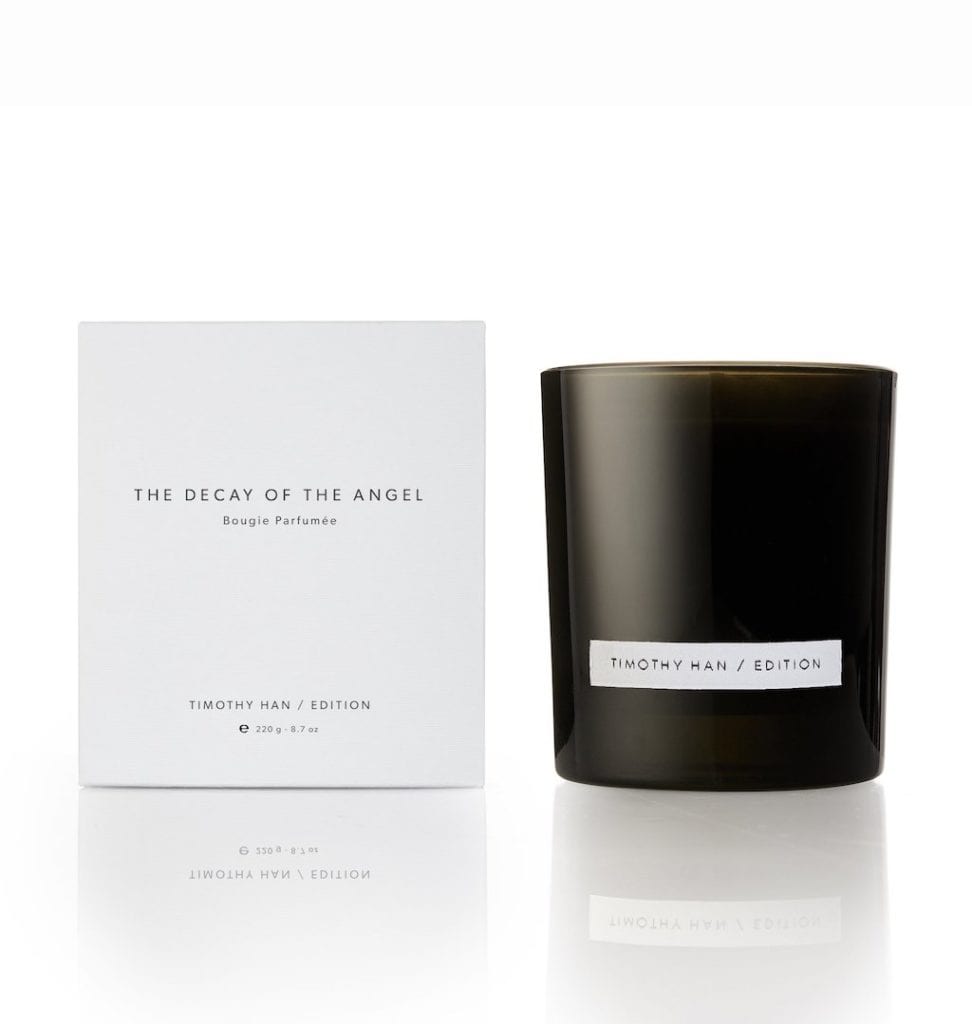 We wrote earlier that scents tell stories, but for fragrances that take that idea one step further, consult Timothy Han. The master perfumer and his brand, Timothy Han / Edition, proudly declares its debt to literature, and the authors and poets that inspire us through the centuries. With perfume names directly lifted from great, although in many cases, niche or overlooked, works of literature, the brand demands us to recognise the romantic power of scent (they even sell the works on their website, alongside their scents). Interestingly for our age where the emphasis is for 'natural' ingredients that come into contact with the body, Timothy Han doesn't shy away from using nature identical ingredients (and telling us when they do). The reason is simple: ethics. A classic example would be musk—a key scent but one in which to achieve the 'natural' scent would mean killing the animal itself. Obviously, this is unacceptable, and it's right that Han should draw a line in the sand about this. Our selection from his current collection is the evocatively titled The Decay of the Angel, a rich and exotic burnt floral fragrance inspired by Yukio Mishima's 1971 novel of the same name.
Click here to browse through a range of scented candles.
Read More:
Words: Jack Drummond