A journey to Italy's lake country offers something unique: pristine Alpine waters, refreshing mountain air, all accompanied by Italian hospitality and flair. Sitting in the foothills of the Dolomite and Alpine ranges, Lake Maggiore crosses the border with the neighboring Italian-speaking Swiss canton of Ticino. Meanwhile Lake Como and its township sits in Lombardy, a short drive from Milan. Both are famous for their beaches, 5-star boutique hotels and luxurious restaurants and have been weekend getaways for the Milanese for years. Lake Garda is Italy's largest lake and is also replete with designer getaways and fabulous beaches. Book the best lake hotels with our guide here.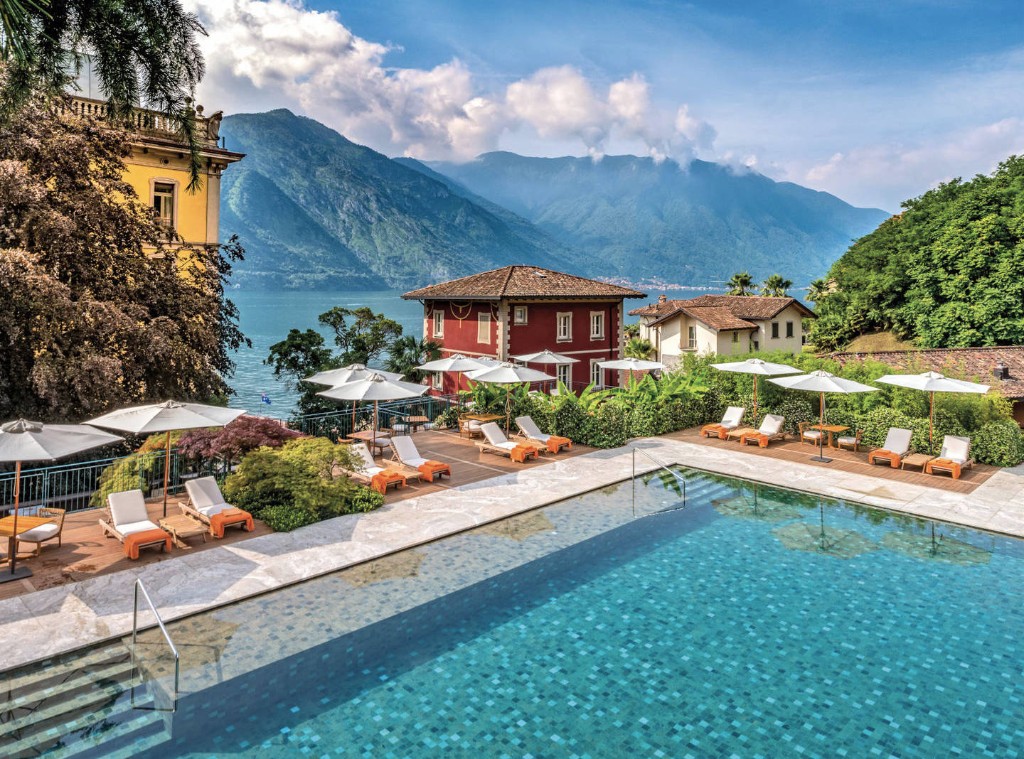 "A truly iconic Art Nouveau masterpiece sitting on the western shores of Lake Como. With views spanning the crystalline waters, it envelops its guests and relives the exuberant decadence of times past with the warmest hospitality all'italiana."
The Art Nouveau-style hotel with lush fabrics, stylish and antique paintings and prints impresses with rooms in pastel shades, refined furnishings and dreamlike views of Lake Como. The early 20th-century building also houses the La Terrazza restaurant with classic and high-end Italian dishes, while the L'Escale Fondues & Wine Bar invites you to fondue or barbecue in a pleasantly quiet atmosphere.  We especially enjoyed the morning plunge into the floating pool or lake.
Check availability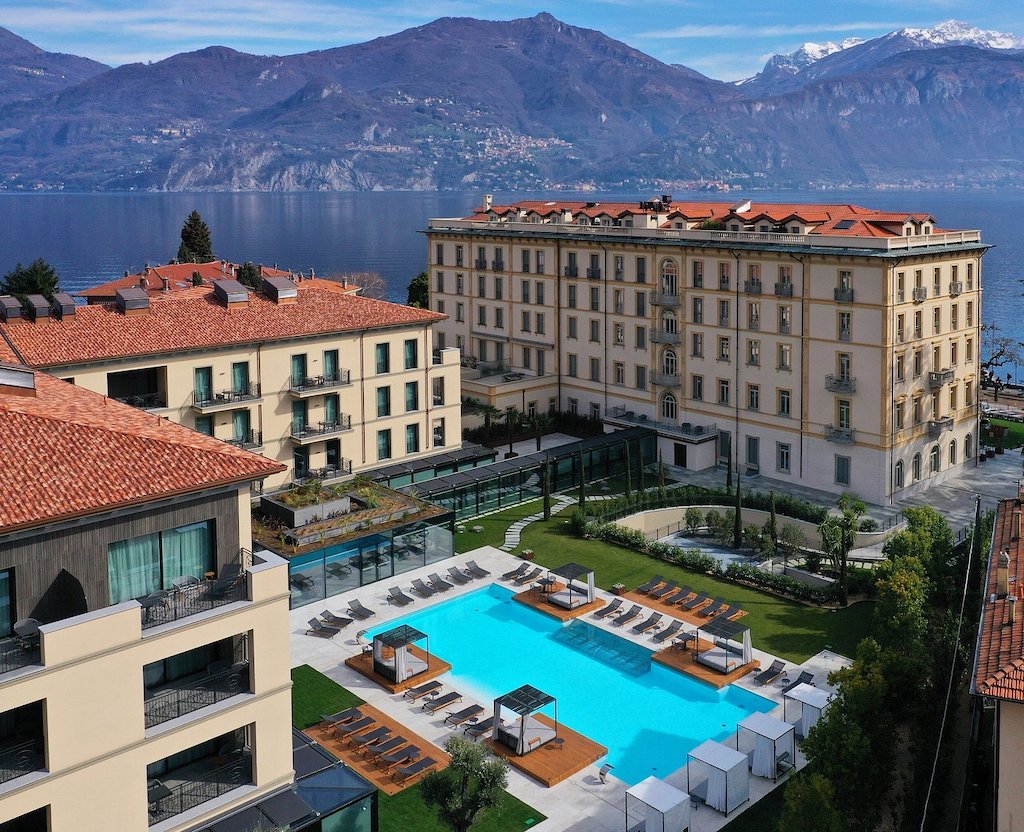 "A stunningly modern masterpiece of luxury overlooking the waters of Lake Como, with countless lavish offerings beyond compare."
Unparalleled beauty and artistry of the modern and the classical meet in this extravagant getaway on Lake Como. Within a renovated 19th-century palace, sophisticated taste and glamorous aesthetics are on full display, sweeping you into every singular space. Of course, there is no shortage of lavish services. Find total peace at the Erre Spa, with two swimming pools, saunas, and a jacuzzi, plus a number of special rooms for aromatherapy, beauty treatments, and uninterrupted relaxation. And for a full dining experience of regional and international cuisine, take your pick from two exceptional restaurants: a design gourmet or a lake view terrace boasting panoramic vistas.
Check availability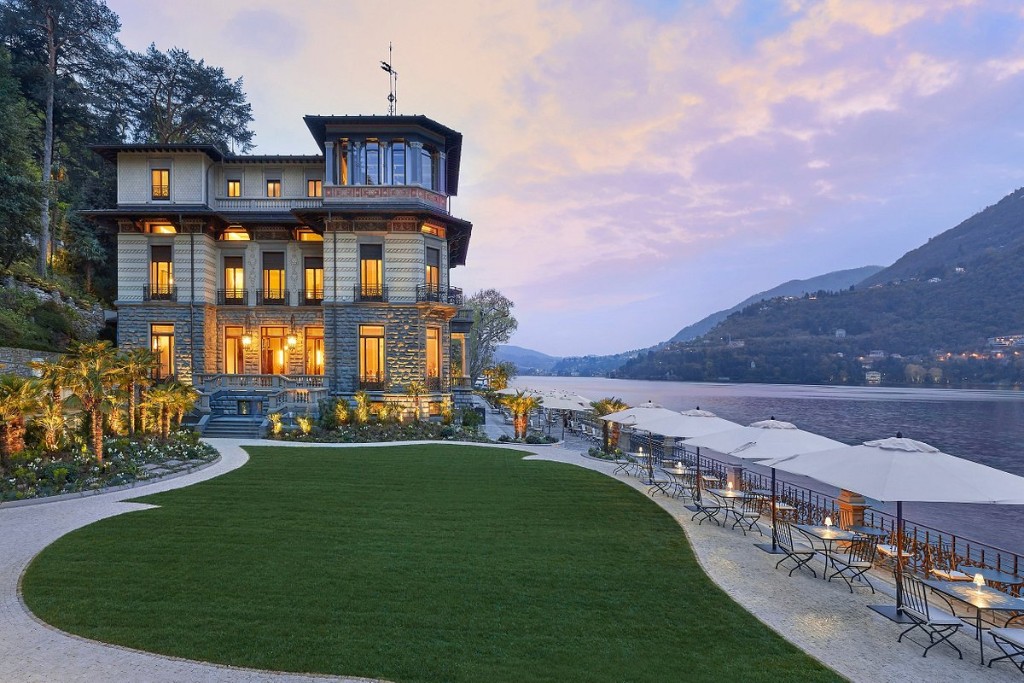 "Coupled with its serene setting, nestled between luxuriant botanical park and lake, the resort represents a seductive blend of Italian style, oriental charm and natural beauty around the majestic botanic gardens that surround this breathtaking place."
On the eastern shore of Lake Como, outside Blevio, you will find the wildly romantic Villa Roccabruna, a 19th-century palace. The greats of the opera world also came here for what are perhaps the most beautiful sunsets: Donizetti, Rossini, Bellini. Today, the estate is home to the Mandarin Oriental Lago Di Como. A hotel of pure elegance. Simple rooms with plank floors, neutral curtains, spectacular views through floor-to-ceiling windows, intimate seating areas on the grounds, an outdoor pool that seems to float above the lake and the fine-dining restaurant L'Aria with its ship-shaped terrace will transport you to a world far from normal.
Check availability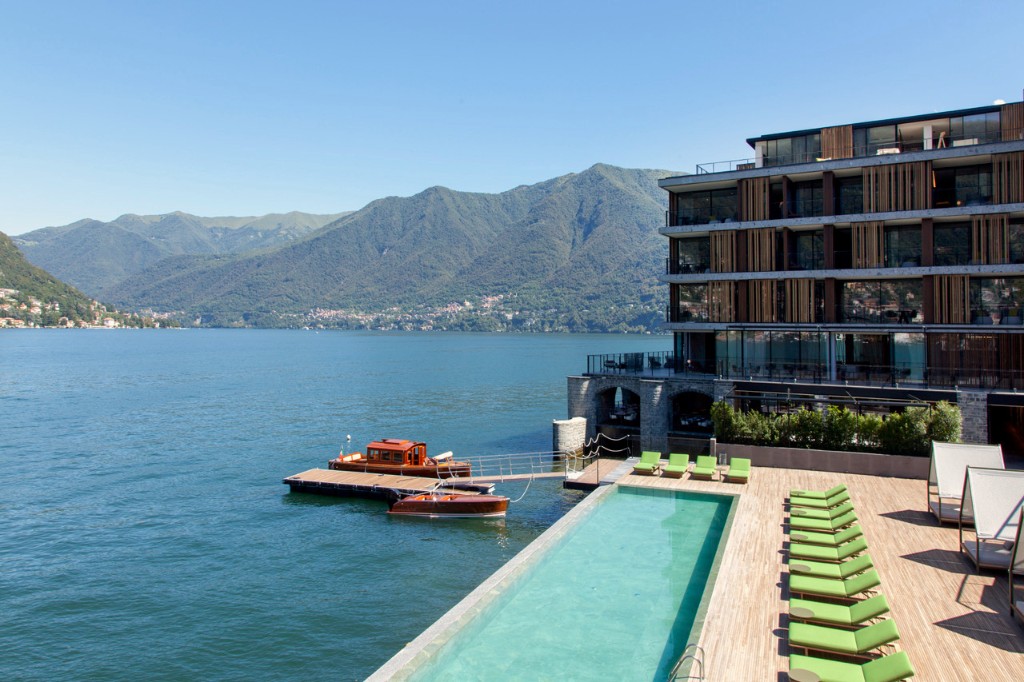 "The award-winning designer, Patricia Urquiola has combined the natural ambiance of the surrounding environment with comfort and luxury, resulting in a design that embodies all spectrums of luxurious accommodation in Il Sereno Hotel."
We were delighted: elegant, oversized suites, all with their own furnished terrace and an unobstructed view of the water. Inside, fabrics from Lombardy's most famous textile houses in subtle shades of grey and blue. Regional stone, a floating staircase in local walnut in the lobby and a lively façade facing the lake. All this is the Il Sereno on Lake Como in Torno. Conceived by the Spanish architect and designer Patricia Urquiola. Wow factor included.
Check availability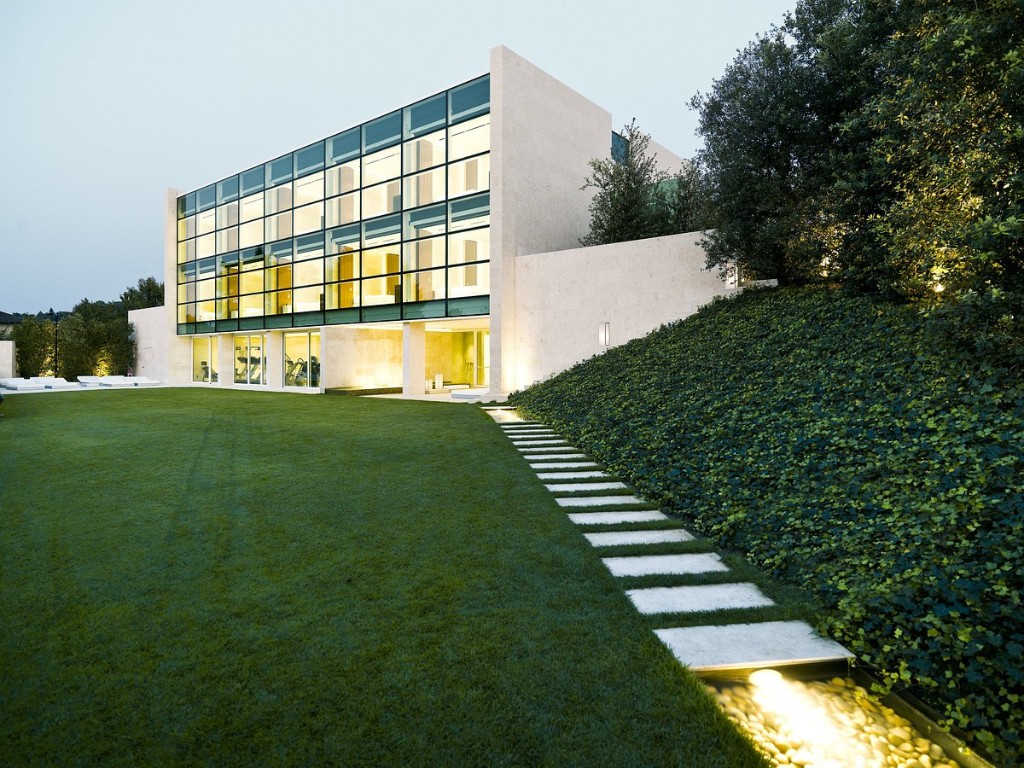 "Integrity, clarity of intents and high attention to detail are C-HOTEL architectural features: austere but not extreme, contemporary and yet timeless. The created layout has been thought to spread a feeling of luxury."
The aroma of freshly ground coffee beans, the stone-clad lobby, an elongated teak reception desk, the bustling Italian bar and a family-run pastry shop where delicacies have been baked for more than 40 years. The in-house restaurant Materiaprima serves you fresh Italian cuisine with ingredients from nearby farms. Also part of the hotel near Lake Como is the concept store C-Colzani and the award-winning C-Caffe. Young owner and self-taught architect Andrea Colzani has given free rein to his remarkable architectural skills in creating this forward-thinking, minimalist retreat in the hills. A modern home for modern nomads.
Check availability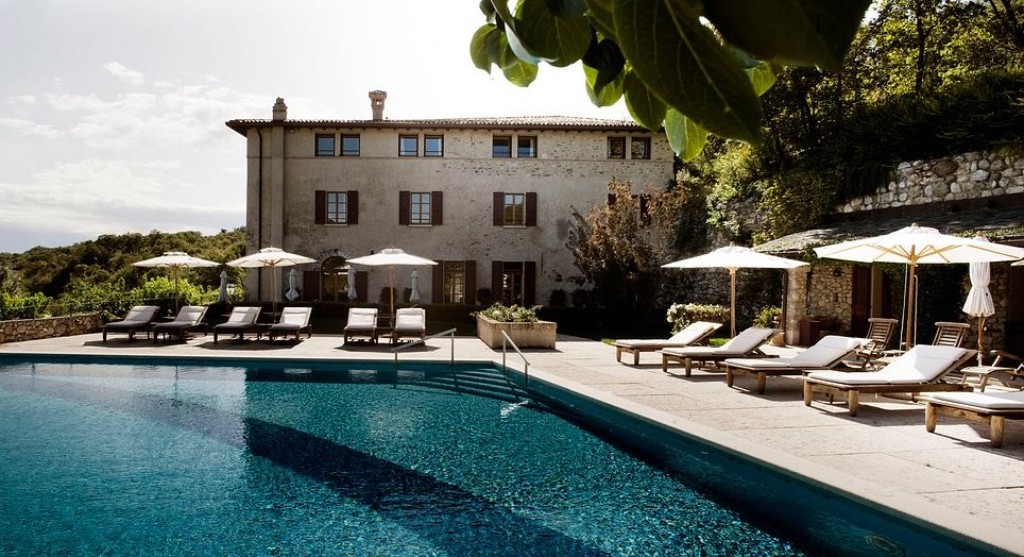 "Experience the fascinating atmosphere of this ancient monastery, completely restored and surrounded by a lush green garden, providing a pleasant and rare quiet setting."
A former monastery on Lake Garda, built in the 13th century, now provides the backdrop for an intimate, atmospheric hotel in a class of its own. Historic frescoes and original artwork enhance the tranquil rooms with lake or garden views. The experienced chef will spoil you with excellent seasonal dishes, prepared from fresh ingredients from the hotel's own garden. Not to forget the pool and garden area of the Hotel Villa Arcadio, perfect for romantic and relaxing hours alone or as a couple.
Check availability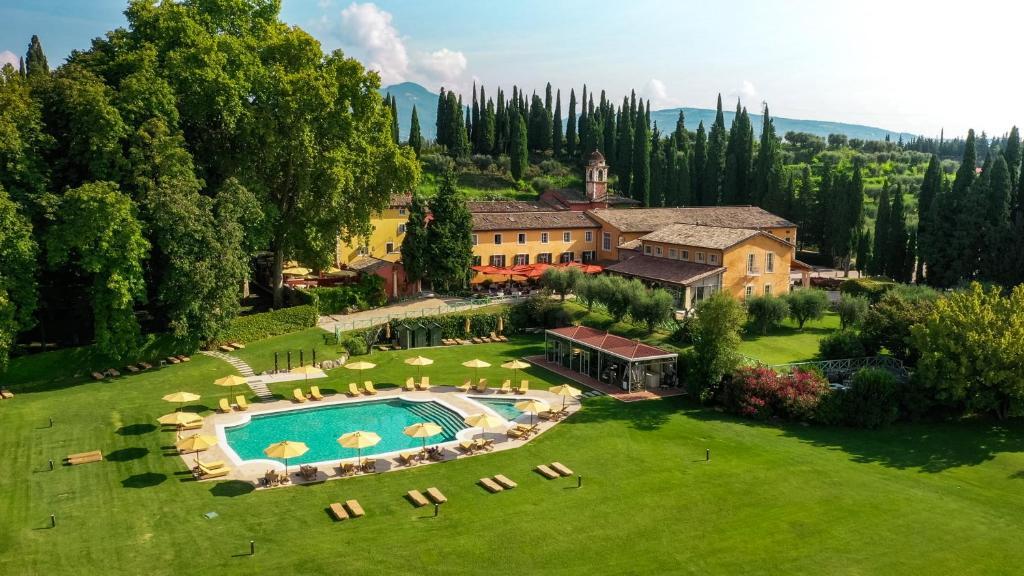 "Placed in an ancient patrician residence, the rooms and suites at Villa Cordevigo offer spacious accommodations that are both sober and elegant, furnished with rich fabrics and the finest finishes."
The 16th-century Villa Cordevigo on Lake Garda once housed a mill in the southern wing of the building, while the northern wing was used as a stable and cellar. Today, you'll enjoy modern queen-size beds and terracotta or marble bathrooms in the classically furnished rooms, stone fireplaces and wooden ceiling beams, as well as fine colours and fabrics. For a truly romantic evening, we recommend a table at the hotel's star restaurant Oseleta, where you will be pampered in style.
Check availability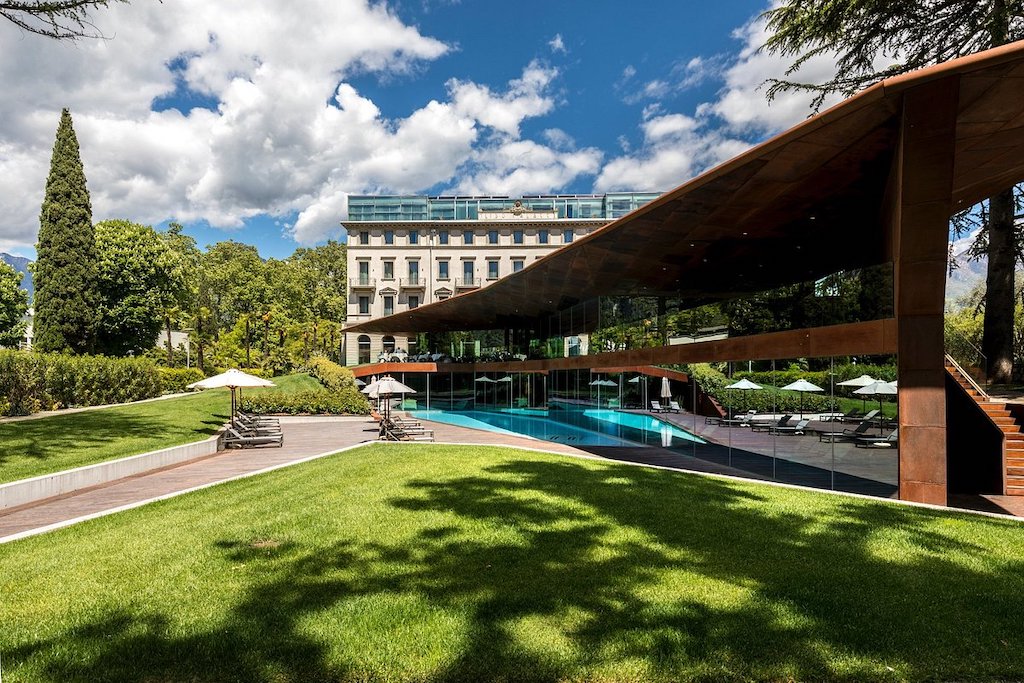 "A magnificent former palace restored and redesigned, with luxurious offers fit for royalty."
A retreat in every sense of the term, Hotel Lido Palace in Riva del Garda places every luxury at your fingertips. Gracing the bank of the dazzling Lake Garda, the original Belle Epoque building of the early 20th-century has been exquisitely redesigned inside, showcasing sleek monochrome interiors with cool blue accents matching the views of the surrounding waters from every window. With its CXI Spa – covering a lavish 1500 square-meter – two gourmet restaurants, and the inviting Balì Bar to choose from, all that will be missing here is your royal title.
Check availability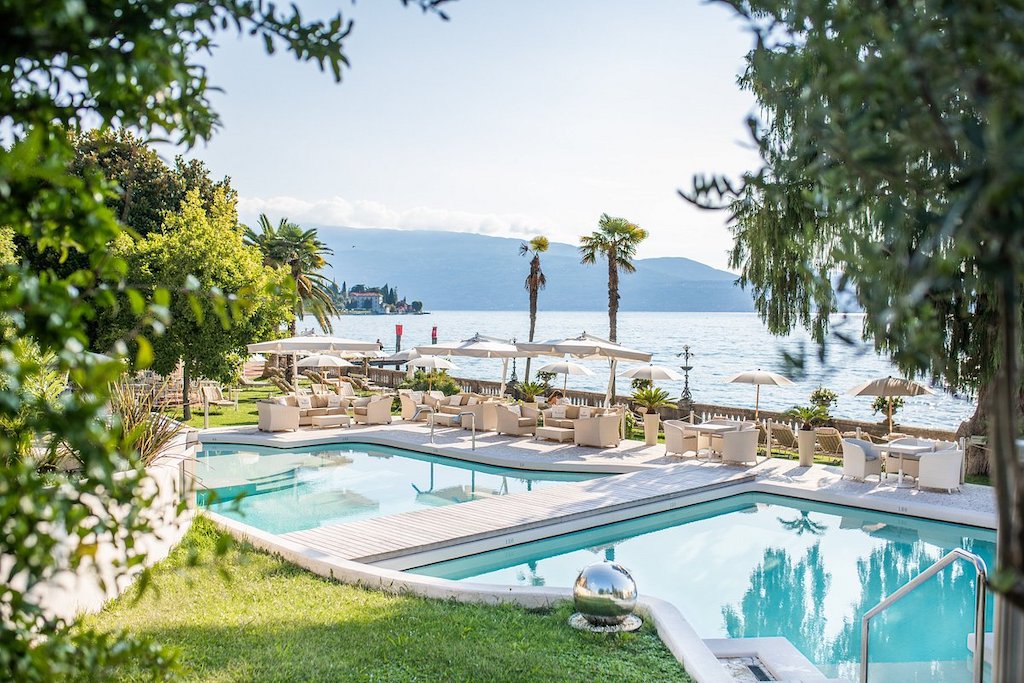 "Beautifully romantic, elegant and spacious, tradition combined with modernity. And the cherry on top: private access to Lake Garda."
Once a residence of the Austrian royal family, the Grand Hotel Fasano is a 19th-century villa placed in the centre of a 12,000 square-meter park, whose lush palm and banana trees will transport you to the heart of an exotic oasis. Gracefully opulent rooms are fit with beautiful terraces overlooking the water, while the award-winning chef Matteo Felter serves divine locally-sourced cuisine at Il Fagiano downstairs. But the ultimate indulgence is private access to Lake Garda, putting Grand Hotel Fasano a cut above the rest, making it feel like your own personal villa.
Check availability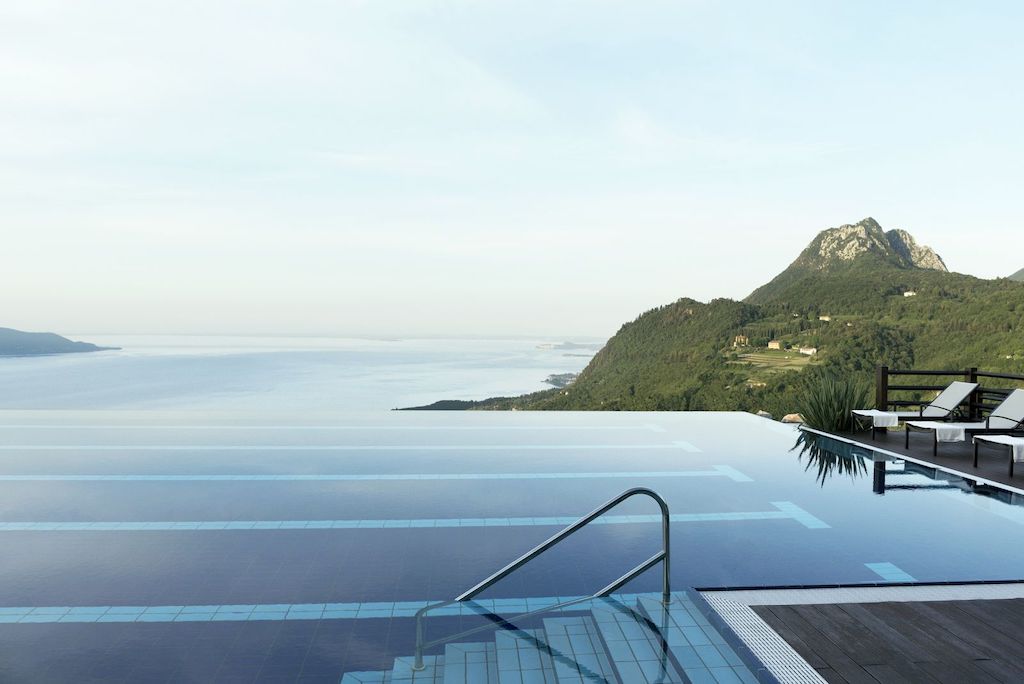 "Luxury, wellness, and nature meet at this lake-side resort, the pinnacle of relaxation and serenity designed to integrate into the landscape."
Nestled into a natural park in Gargnano, Lefay Resort and Spa blends harmoniously into its surrounding environment of luscious greenery, rolling hills, and olive trees, with spectacular panoramic views of Lake Garda as seen from above. Committed to a sustainable design inspired by lemon groves, its soft and sophisticated decor made up of creamy hues, warm natural materials, and airy, open spaces, will have you floating tranquilly from room to room. And if that doesn't do it, the offerings of the Mondo Lefay Spa – equipped with two sumptuous pools (one indoor, one outdoor) – will leave you completely rejuvenated and serene.
Check availability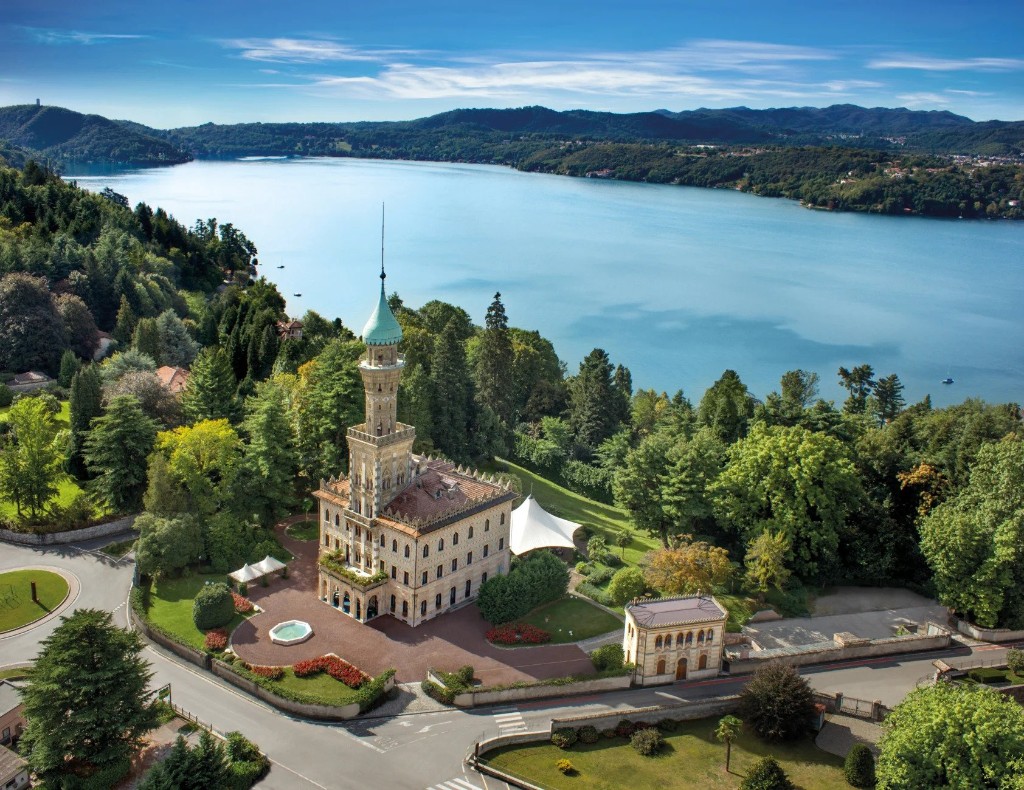 "This Moorish style, historic residence became a 5-star luxury hotel and home to Chef Antonino Cannavacciuolo's 2-star Michelin restaurant, creating an intimate and exclusive setting characterized by hospitality and taste."
Built in 1879 by cotton merchant Cristoforo Benigno Crespi, in the style of Baghdad's architecture, the villa on the shores of Lake Orta is now home to Hotel Villa Crespi. Surrounded by green gardens, it has its own minaret, while the interiors resemble a Moorish palace with handcrafted stucco and marble columns. The warm, elegant rooms retain their original parquet floors and are, of course, trimmed with unique fabrics and curtains. In the hotel's own Michelin-starred restaurant, we were truly spoiled by the renowned chef Antonino Cannavacciuolo – a full-service high-class getaway, no doubt.
Check availability
Read More: