Geneva, the spiritual home of fine watchmaking according to many, once again saw major and smaller watch brands gather — for the first time in 2020. Officially called Geneva Watch Days, this four-day event had seventeen high-end watchmakers exhibit their latest and greatest timepieces in the finer hotels situated along Lake Geneva. Here are nine amazing wristwatches and one sci-fi worthy table clock we saw in Geneva.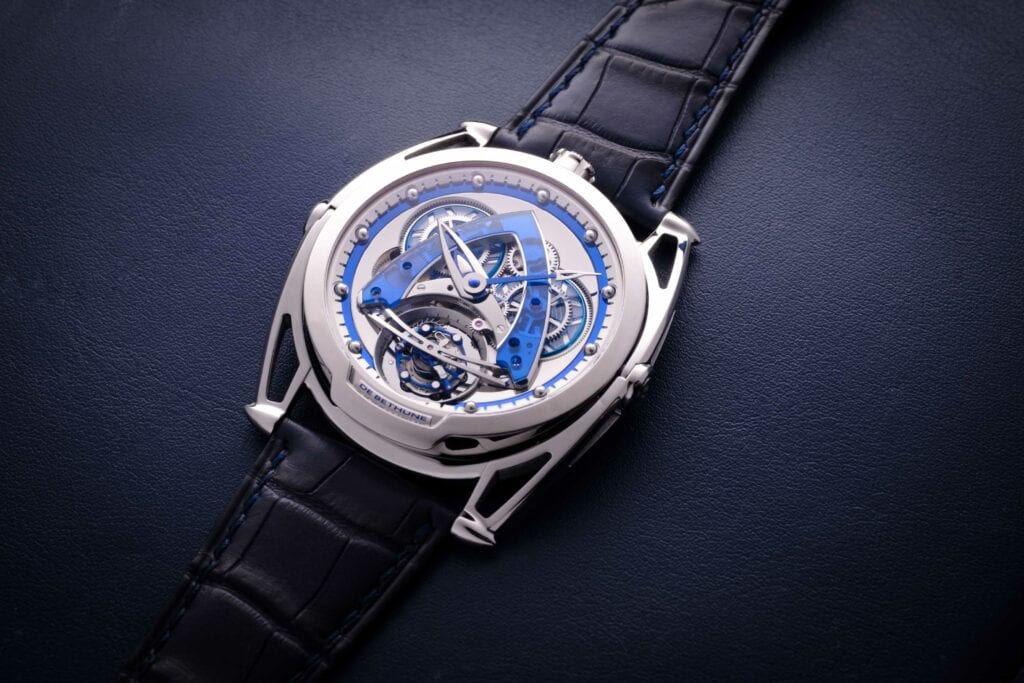 De Bethune is a small brand that has made a big name for itself — especially among in-the-know collectors — with its space-age style and top-tier watchmaking solutions. The DB28 Steel Wheels Sapphire Tourbillon with its sheer name implies we are about to witness something truly exceptional and indeed, the watch delivers on that promise. Ten years ago, upon the launch of the first DB28, De Bethune's goal was to present a truly futuristic take on haute horlogerie — that's fancy-talk for fine watchmaking.
Characterized by a delta-shaped bridge, the sort of shape one might associate with prototype aircraft and spaceships in the sci-fi genre, the DB28 has been frequently referred to as a "spaceship on the wrist." This bridge is now meticulously crafted from blue sapphire crystal, a semi-transparent material that is notoriously difficult to machine. As hard and scratch-resistant it may be, it is prone to cracking when being machined, sending the workpiece not to space but rather straight to the bin. One last mind-bending fact about the DB28: the tourbillon, the timekeeping organ you see where the 6 o'clock index lives on regular watches, is composed of 63 components and in total weighs just 0.18 grams. The lightest part in that assembly weighs 0.0001 grams.
One gratis fact? This watch costs 195,000 Swiss francs.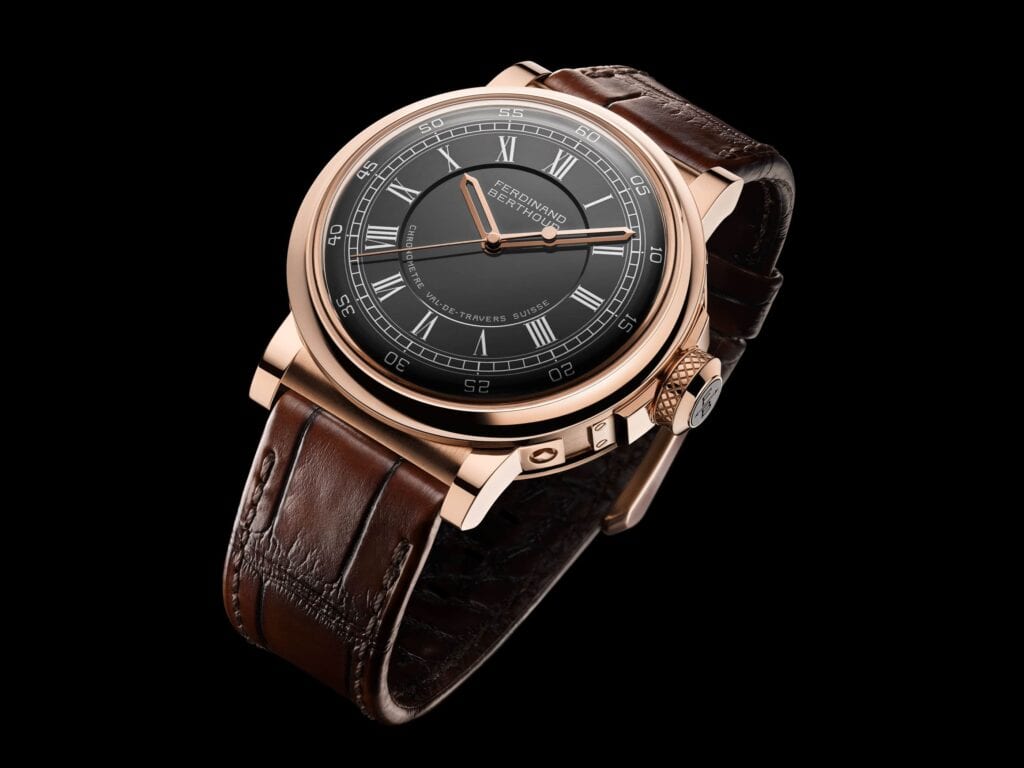 The rather odd-named Chronomètre FB 2RE is the second major release by the modern incarnation of Ferdinand Berthoud. The man was one of the greatest watchmakers of the 18th century — no small feat given his competition —, who, on 4 December 1753, by order of the French Royal Council and in an exception to guild rules and by special favour of the King, received the official title of Master Watchmaker at the age of 26. The name was revived by none other than Co-President of Chopard, Karl-Friedrich Scheufele, a man renowned for his remarkable passion for and understanding of true watchmaking values.
With that, and Chopard L.U.C's expertise in ultra-high-end watchmaking, Ferdinand Berthoud's renaissance was established on solid foundations. Five years after its incarnation, the FB 2RE marks the second chapter for the small manufacture, with an unshaken focus on Berthoud's original values of high performance (i.e. accuracy), legibility, robustness and refinement. Inspired by his original marine chronometers from some 250 years ago, the FB 2RE combines a high-contrast dial and massive hands with a bespoke movement of exceptional refinement, finish and timekeeping accuracy.
Price for the Ferdinand Berthoud Chronomètre FB 2RE is 210,000 Swiss francs.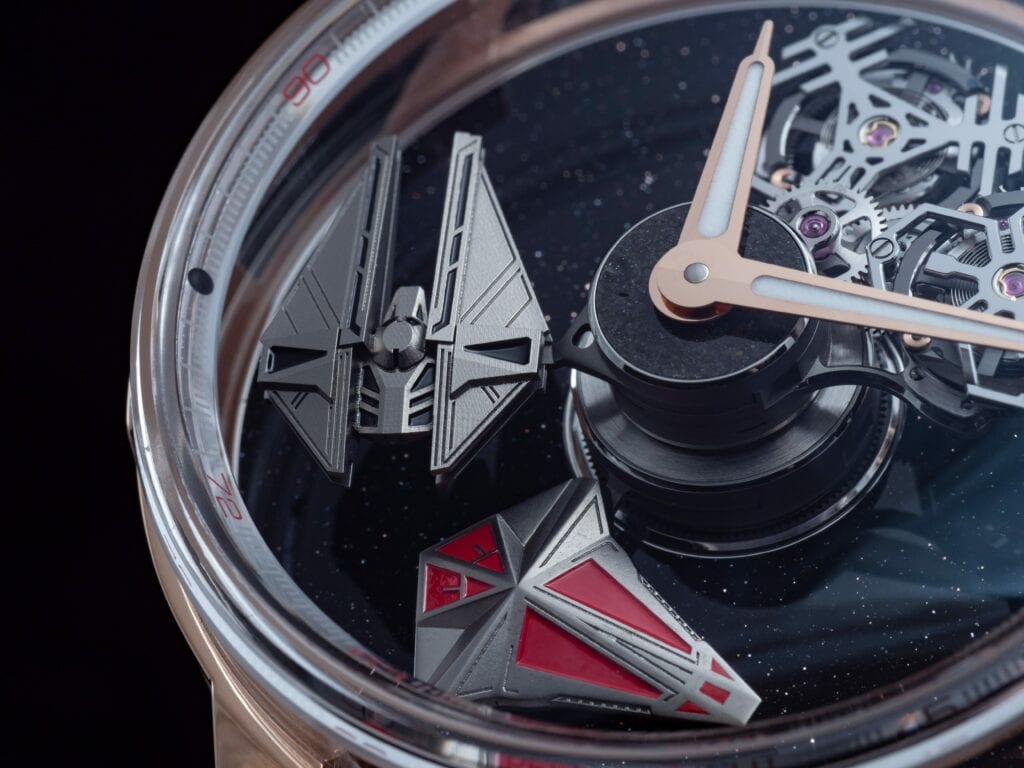 The Louis Moinet Space Revolution is true to its name in that it does, in fact, bring revolution to how space is used within a wristwatch. Two counterbalanced arms rotated against each other, both encapsulating a tourbillon — a rotating cage that houses the timekeeping assembly of the watch for greater accuracy under select circumstances. That's watchmaker's talk for something that looks awesome in its operation but doesn't really make most tourbillon watches any more accurate than their ordinary counterparts.
The mechanism is unprecedented and, in line with that, it seemed an impossible feat for much of its development process. Over 470 components and six ceramic ball bearings ensure the ideal rotation and balance of these arms. Even the winding and time-setting mechanisms stand apart from other timepieces. A look at the caseback reveals another quirk: a massive lever is to be used to select between the time-setting and winding functions of the crown. From the side, the sapphire cylinder reveals itself that provides a unique look at the inner workings of this four-armed assembly and its two spaceships — each shaped from lightweight titanium and painted by hand.
Price for the Louis Moinet Space Revolution is around €334,000.
The Bulgari Octo Finissimo made waves by combining the trademark touch of style unique to Bulgari with its new-found horological mastery. The result? An ultra-thin timepiece that, both inside and out, is unlike any other. This, matched with a highly competitive price set the course for Octo Finissimo a few years back and now Geneva Watch Days saw Bulgari present the Octo Finissimo S. The letter "S" stands for Steel, as well as for Sports — not unlike in the automotive world.
Bulgari shared its goals with the Octo Finissimo S: to create a bold new version that maintains the breathtaking proportions and presence of the original, but adds enhanced robustness and wearability under a greater variety of conditions. Very few other watches with such filigree cases can boast 10 bar (100-meter equivalent) water resistance ratings and yet fewer still combine that with a screw-down crown. Why would you want these on your stylish Octo Finissimo? Because with these safety features you won't ever have to leave it in the safe of your hotel room — it can come right along for a splash in the pool or the swim across to that deserted patch of land.
This combination of Italian style and ruggedness costs €11,500.
Many accept Ulysse Nardin as the sole groundbreaker of ultra-modern watchmaking. All breathtaking mechanical watches with their outlandish designs — none of them would have come to be, had it not been for the Ulysse Nardin Freak of 2001. With it, Ulysse Nardin has not changed the rules, but has torn up the entire rulebook. Nearly two decades later, the relatively small, yet mighty manufacture has stayed on its course and consistently pushed the envelope when it comes to movement, as well as watch exterior design.
Their latest all-new piece, launched at Geneva Watch Days, is the Ulysse Nardin Blast designed to look like an inside-out explosion of lines, gears, wheels, materials and ideas. The heavily openworked dial reveals many of the proprietary complications that live inside: a micro-rotor rewinds the mainspring under the 12 o'clock position, followed by wheels with beautifully machined spokes rotating as they transfer power to flying tourbillon — the regulating organ at the 6 o'clock position. Comprising proprietary silicium components and a special, X-shaped cage, this assembly of frantically oscillating and rotating parts is by all means in the centre of attention. The case follows not much behind with never-before-seen angularity that posed all-new challenges in machining and surface treatment.
Prices for the Ulysse Nardin Blast range between $44,000 in titanium, $46,000 in white or black ceramic, and $54,000 in 18-karat rose gold. Pricey, but actually highly competitive in its segment.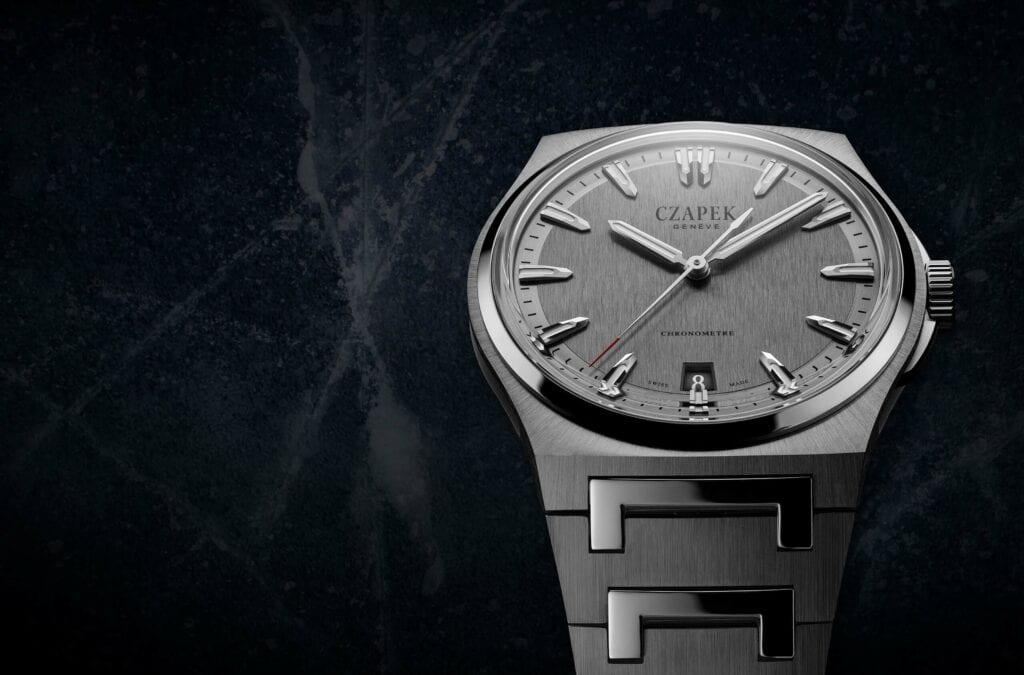 The Czapek Antarctique sees the recently revived brand of Czapek & Cie. venture into the lucrative luxury sports watch segment by now offering a timepiece that looks precious — but is ready for everyday wear. Named after the trip to Antarctica of one of the company's historical shareholders, the Sixth Continent works as a symbol of our duty to preserve the planet, and represents Czapek's commitment to doing its part by using recycled gold and safeguarding many Swiss watchmaking artisans.
The Terre Adélie is a tribute to the French explorer Jules Dumont d'Urville who named a slice of Antarctica after his wife, Adèle, during his daring expedition to the continent in 1840. A lot of fancy naming is going on, plenty for the actual watch to live up to. Housed by a compact 40.5mm wide case, rounded shapes are met by sheer angularity, as though a modernized, more rugged style encapsulated classical watchmaking. Turn the watch around and this sentiment becomes yet stronger: the SXH5 in-house caliber looks the part with its skeletonized bridges and finger bridges, while its dark grey finish and purple jewels add a borderline futuristic touch.
Available in four different color variations, the Czapek Antarctique Terre Adélie Secret Alloy is priced at $19,800.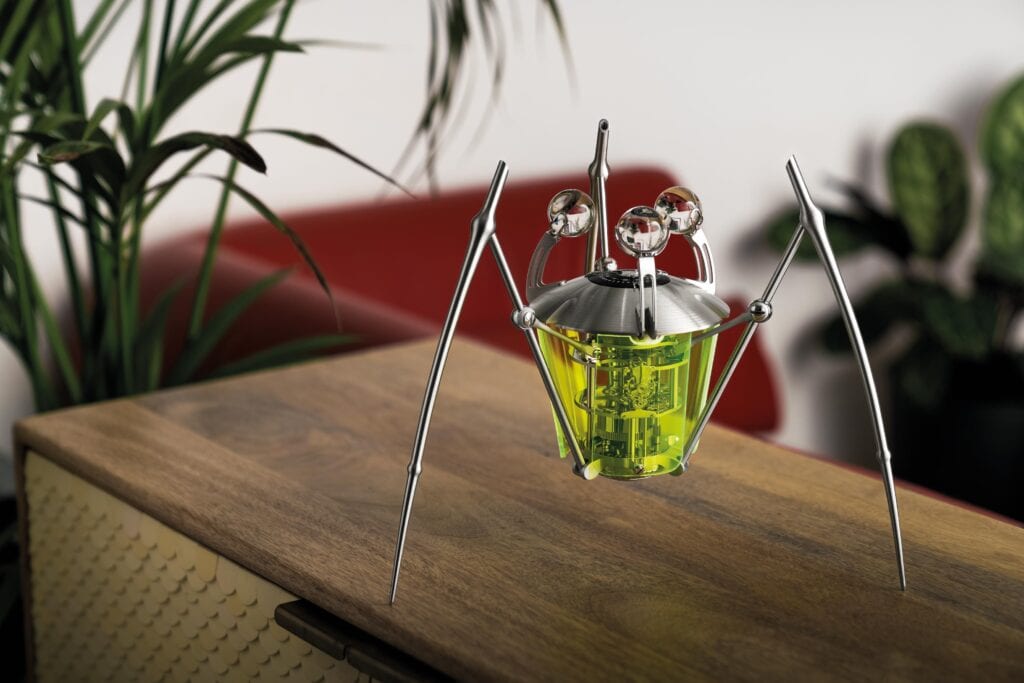 MB&F, short for Max Büsser & Friends, has become an absolute rock star of the fine watch collecting world through its inspired and unapologetic designs, executed to the highest level. What started as a design company producing so-called Horological Machines in proud partnership with the industry's finest suppliers and craftspeople — who are relegated to the backstage of things by most all of their employers — is now making retro-inspired Legacy Machines as well as incredible table clocks and musical devices in partnership with L'Épée and Reuge.
Their latest table clock is the humble named TriPod — but that's where humility ends for this colourful little rascal. A minimalist clock face is suspended between three delicate, insect-like legs, following the mighty T-Rex in what will become a trilogy of half animal/half robot creations that MB&F calls Robocreatures. MB&F founder Maximilian Büsser describes Robocreatures; "In the same way that H.R. Giger created his Alien universe, we're creating our own world of creatures." So, how do you tell the time? You do by looking down on the dial composed of rotating disks — with an added layer of interaction between Man and Machine. The observer reads the time thanks to three optical spheres, each magnifying the clock's numerals and making them more legible.
The 30cm tall and 26cm wide MB&F TriPod is priced at 24,500 Swiss francs.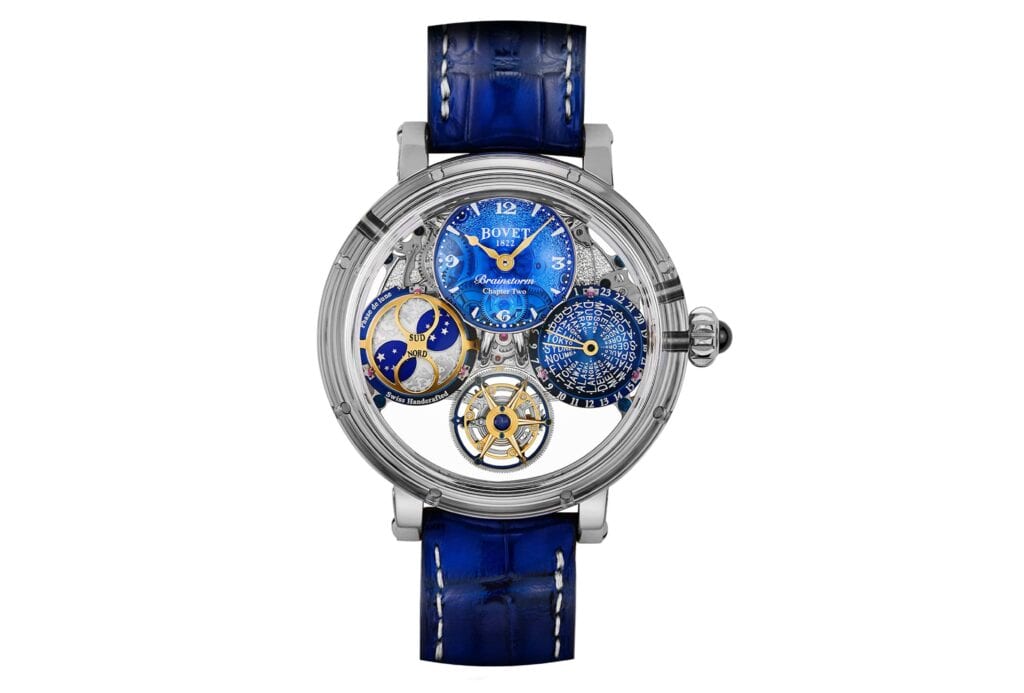 Bovet, or Bovet 1822 as its full name stands, ranks among the most capable watchmakers of our time. The small manufacture preserves and actively practices 42 different crafts linked to fine watchmaking: from manufacturing the most challenging components, such as hairsprings, through various types of hand engraving and enamelling all the way to the fabrication of watch hands (another outstanding rarity among watchmakers who normally rely on specialised suppliers for these). All this in-house know-how allows boundless creativity to flourish at Bovet, as exemplified by the Récital 26 Brainstorm Chapter Two.
A first glance is enough to convince one of Bovet's confidence in its craftspeople. A dome dial displays the hours and minutes of local time in the upper part of the case, while seconds are read by an index fixed on the tourbillon itself, placed at 6 o'clock. Finally, two slow-rotating domes at 3 o'clock and 9 o'clock harmoniously complete the design with a second time zone and a phase of the moon indication, respectively. At night, or under a special UV light, components emit a surprising and beautiful glow, thanks to the luminescent paint applied on some of the texts and numerals, as well as on the phase of the moon disc itself.
Cased in sapphire crystal for unrivaled viewing pleasure, the Bovet Récital 26 Brainstorm Chapter Two is priced at $383,500.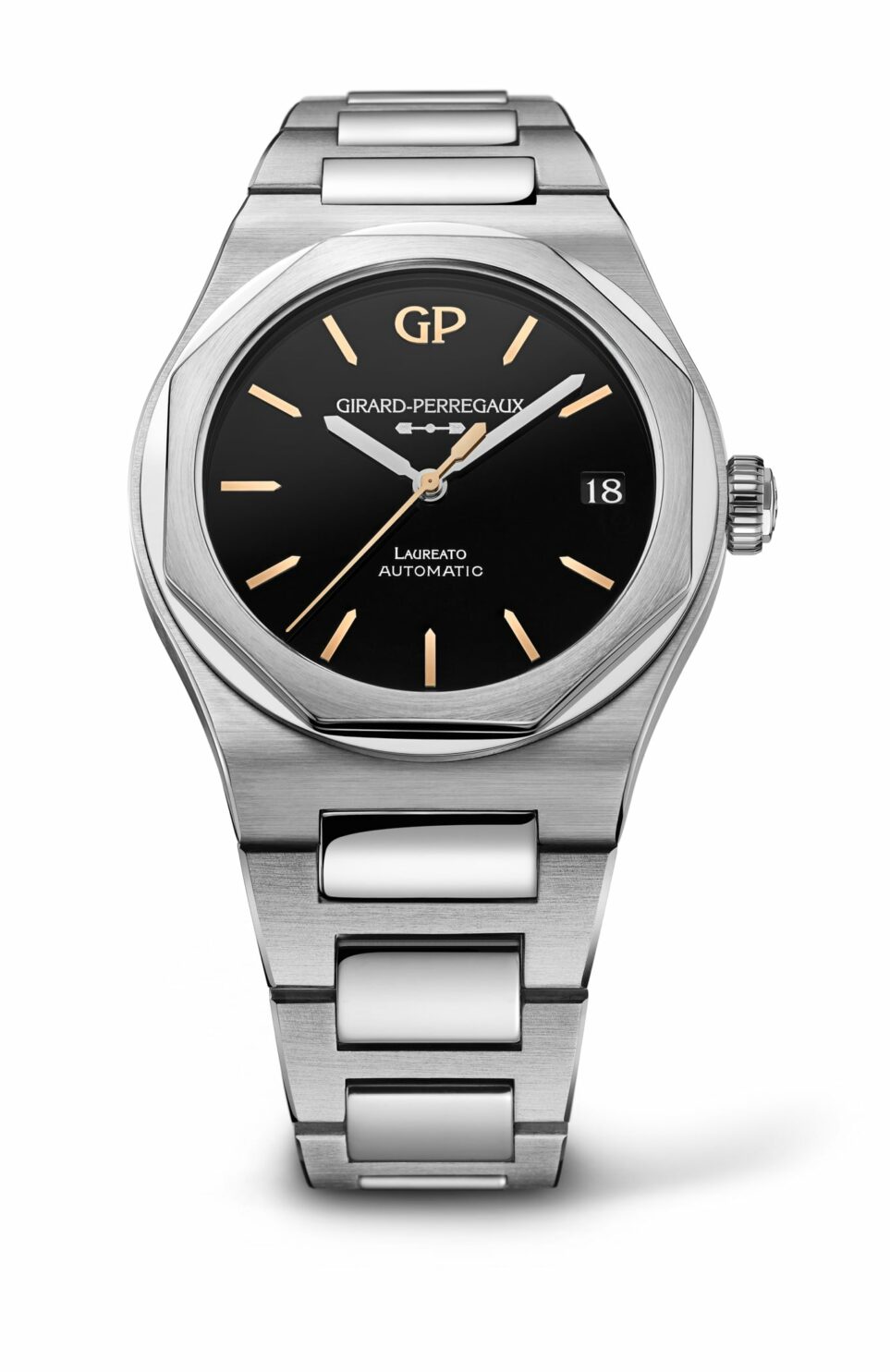 The Girard-Perregaux Laureato is a lesser-known, but no less historic participant of the so-called luxury steel sports watch world than any other. The Audemars Piguet Royal Oak came first in 1972, followed — in many a watch lover's mind — by the Patek Philippe Nautilus in 1976. What many tend to forget is that the Girard-Perregaux Laureato is indeed the closest successor of the Royal Oak, having debuted in 1975, further adding to the Laureato's legitimacy in this highly competitive segment.
That said, what has hindered its recent past was its long-standing absence and lack of model updates… All of which has changed but a few years back when Girard-Perregaux entirely re-designed and relaunched the Laureato collection — the new Infinity Edition line is the continuation of that story. Available in 42mm and 38mm versions and sold exclusively across select Wempe points of sale in Germany as well as its New York and London flagship stores for a limited period, these new pieces mark an exclusive agreement between both companies. So, why "Infinity?" These pieces are named after their use of onyx dials, all painstakingly made and polished by hand to bring out their deep, pitch black beauty.
The Girard-Perregaux Laureato Infinity Edition in 42mm is priced at 12,260 Swiss francs, while the diamond-set 38mm version is 15,600 Swiss francs.
Breitling is actively positioning itself as an inclusive and sustainable luxury brand. Ditching million-dollar jet teams and the temptation of equally expensive sponsorship deals with motorsports, golf and the like, Breitling partnered with highly respected heroes of Triathlon: Daniela Ryf, Jan Frodeno and Chris "Macca" McCormack to create a watch specifically for athletes and triathletes.
Their close collaboration resulted in the Endurance Pro, this featherweight sports watch powered by a highly accurate "thermocompensated" quartz movement with a stopwatch and date function to boot. Its slim and neatly proportioned case is crafted from Breitlight, Breitling's lightweight polymer material, to ensure maximum wearing comfort during all sports activities. A heavy lump of metal or a tall watch often ends up beating up its wearer's wrist — as well as its own precious exterior.
The durable and comfy Endurance Pro is made available in five sporty colors with matching high-quality rubber straps: orange, yellow, red, blue, and white. Our suggestion: go with the white one because it goes with everything — just pick up a second strap in one of the brighter colors that you can swap on when you are in the mood.
The Breitling Endurance Pro costs $2,950.
Read More:
Words: David B