Glashütte Original Sixties Small Second
Glashütte Original is unveiling its latest creation, the Sixties Small Second, a distinctive homage to the seminal decade that continues to inspire artists, designers, and innovators worldwide. This new watch is not just a testament to Glashütte Original's precision watchmaking prowess; it also pays tribute to a time of social and cultural upheaval that ushered in a new wave of creativity, individuality, and the quest for self-expression.
From music to fashion, from architecture to societal norms, the 1960s have left an indelible mark on our world. The era's distinct flavour remains palpable, affecting many aspects of our daily lives. Glashütte Original's new watch captures this transformative spirit, infusing its quintessential values of originality, creativity, and innovation into a sophisticated timepiece.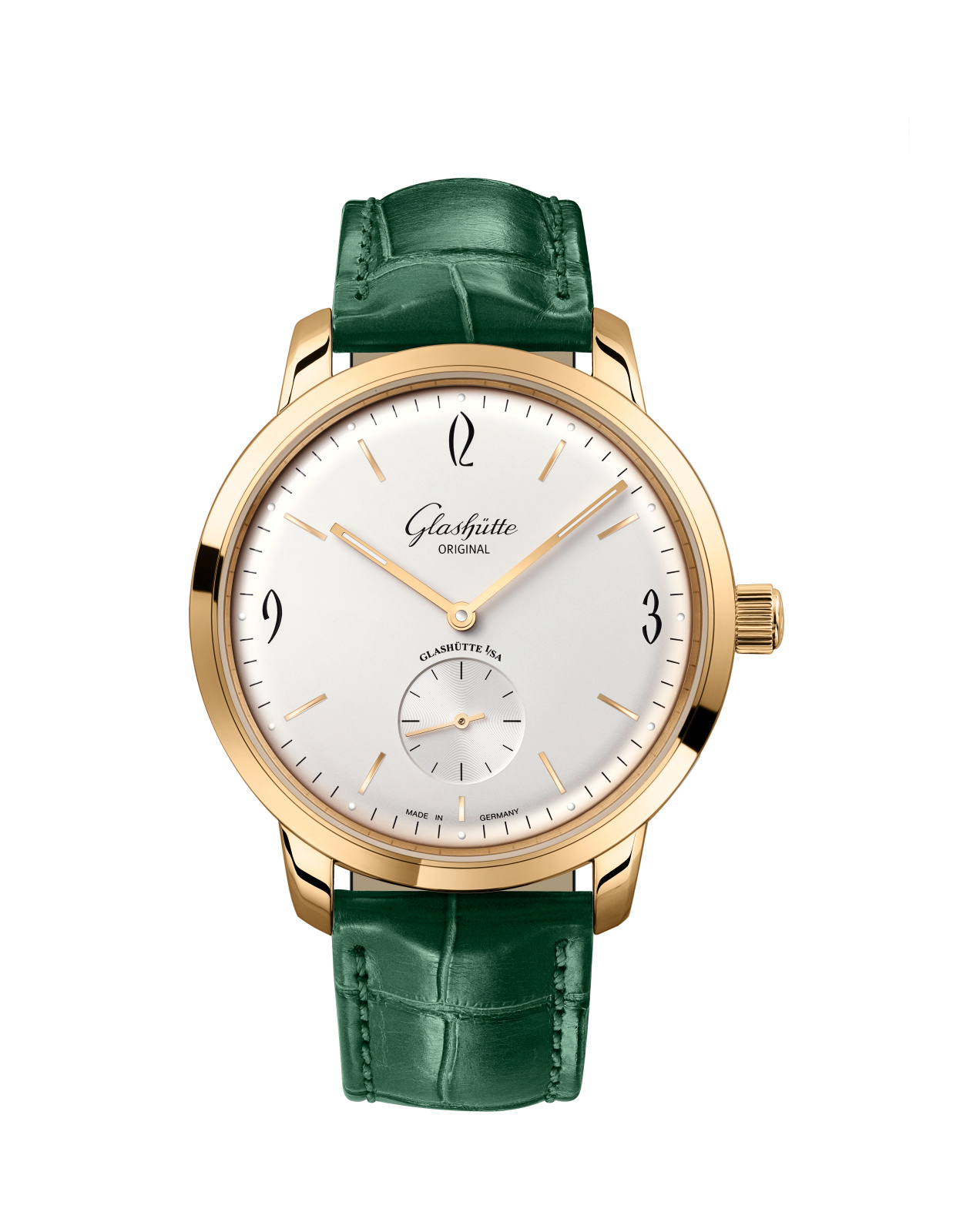 Sixties Small Second is the latest addition to Glashütte Original's Vintage Collection. The brand's Sixties line-up, with its distinctly retro aesthetics, has garnered a loyal fan base worldwide. This new release presents an exciting twist to the familiar designs with the introduction of a small second display — a first for the Sixties collection. The fastest of the three hands now commands its spotlight, featured in a separate display at the 6 o'clock position.
The new timepiece features a galvanic silver dial complemented by a fine vinyl-type finish, a design choice that draws further inspiration from the 1960s. The hands, indexes, and numerals, displayed in a typeface reminiscent of the era, are perfectly colour-matched to the 42-mm rose gold case. Enhancing legibility, an anti-reflective sapphire crystal, mirroring the dial and hands' gently curved form, tops the case.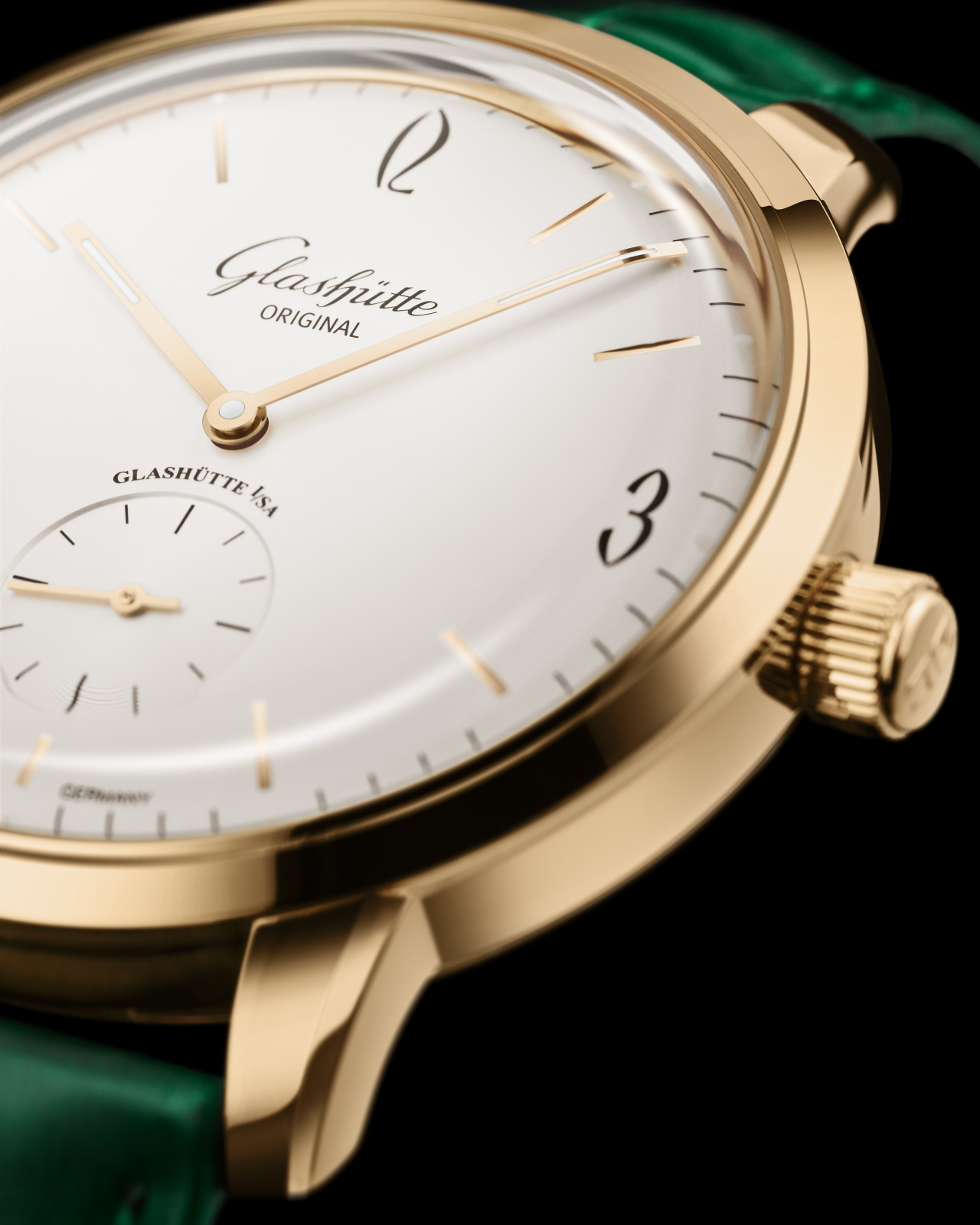 This exceptional watch is completed with a matt green Louisiana alligator leather strap, a stylish addition that infuses the classic retro design with a touch of modern freshness. This vivid hue adds an unexpected yet harmonious twist to the piece, reinforcing the bold spirit of the Sixties.
Underneath its striking exterior, the Sixties Small Second boasts a meticulously crafted automatic movement. The 39-60 manufactory calibre, designed and produced in-house, operates at 28,800 half-oscillations per hour, ensuring reliable and precise timekeeping. Decorative elements, including Glashütte stripes, bevelled edges, and polished screws, add refined touches to the movement's components. The watch's exquisitely detailed skeletonized rotor, complete with the brand's signature double-G logo, is visible through a specially formed sapphire crystal case back, allowing admirers to observe the watch's internal beauty.
This release further solidifies Glashütte Original's reputation for blending traditional craftsmanship with innovative technologies. With its heritage tracing back to 1845, this Saxon brand stands as a beacon of German watchmaking art, with up to 95% of all movement components and filigree dials produced in-house.
The Sixties Small Second is a celebration of an era that forever changed the face of our world. It's not just a timepiece—it's a testament to the enduring impact of the 1960s, the values it upheld, and its enduring influence in the realm of design and beyond.
More information and prices can be found here.
Read more: